Adrianne E. Rogers, MD
Emeritus Professor, Pathology & Laboratory Medicine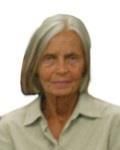 Biography
Dr. Rogers earned a Doctor of Medicine in 1958 from Harvard University, from which she graduated with honors. This accomplishment was preceded by a Bachelor's degree from Radcliffe College, and certifications from the American Board of Pathology as well as the American Board of Toxicology. Demonstrating unmatched versatility in her field, Dr. Rogers worked as an interim associate dean of academic affairs at Boston University from 2006 to 2007, having previously served the institution as director of the office of medical education, pathology professor and associate chair of pathology.
Dr. Rogers' additional professional experience encompasses contributions as a senior research scientist and research associate at the Massachusetts Institute of Technology. She found further success as an associate pathologist at Boston City Hospital. Dr. Rogers also completed a research fellowship in the pathology department at Harvard University Medical School's Mallory Institute.
An affluent lecturer in her field, Dr. Rogers has been active an instructor at Harvard University Medical School as well as the University Hospital of Boston. Her professional experience is extensive, and she has also served on several boards and panels including the board of science counselors for the research division of the National Toxicology Program and the expert panel for the Research Institute for Fragrance Materials. Notable for her contributions to the field of medical education and her influence on curriculum changes, Dr. Rogers is also an accomplished author in her industry, having penned myriad articles for numerous professional journals.
Due to her interest in community involvement, Dr. Rogers has been a member of the Mystic Watershed Association since 1975 and a trustee of the Forsyth Dental Center since 1987. She has maintained involvement as a co-chair of the Friends of the Upper Mystic Lake. Due to her prominence in her field, Dr. Rogers is affiliated with the American Association of Pathologists, the Federation of American Societies for Experimental Biology, the American Institute of Nutrition, the New England Society of Pathologists, the American Association for Cancer Research and the Society of Toxicology.
Education
Harvard University

, MD

Radcliffe College

, AB