Abdul Saied Calvino, MD
Assistant Professor, Surgery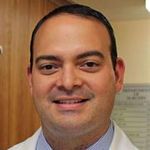 Roger Williams Medical Center
Biography
Dr. Abdul Saied Calvino is an Assistant Professor of Surgical Oncology at Chobanian and Avedisian School of Medicine. He has a special interest in minimally invasive colon and rectal surgery, hepato-biliary and pancreatic surgery and also treats the full spectrum of general surgery conditions. Dr. Saied Calvino is fluent in Spanish.
Dr. Saied Calvino completed his surgical internship and residency at the University of Illinois at Chicago where he had a great exposure to minimally invasive techniques for gastrointestinal and hepato-biliary surgery. He also finished a two-year ACGME-accredited fellowship program in Complex Surgical Oncology at Roger Williams Medical Center. He is a Board Certified General Surgeon and part of a selecte group of surgeons who are board eligible in Complex Surgical Oncology.
During his time at the University of Illinois, he spent dedicated research time investigating inflammatory pathways in pancreatic cancer. He was recently awarded with the best research presentation at the Rhode Island Chapter of the American College of Surgery research forum. His clinical research focus is in quality outcomes research and disparities in cancer care. He has been an author on multiple peer reviewed articles and is a member of multiple scientific societies, including the American College of Surgeons, the Society of Surgical Oncology, and the Americas Hepato-Pancreato-Biliary Association.
Other Positions
Roger Williams Medical Center
Education
Universidad de Panamá

, MD
Publications
Published on 9/2/2020

Meleveedu KS, Miskovsky J, Meharg J, Abdelrahman A, Tandon R, Moody AE, Dasilva P, Masse G, LaPorte J, Saied Calvino A, Allen G, El-Bizri R, Roberts T, Armenio V, Katz SC. Tocilizumab for severe COVID-19 related illness - A community academic medical center experience. Cytokine X. 2020 Dec; 2(4):100035. PMID: 32895645.

Read at: PubMed

Published on 3/2/2020

Fan D, Luster S, Eid IG, Saied Calvino A. A multidisciplinary approach to carotid body tumors surgical management. J Surg Case Rep. 2020 Mar; 2020(3):rjaa030. PMID: 32153763.

Read at: PubMed

Published on 3/24/2017

Kadan Y, Calvino AS, Katz A, Katz S, Moore RG. Predictors for lymph nodes involvement in low risk endometrial cancer. J Obstet Gynaecol. 2017 May; 37(4):514-518. PMID: 28339318.

Read at: PubMed