Aaron Beeler, PhD
Associate Professor, Pharmacology, Physiology & Biophysics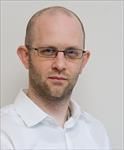 Biography
Aaron Beeler received his Ph.D. in 2002 from Professor John Rimoldi's laboratory in the Department of Medicinal Chemistry at the University of Mississippi. He then joined the Porco group as a postodoctoral fellow and subsequently the Center for Chemical Methodology and Library Development at Boston University, now the Center for Molecular Discovery. He was promoted to Assistant Director of the CMLD-BU in January 2005. In 2012 Aaron joined the Department of Chemistry as a tenure-track professor in medicinal chemistry.
RESEARCH
The Beeler Research Group is truly multidisciplinary, combining organic chemistry, engineering, and biology to solve problems in medicinal chemistry. All of these elements are combined and directed toward significant problems in human health. The Beeler Group is addressing focused disease areas (e.g., schizophrenia, Parkinson's, cystic fibrosis), as well as project areas with broader impact potential (e.g., new methods for discovery of small molecules with anti-cancer properties).
Medicinal Chemistry: The goals of medicinal chemistry projects are to optimize small molecules in order to: a) develop a probe that may be utilized as a tool in biological studies; b) develop a lead molecule to facilitate future therapeutics; and c) utilize small molecules to enhance understanding of biological targets that are important for human health. These projects provide students with training in organic chemistry, medicinal chemistry, and focused biology. Projects are selected based on their chemistry and/or biology significance and potential for addressing challenging questions.
Technology: One of the core components of the research in the Beeler Group is development of technologies and paradigms that facilitate rapid modification of complex scaffolds. These technologies enable optimization of biologically active lead compounds and identification of small molecule leads in biological systems. The projects focus on utilizing automation, miniaturization, and microfluidics to carry out chemical transformations. These projects are highly interdisciplinary with both chemistry and engineering components.
Photochemistry: This area focuses on photochemical transformations toward the synthesis of natural products, natural product scaffolds, and other complex chemotypes of interest to medicinal chemistry and chemical biology. The foundation of these projects is utilizing microfluidics to enable photochemical reaction development.
TECHNIQUES & RESOURCES
Students in the Beeler Research Group will have opportunities to learn a number of exciting research disciplines. Organic synthesis will be at the heart of every project. This will include targeted synthesis, methodology development, and medicinal chemistry. Through collaborations with biological researchers and/or research projects carried out within the Beeler Group, students will learn methods for biological assays, pharmacology, and target identification. Many projects will also include aspects of engineering that will provide opportunities for learning techniques such as microfabrication and microfluidics.
OPPORTUNITIES
It is becoming evident that successful and impactful science is realized in collaborative interdisciplinary environments. The Beeler Research Group's multidisciplinary nature and collaborative projects provides opportunities to learn areas of research outside of traditional chemistry.
WHAT'S NEXT FOR GRADUATES OF THE BEELER GROUP?
Members of the Beeler Research Group will be positioned for a wide range of future endeavors:
-Undergraduates will be prepared to enter into graduate school for organic chemistry, chemical biology, or chemical engineering or to start careers in industry;
-Graduate students will have the foundation required for postdoctoral studies in organic synthesis or chemical biology as well as an industrial career in biotech or pharma;
-Postdoctoral associates will gain training and experience critical for both academic and industrial careers.
Other Positions
Assistant Professor

,

Pharmacology, Physiology & Biophysics

,

Boston University Chobanian & Avedisian School of Medicine

Member

,

BU-BMC Cancer Center

,

Boston University

Member

,

Evans Center for Interdisciplinary Biomedical Research

,

Boston University
Education
University of Mississippi

, PhD

Belmont University

, BS