Creative Arts Society Seeking Submissions for Literary & Arts Journal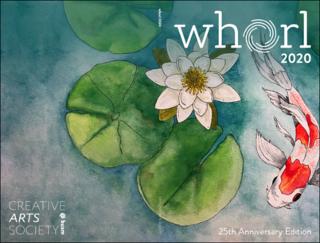 Margaret Lee, MD'99, PhD'05, has left her mark on the creative life of the Boston University Medical Campus (BUMC). Literally, with her fingerprint that typically forms the "O" in Whorl on the cover of the annual BUMC literary and arts journal which she co-founded as a first-year medical student, and the student-run organization known as the Creative Arts Society which she also co-founded that year.
"I think that everybody is creative," said Lee, now an assistant professor of pediatric dermatology and co-faculty advisor for the Creative Arts Society.
"I started the Creative Arts Society because I knew that all of the artistic activities I had done throughout my life were helpful to my health and well-being. And because it's fun, and can be cathartic," she said.
After 25 years as an online and print publication, Whorl went silent for the past three years of the pandemic. It is being revived this year, appropriately enough, by two first-year medical students. They recently put out a call for submissions for paintings and digital art, photography, fashion (a new feature added this year), short prose, dance and music performances (also a new feature), poetry and more. It's open to everyone on the medical campus, including students, faculty and staff. Submission guidelines can be found here.
When she arrived on campus, first-year medical student Aurore Zhang knew she wanted to join a student art organization. She found the Creative Arts Society, talked with Lee and agreed to take on the task of reviving Whorl. Zhang knew she needed to build a team and enlisted fellow first-year student Nikki Prattipati as co-editor.
"The skills that I gain from being an artist do translate well into medicine, to being a doctor," said Zhang, who enjoys painting, especially digital art. "I noticed that, while studying, the concepts stick better because I'm more visual."
Zhang said she's excited to see what can be done with a revamped Whorl.
"I definitely enjoy writing for myself. It's a way that I reflect and process the experiences I've had," said Prattipati. "We all hope that it will be a very welcoming process for people to submit their pieces and share their experiences. Art can be very personal, but if they want to share it with others, they should submit."
"Part of the idea of founding the Creative Arts Society was about the idea that you do not have to have an MD to promote health in others and in yourself, that the arts are very healing," said Lee.
Submissions are due by 5 p.m. on Dec. 15, 2023. Click on this link to access submission form and guidelines. Check out previous issues here.