Department of Pathology & Laboratory Medicine: New News Summer 2020
Department of Pathology & Laboratory Medicine:
New News Summer 2020
Announcements
During the 2020 SARS CoV-2 pandemic Pathology Laboratory Sciences graduate students past and present stepped up to support the department in a major way. Manisha Cole (GMS 2021) and recent graduates Kyle de la Cena (GMS 2020) and Morgan Thompson (2017) have been instrumental in setting up and supporting the BMC-BU Covid 19 biobank initiative, led by faculty member Assistant Professor Elizabeth R Duffy (GMS 2009).  This team has processed thousands of discarded human biospecimens to ensure that sufficient Cov-2 related material is available to research scientists.  Some of this material was also used by the BU SARS CoV-2  testing laboratory during set up and validation of their test.  In addition, this team is supporting a longitudinal study of patients with Covid infection funded by the Mass Consortium on Pathogen Readiness (PI Nahid Bhadelia, MD).
Additionally on a project led by Assistant Professor in Pathology & Laboratory Medicine and student mentor Yachana Kataria, PhD, Liz Duffy, Manisha Cole and Kyle de la Cena prepared, initiated and led two hospital wide SARS Cov-2 seroprevalance studies called SIG-COV (PI Yachana Kataria) and STOP (PI Karen Jacobson). Over 1,700 employees registered to have their blood drawn and antibodies tested. Along with members of the BMC and BU pathology department students Richard Darko (GMS 2021), Victoria Gibson (GMS 2021) and  Tochukwu "Nola" Ihejirika (GMS 2021) supported the initiative during an intense two week period of recruiting and collecting from volunteer subjects.
Cheryl Spencer (GMS 2007) received special recognition at the 2020 graduation awards ceremony for her outstanding work supporting the autopsy service during the surge. Morgan Thompson (2017) also supported the SARS Cov-2 pcr testing during the pandemic surge.
Chris Andry, MPhil, PhD
Professor and Chair
Department of Pathology & Laboratory Medicine
Boston University School of Medicine
Boston University Clinical and Translational Science Institute (BU CTSI) has been selected to receive funding.
| | | |
| --- | --- | --- |
| Proposal Title: | | 3D Printed COVID-19 Nasopharyngeal Swabs |
| Principal Investigator: | | Alice White, PhD |
Project has been led by a graduate student, Jessie Soong in the School of Bioengineering at BU CRC. Pathology & Lab Medicine participants include Drs Henderson, Miller, Fazeli, Andry and Beverley Orr and the Microbiology team.
Dear Dr. White:
Congratulations, we are pleased to inform you that your COVID-19 Related Research application to the Boston University Clinical and Translational Science Institute (BU CTSI) has been selected to receive funding. Based on available funding and the submitted budget for your project, you will receive total of $24,999.00 in direct costs. The project period for this award is June 1, 2020-March 31, 2021.
The BU CTSI is funded by a Clinical and Translational Science Award from the National Center for Advancing Translational Sciences, National Institutes of Health, and grant UL1TR001430. For more details regarding CTSI supported resources and services, please navigate to the BU CTSI Website at http://www.bu.edu/ctsi/. 
Anna Belkina, MD, PhD has been awarded CTSI Funds for a Mini Sabbatical Dr. Belkina will use the mini-sabbatical funds to support her advanced training in high-parameter imaging data analysis at the Flow Cytometry and Cellular Imaging Facility (FCCIF) at the University of Texas MD Anderson Cancer Center.
 Welcomes:
 Dear Colleagues,
On behalf of Dr Dennis Jones and the department I am really pleased to welcome

Dr Samir Jana

.  Dr Jana is from Kolkata, India. He obtained a Masters degree in Molecular Biology and Biotechnology from the University of Kalyani, India. He earned a PhD from the University of Calcutta and worked on the thesis topic "Regulation of miRNA in Breast Cancer Growth and Metastasis.

 

Dr Jana continued his training as a postdoctoral researcher at City of Hope, California and worked on ER stress/autophagy pathway and chemosensitization of breast cancer.  In the Jones lab, he intends to study cancer stem cell maintenance and immune evasion during breast cancer progression. Dr Jana enjoys travelling, photography, cooking and playing cricket.
Please join me in welcoming him.
Christopher Heaphy, PhD, Assistant Professor of Medicine (Hematology & Oncology Section)  appointment asAssistant Professor of Pathology & Laboratory Medicine
Dr. Heaphy is a cancer biologist that has been conducting basic and translational studies focused on elucidating the role of telomere alterations in the initiation of human diseases, particularly cancer. Overall, his research program focuses on cancer biomarker discovery and validation with the ultimate aim to utilize novel tissue-based biomarkers to improve individualized prevention, detection, and treatment strategies. Dr. Heaphy received a Ph.D. from the University of New Mexico and completed his post-doctoral training in the Department of Pathology at Johns Hopkins School of Medicine. He is a recognized expert on telomere biology and its associations with cancer outcomes. He has authored over 70 papers, including a transformative study published in Science that uncovered the association between inactivating mutations in ATRX and DAXX and activation of a unique telomerase independent telomere maintenance mechanism. Subsequently, he has further expanded his work to include a wide range of malignancies (e.g. prostate cancer, breast cancer, gliomas, and neuroendocrine tumors).
Please join me in welcoming Dr Heaphy to the department. ~ Chris
Also Welcome New Incoming Masters Students:

Sarah Faress Barakat
James Ford
Jamail Ghafwari
Jordyn Osterland
Kevin Rop
Lila Sultan
Anna Tseng
Meng Wei "Winnie" Zhang
Qiuyang Zhang
Also, Razi Amraei is joining the department as a PhD Candidate
Welcome to Allan Stolarski is a new Surgery resident working in the Remick Lab starting from the 1stday of July
Faculty Promotions to Associate Professor: Joel Henderson
The Hematology Lab and DG-LIS (Angel) – The SYSMEX is live!!!!!  Wooo hoooo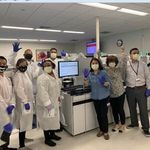 Our Residents took theses pictures Friday, July 24th during the BMC Thank You Week
Daniel Remick, M.D., has been selected to serve as a Reviewing Editor for the journal Science Translational Medicine.  This is a prestigious journal with a very high impact factor (17.2). He will be responsible for reviewing articles on sepsis
Masis Parunyan (MED IV) was one of this years recipients of the ASCP Medical Student Award for Pathology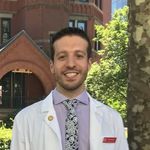 A review article for Daniel Remick, M.D., reached a milestone when it was read 1000 times.Kronfol Z, Remick DG. Cytokines and the brain: implications for clinical psychiatry. Am J Psychiatry, May 2000, 157: 683-694.
Publications. Published:
Kim Vanuytsel, Aditya Mithal, Richard M. Giadone, Anthony K. Yeung, Taylor M. Matte, Todd W. Dowrey, Rhiannon B. Werder, Gregory J. Miller,Nancy S. Miller, Christopher D. Andry, George J. Murphy. Rapid Implementation of a SARS-CoV-2 Diagnostic qRT-PCR Test with Emergency Use Authorization at a Large Academic Safety-Net Hospital. Clinical and Translational Resource and Technology Insights, May 2020 https://doi.org/10.1016/j.medj.2020.05.001
Matthew Wolfson,1 Patrick Curtin,2; Emily J. Curry,3; Sandra Cerda,4; Xinning Li1; "Giant cell tumor formation due to metallosis after open latarjet and partial shoulder resurfacing." Orthopedic Reviews 2020; volume 12:8522
      Publications. Accepted:
A recent review article was just accepted in the journal Shock, Yibing Wei, Jiyoun Kim, Harri Ernits and Daniel Remick, "The Septic Neutrophil – Friend or Foe" Yibing Wei recently completed her Masters of Science degree in the Department