Master of Science in Pathology Laboratory Sciences

Masters Graduation Ceremony, May 19th, 2017: Max Vaickus, M.S., Dr. Daniel Remick, Department Chair,  Morgan Thompson, M.S., Carolina Lyon De Ana, M.S., Denis Kyabaggu, M.S., Keith Keller, M.S., Dr. Chris Andry, Program Director, and Dr. Joel Henderson, Co-Director.
Thank you for your interest in our Master's program –  a unique blend of comprehensive biomedical science education with pragmatic, hands-on skill acquisition.
Offered by:
Department of Pathology &  Laboratory Medicine
Division of Graduate Medical Sciences
Boston University Chobanian & Avedisian School of Medicine
The Master of Science in Pathology Laboratory Sciences Program focuses on the basic science and laboratory techniques of pathology and related disciplines. The Masters Program was founded in 2003 by Dr Adrianne Rogers, Emeritus Professor of Pathology &  Laboratory Medicine and former Associate Chair of the department.  Graduates will be prepared to work in basic science, biotechnology and other biomedical research laboratories designing, performing, and evaluating research using methods based on morphology. Students learn to prepare and evaluate animal or human cells and tissues for the effects of test compounds, devices or procedures using morphologic methods.
Techniques include gross, microscopic and ultrastructural techniques for examination of cells and tissues, including histochemical staining and immunohistochemical, immunofluorescence and radioisotopic methods; certain clinical chemistry, hematological, immunological and radioisotopic methods for examination of blood and tissue fluids or extracts. Offerings include some or all of the following specialized techniques in the basic laboratory rotations or in the student's laboratory research project: laser capture techniques, in situ hybridization including fluorescence detection (FISH) and confocal or electron microscopy, image analysis & virtual pathology. Students learn and rotate in modern, well equipped laboratories on the BU Medical Campus.
The Master of Science in Pathology and Laboratory Sciences is a two year program that can help prepare you for a future career path in: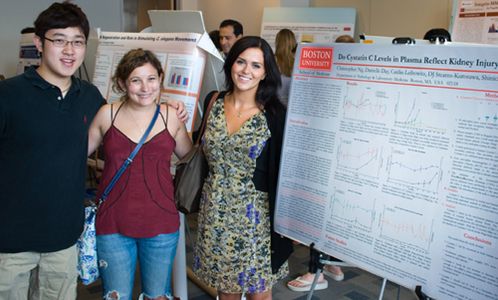 Academia
Biotech Industry
Big Pharma
Medical School
PhD Program
Main features of the program:
1.) The first year strengthens and expands your knowledge of the biosciences.
2.) The second year focuses on research in the lab. You will cover the following:
Hypothesis Generation
Experimental Design
Data Interpretation
Gain Deeper Insights Into Disease Processes.
3.) Clinical laboratory rotations start in the first year, and you will be exposed to the following techniques:
Laser Capture Microdissection
In Situ hybridization Including Fluorescence Detection (FISH)
Confocal or Electron Microscopy
Image Analysis
Virtual Pathology
Clinical Chemistry
Hematological, and Immunological Methods for Examination of Blood and Tissue
4.) You will have the opportunity to:
Shadow a Pathologist During Clinical Service.
Observe Autopsies
This program is a unique blend of:
"comprehensive biomedical science education,
with pragmatic, hands-on skill acquisition."
Learning Goals and Outcomes of the Master's Program
Upon completion of our Master of Science Program students will be able to:
Prepare and evaluate human and animal biospecimens and cell lines for the effects of test compounds, devices, surgeries or other interventions using morphologic, biochemical and molecular methods

Understand and apply different techniques to dissect, document, preserve, process and archive biospecimens

Describe major characteristics of diseased tissue using multiple methodologies including but not limited to histopathology, immunohistochemistry and molecular techniques

Apply the knowledge they have accumulated from didactic core course work, seminars, study groups and journal clubs to develop and test research hypotheses

Develop hypotheses and perform new or existing assays to generate experimental results

Integrate quality management tools and other standards into their work

Evaluate and test results using statistical and other analysis and write a scientific document that is approved by at least two faculty readers

Work safely in a BSL-2 laboratory environment
.
Laboratory Research and Employment
Laboratory Research
The mentor's laboratory is chosen from laboratories and mentors approved and listed by the department. The Director of Graduate Studies and members of the Graduate Studies Committee of the department will advise students on their choice of thesis research laboratory. The decision is made by mutual agreement between the student and the mentor. The research project usually takes 1 year to complete. A thesis documenting the student's research is read and approved by the laboratory mentor and one additional faculty member of the department who is knowledgeable in the area of the student's research. Fourteen (14) research credits are awarded for the required Master of Science thesis work.
Employment
With the growing use and development of highly sophisticated morphologic techniques, the demand for well-trained technical personnel in academic and biotechnological laboratories is growing. Students interested in careers that involve technical work using morphologic techniques to examine tissues from patients or laboratory animals will benefit from this program and, upon its completion, will likely find attractive employment opportunities. Our graduates will also be well prepared to enter a doctoral degree program in biomedical sciences or apply to medical school.
Our graduates are currently employed in diagnostic and research laboratories and we make every effort to facilitate job opportunities for them.
Curriculum
Candidates are required to complete a minimum of 8 semester courses (32 credit hours) at the graduate level, including an original laboratory based thesis.  The degree program is usually completed within two years.
Requirement by Topic
Updated Curriculum consistent with the currently-approved program
Alternatives
Introductory Pathology
GMS PA 932, Histopathology, 4 cr Fall
Pathology
GMS PA 700 Basic and Experimental Pathology, 4 cr Spring
Biochemistry
GMS BI 751 Biochemistry and Morphology, 6 cr Fall
Biostatistics
GMS CI 670 Biostatistics with a Computer, 4 cr Fall
MA 700A1 Elementary Biostatistics, 2 cr Fall or GMS MS 700 & AN704 Elementary Biostatistics, 2 cr Spring
Immunology
GMS PA 510 Medical Immunology, 2 cr Spring
GMS PA 610 OL Biomedical Immunology (online course), 2 cr Fall or Spring, with consent of the Program Director.

Other courses (toxicology, forensics, etc)

Pathology Seminar
GMS PA 800 A1 Pathology Seminar, 2 cr Fall
Optimized sequence of courses within the current requirements:
Fall: Biochemistry (6 cr), Histopathology (4 cr), Pathology Seminar (2 cr), and Biostatistics (2 or 4 cr). Total credits 10-14 depending on the choice of courses.

Spring: Pathology (4 cr), Biostatistics (if not taken in Fall, 2 cr), Immunology (2 cr), and Electives/Special Topics (4 or more cr). Total credits 12 – 14, or more depending on the choice of courses.
Other: Histology and Molecular Biology courses are highly recommended but not mandatory.
Attendance at Friday departmental seminars (PA800, fall and PA900, spring) is required throughout the program in Fall and Spring semester. The courses are completed in the first year of study, as are two laboratory rotations. The rotations teach basic histomorphologic techniques and their applications. Each rotation lasts 6-8 weeks part time (at least 15 hours per week) or 3 weeks full time (e.g., in summer or intersession). A required rotation is taken in the Department of Pathology at Boston Medical Center under the supervision of its faculty and working with its technical staff and utilizing available equipment. This rotation teaches basic tissue preparation techniques, including special stains and quality control methods in use in clinical and experimental anatomic pathology laboratories. The second rotation is determined by the student's particular interest and generally will be in the student's likely thesis research laboratory. It might, for example, be focused on immunohistochemical or molecular diagnostic techniques or in situ or confocal or electron microscopic techniques in use in a laboratory. Research laboratories at the medical center or in biotechnology companies are the sites used for both rotations and thesis research with which the department or individual faculty has managing, consulting or service associations
Admission
Students must have received a bachelor's degree from an accredited university, including
courses in general biology, chemistry, physics and calculus
Additional criteria considered by the admissions committee include:
A good academic record/GPA
TOEFL for International students (set at 600 by the University)
Personal statement
Letters of references on official letterhead
Interview evaluation (if invited)
Interest level in pathology research
All aspects of an applicant , including research experience and publications are considered in the decision process
For details on how to apply, please visit the GMS website here.