Master of Science in Pathology Laboratory Sciences
A unique blend of comprehensive biomedical science education with pragmatic, hands-on skill acquisition.
Program Description
---
The Master of Science in Pathology Laboratory Sciences Program focuses on the basic science and laboratory techniques of pathology and related disciplines. The Masters Program was founded in 2003 by Dr Adrianne Rogers, Emeritus Professor of Pathology &  Laboratory Medicine and former Associate Chair of the department.  Graduates will be prepared to work in basic science, biotechnology and other biomedical research laboratories designing, performing, and evaluating research using methods based on morphology. Students learn to prepare and evaluate animal or human cells and tissues for the effects of test compounds, devices or procedures using morphologic methods.
Techniques include gross, microscopic and ultrastructural techniques for examination of cells and tissues, including histochemical staining and immunohistochemical, immunofluorescence and radioisotopic methods; certain clinical chemistry, hematological, immunological and radioisotopic methods for examination of blood and tissue fluids or extracts. Offerings include some or all of the following specialized techniques in the basic laboratory rotations or in the student's laboratory research project: laser capture techniques, in situ hybridization including fluorescence detection (FISH) and confocal or electron microscopy, image analysis & virtual pathology. Students learn and rotate in modern, well equipped laboratories on the BU Medical Campus.
The Master of Science in Pathology and Laboratory Sciences is a two year program that can help prepare you for a future career path in: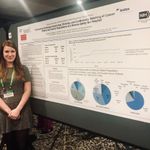 Academia
Biotech/Pharmaceutical Industry
Medical School
PhD Program
Main Features of the program
Learning Goals & Outcomes of the Master's Program
Program Design
---
Candidates are required to complete a minimum of 8 semester courses (32 credit hours) at the graduate level, including an original laboratory based thesis.  The degree program is usually completed within two years.
Curriculum
Laboratory Thesis Research
Admission
---
Students must have received a bachelor's degree from an accredited university, with recommend courses in general biology, chemistry, physics and calculus. Applications can be submitted starting in the Fall, however, generally applications are reviewed from January 1st. International students need to have been accepted by July 25th in order to have enough time for paperwork to be cleared through ISSO. To be considered for any scholarships, applications must be submitted before April 30th.
Additional criteria considered by the admissions committee include:
A good academic record/GPA
TOEFL for International students (set at 600 by the University)
Personal statement stating reason for choosing this program and highlighting why you would be an asset to the program
Minimum 2 Letters of references on official institutional letterhead
Interview evaluation (if invited)
Interest level in pathology research
All aspects of an applicant , including research experience and publications are considered in the decision process
For details on how to apply, please visit the GMS website here.
Tuition and Financial Ad
---
Please find the official tuition and fee rates here. The department has a limited number of scholarships that we invite accepted students to apply for. These scholarships are modest in amount, up to $10,000, and are only available for one year, broken up equally between two semesters.
One scholarship in the amount of $10,000 is named for Adrianne Rogers, MD, the founder of the Masters in Pathology Laboratory Sciences program. This merit based scholarship is available to full-time graduate students who are from a population underrepresented in science, and demonstrate financial need.
Additionally, we can award two provost scholarships, up to $10,000 to help students in financial need.
In order to fairly determine recipients, we invite you to write a one page essay telling us how would receiving this scholarship of up to $10,000 would assist you in achieving your goals in the program and future? Please have essays in to the director by 5pm on April 30th.
Boston University and Boston Medical Center employees may be eligible for tuition remission. (Those receiving this benefit cannot combine it with a Provost's Scholarship.)
Employment
---
With the growing use and development of highly sophisticated morphologic techniques, the demand for well-trained technical personnel in academic and biotechnological laboratories is growing. Students interested in careers that involve technical work using morphologic techniques to examine tissues from patients or laboratory animals will benefit from this program and, upon its completion, will likely find attractive employment opportunities. Our graduates will also be well prepared to enter a doctoral degree program in biomedical sciences or apply to medical school.
Our graduates are currently employed in diagnostic and research laboratories and we make every effort to facilitate job opportunities for them.