SPECIAL New News Edition: Pathology & Laboratory Medicine News Items –
Pathology & Laboratory Medicine News Items –
Special New News Edition: September 2019
| | |
| --- | --- |
| Date: | Monday, August 19, 2019 |
| Re: | Christopher D. Andry Appointed Chief, Chair of Pathology & Laboratory Medicine |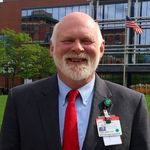 We are pleased to announce that Christopher Andry, MPhil, PhD, has been named Chief, Department of Pathology & Laboratory Medicine at Boston Medical Center (BMC) and Chair, Department of Pathology & Laboratory Medicine at Boston University School of Medicine (BUSM) effective September 1.
Dr. Andry's career at BMC and BU has spanned more than 35 years, during which he has demonstrated a deep-rooted commitment to and passion for the mission of the BMC Health System, BUSM and the Medical Campus, Boston University and the Boston community at large. As Chief and Chair, Dr. Andry will bring his clinical expertise and leadership to the role to ensure a high-quality, integrated, academic department that is innovative, well-resourced, and collaborative.
Dr. Andry currently serves as the Department's Vice Chair for Operations & Management and Administrative Director. Professor of Pathology & Laboratory Medicine and Family Medicine, he also is a member of the BU-BMC Cancer Center Executive Committee, Co-Chair of the BU Laboratory Safety Committee and liaison to New England Donor Services.
Dr. Andry received his PhD in pathology from BUSM and his bachelor of science and master of philosophy in biological sciences from the University of Lancaster, United Kingdom. He has published and collaborated on more than 50 articles, reviews and medical texts.
We would like to extend our thanks and appreciation to Dan Remick, MD, who has served as Chief and Chair for the past 13 years, and to Jorge Soto, MD, who headed the search committee.
Please join us in congratulating Dr. Andry on his appointment.
| | |
| --- | --- |
| Date: | August 20, 2019 |
| Re: | Deborah Stearns-Kurosawa Appointed GMS Associate Provost Ad Interim |
I am pleased to announce that Deborah Stearns-Kurosawa, PhD, Associate Professor of Pathology & Laboratory Medicine, has been appointed Associate Provost/Dean ad interim for Graduate Medical Sciences (GMS), effective September 1.
Dr. Stearns-Kurosawa will be a member of the senior leadership teams of the School of Medicine and Medical Campus. She will oversee curricula and execution of all graduate programs including recruitment, admissions, ongoing program activities, new program development and student outcomes. In addition, she will continue to foster the collaboration of the basic science and clinical departments in education and graduate research.
Dr. Stearns-Kurosawa, who joined BU in 2008 as assistant professor of Pathology & Laboratory Medicine, had previously served as an assistant member at the Oklahoma Medical Research Foundation and as chief research scientist at a pharmaceutical corporation in Tokyo. She earned her BS in biochemistry from Pennsylvania State University, PhD in chemistry from Cleveland State University with graduate research at the Cleveland Clinic, and completed post-doctoral training in a Howard Hughes Medical Institute (HHMI) laboratory at the Oklahoma Medical Research Foundation focused on mechanisms of blood coagulation. She holds multiple patents and for two decades has continuously served as principal or co-investigator of numerous NIH and organizational grants.
Dr. Stearns-Kurosawa was a core faculty member of the BU Faculty Innovation Network that supported development of the $20m Innovate@BU initiative. The university-wide pioneering entrepreneurship resource for BU faculty, students and alumni is designed to educate and provide resources to facilitate entrepreneurship, entrepreneurial innovation, technology transfer and product development.
She serves on numerous School of Medicine and GMS committees and is a master educator in immunology for first-year medical students and directs GMS PA510 medical immunology and GMS PA810/811 Seminars in the Business of Science. She co-directs SDM MD520/GMS OH700 General Pathology for dental and graduate students, and lectures in other graduate and medical student pathology courses.
Please join me in congratulating Dr. Stearns-Kurosawa on her appointment.