Pathology & Laboratory Medicine News Items – March 2019
Pathology & Laboratory Medicine News Items – March 2019
Announcements:
Recent Faculty Appointments:
Congratulations to Dr. Dennis Jones on your appointment to GMS Faculty
Congratulations to Ms. Liz Duffy on your appointment to GMS Faculty
Dr. Dennis Jones received a 2019 George K. Michalopoulos Junior Faculty Travel Award. This award is funded by the George K. Michalopoulos Award Fund and will be presented at the American Society for Investigative Pathology 2019 Annual Meeting at the Experimental Biology conference
Dr. Jones will also be giving an oral presentation titled "Methicillin-resistant Staphylococcus aureus causes sustained collecting lymphatic vessel dysfunction" at the Experimental Biology conference in April
Dr. Ivana Delalle attended the international conference, AD/PD (Alzheimers's Disease / Parkinson's Disease) meeting in Lisbon, Portugal, March 26-31,presenting the results of the study "Methionine Sulfoxide Reductase-B3 risk allele implicated in Alzheimer's disease associates with increased odds for brain infarcts" we published last month in Journal of Alzheimer's disease (PMID: 30775993)
Cheryl Spencer was a participant in the 1ST ANNUAL BMC NEWBORN AND PEDIATRIC BEREAVEMENT CONFERENCE and gave an introductory presentation "Reporting fetal death to Decedent Affairs office and office of the Chief of Medical Examiner, fetal disposition by family and hospital, and autopsy permission and points of contact".  This conference took place in the Moakley Simulation Center. The Audience was nurses from Labor and Delivery, NICU, pedi-ED, Pediatrics, and OR.
Three of our residents, Israa Laklouk, Artem Shevtsov and Ilyas Yambayev participated in the USCAP 2019 the week of March 18th:
Israa Laklouk, MD gave a Poster presentation: "Race-ethnicity Associated Disparities of Molecular Genotyping in Classical Papillary Thyroid Carcinoma, Follicular Variant Papillary Thyroid Carcinoma, and Noninvasive Follicular Thyroid Neoplasm with Papillary-Like Nuclear Features (NIFTP): an Institutional Experience, 162 Patients" Authors: Israa Laklouk, Reyhan Gedik, Sandra Cerda
Dr Sandra Cerda was invited as the guest Grand Rounds lecturer at the Department of Pathology in Montefiore, March 7th.  Her talk was on "Multigene Next Generation Sequencing Panel Analysis and its application on Cancer Diagnosis in FNA of Thyroid Nodules with Indeterminate Cytology"
From Dr. Nader Rahimi's Lab: Congratulations to Razie Amraei, a current Pathology Master student and Rachel Ho, a former MAMS student working in Nader Rahimi's laboratory, who have been accepted into Boston University PIBS PhD program
Nancy S. Miller, M.D accepted an invitation to serve on the Ignition Award Review Committee for the Office of Technology Development, Boston University
Dr. Miller also accepted a 2-year term as a Committee Member for the American Society for Microbiology Distinguished Lecturer Program
In addition Dr. Miller is invited faculty and presenter at the workshop "Epidemics Within the Opioid Epidemic: The Infectious Disease Consequences" presented at the 4th Joint Meeting of the Northeast Association for Clinical Microbiology and Infectious Disease and Northeast-Branch-American Society for Microbiology with the New Hampshire Department of Health and Human Services and the Massachusetts Department of Public Health, April 8, Portsmouth, NH. Dr. Miller will present "Diagnostic Microbiology in the Ongoing Opioid Epidemic: A case-based approach."
Yuri Kim, PhD (Lee Quinton's Lab) successfully defended her Thesis, "Liver-Dependent Protection During Pneumonia and Sepsis" on Thursday, March 28th; Bravo Yuri!!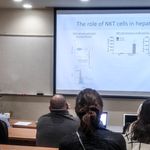 The new Dr. Yuri Kim Defending her thesis on Thusrday, March 28th