BUSM, BMC Nephrologist, Researcher Honored by International Society of Nephrology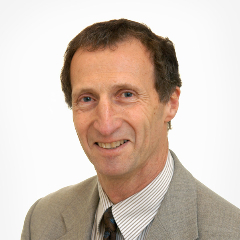 David J. Salant, MD, professor of medicine, pathology and laboratory medicine at Boston University School of Medicine (BUSM) and chief of the section of nephrology at Boston Medical Center (BMC) has been named the recipient of the 2013 Jean Hamburger Award from the International Society of Nephrology (ISN). The award was presented at the World Congress of Nephrology in Hong Kong on June 1.
The Jean Hamburger Award recognizes outstanding research in nephrology with a clinical emphasis. The award was established in memory of Jean Hamburger, the "Professeuer de Paris," pioneer of clinical nephrology and founding president of the ISN.
The International Society of Nephrology is dedicated to advancing the diagnosis, treatment, and prevention of kidney diseases in the developing and developed world. The society aspires to eliminate kidney disease worldwide.
"Beginning with basic research in experimental models, we now made the recent discovery of a major target antigen in a common form of autoimmune glomerular disease," said Salant. "This award really recognizes the contributions of a succession of outstanding colleagues and fellows at BUSM over the past three decades."
Salant has written several key papers on immunological kidney diseases, as well as editorials, reviews and book chapters on glomerular diseases and vasculitis of the kidney. He has delivered keynote lectures at major scientific congresses and he served as chairman of the American Board of Internal Medicine Subspecialty Board of Examiners in Nephrology.
Salant earned his medical degree from the University of the Witwatersrand in Johannesburg, South Africa. He completed his residency at Johannesburg General Hospital, where he also gained extensive experience in renal transplantation, dialysis and other aspects of clinical nephrology before coming to BMC and BUSM. He also is director of the renal training program at BUSM.