Jan. 28 Free Film Screening "MONSTER" Followed by Panel Discussion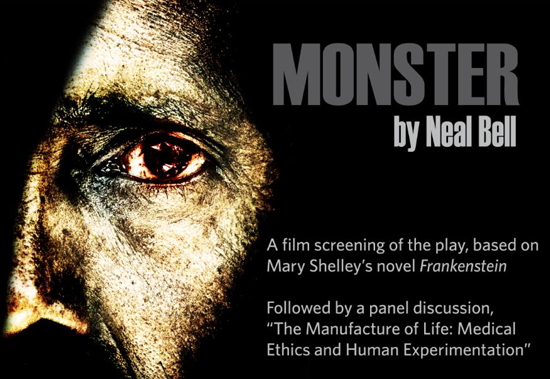 Students, faculty and staff on the BU Medical Campus are invited to a free film screening of the play MONSTER followed by a panel discussion on The Manufacture of Life: Medical Ethics and Human Experimentation. Based on the the novel Frankenstein by Mary Shelley, the screening and panel discussion will be held on Monday, Jan. 28, 4:30 p.m., 670 Albany St. Auditorium.
Following the screening, School of Theatre Director Jim Petosa will lead a panel discussion about medical ethics featuring BU Medical Campus faculty members George Annas, JD, MPH and Michael Grodin, MD.
This event is presented by the Arts Outreach Initiative and the College of Fine Arts in partnership with BU School of Public Health, BU School of Medicine, the Student Creative Arts Society, and the BUSM Office of Diversity and Multicultural Affairs.