David S. Wang, MD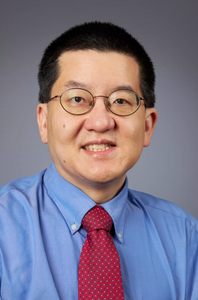 David S. Wang, MD, is an Associate Professor of Urology at the Boston University School of Medicine. Dr. Wang is an expert in the field of endoscopic and minimally invasive urologic surgery.
Dr. Wang completed his medical degree at Yale University School of Medicine, residency training in General Surgery at the Massachusetts General Hospital/Harvard Medical School, and residency in Urology at the Lahey Clinic Medical Center. He then completed a Fellowship in Endourology and Laparoscopic Surgery at the University of Iowa.
Dr. Wang has considerable experience in laparoscopic and robotic surgery, including robotic radical prostatectomy, radical nephrectomy, donor nephrectomy, partial nephrectomy, and repair of ureteropelvic junction obstruction. He was part of the team that performed the first robotic prostatectomy in Massachusetts. Dr. Wang is also proficient in endoscopic surgery for both benign and malignant conditions, including urinary tract stones and tumors. He has extensive experience in percutaneous kidney stone removal, ureteroscopy (endoscopy of the ureter), and also shock-wave lithotripsy. He has been recognized as one of Boston's Top Doctors since 2009.
Dr. Wang has published extensively in leading urology journals, authored numerous textbook chapters, and has presented at conferences at the national and international level. He is an editor for the Urologic Survey Section of the Journal of Urology.
Dr. Wang is board-certified by the American Board of Urology and is a member of the Endourological Society. He is also a member of the American Urological Association and is Secretary/Treasurer of the Massachusetts Association of Practicing Urologists.
Medical School: Yale University School of Medicine
Internship: Massachusetts General Hospital, Boston MA
Residency: Lahey Clinic Medical Center, Burlington MA
Fellowship: Endourology and Laparoscopic Surgery, University of Iowa, Iowa City IA
Additional Links