Alumni Spotlight – Fall 2021 – Anjali Jacobs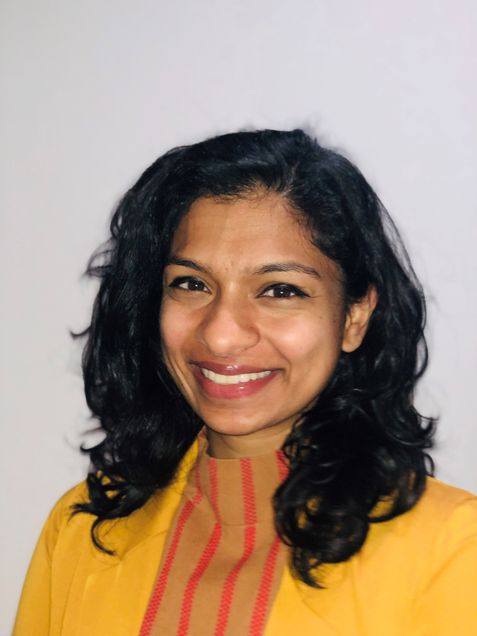 What is your favorite BUSM experience or memory?
My MD/PhD training was definitely quite a journey. One of the happiest days of my life was the day when everything finally came together with my project…the day of my thesis defense.  I was able to share with all the people who have helped me along the way…from the medical school to graduate school staff to the MD/PhD program directors, family and friends…even the Facility Cores. I had gotten so much help from so many people and the defense was the single day that I could personally thank everyone.  It was a culmination of everything I have done…and a result of collaboration with all those I met. Even though some days were negative, I left my training with many positive memories.
What are the most valuable aspects of your dual degree training?
There are several benefits of doing a PhD and then going back into medicine. One is the becoming curious about the issues that we're facing in caring for patients…and many are missing answers. PhD training helped me to ask questions that generate conversation, making my residency training a lot more interesting and fun. The second is that our PhD trains us to give oral presentations…and tell a story. Story telling occurs every time I present a patient in front of others, pulling it together in allotted time, while sustaining listener's interest.  The third PhD benefit was the opportunity to interact with senior faculty, breaking down the usual hierarchy to share interesting ideas. Instead of being afraid to ask questions during my residency, I took an active role in my learning, just like during my PhD training.
What attracted you to the research track during your residency training?
I wasn't like super sure that I wanted to join pulmonary critical care when I entered pulmonary research as a doctoral student at BUSM.  But I found pulmonary questions engaging, I fit in with pulmonary folks, and also realized that there's interesting questions still to be answered.  At the end of the day, I like helping people who are having trouble breathing. I now realize that there are several "research tracts". Many residencies offer a "research pathway" but without a promised fellowship position thereafter.  While this would have exposed me to like-minded researchers, it is challenging to actually do research during residency training and I do not suggest it. In my research tract training, I could have chosen to train in another specialty [other than pulmonary critical care], since physician-scientists are valued in many subspecialty fields.  When I interviewed for residency, I also interviewed for my fellowship and was offered both…a big relief! In exchange for doing 2 years of residency training, I promised to do an additional year of research during my fellowship…a fair trade off since I want to be physician-scientist as my career and loved the pulmonary fellowship at UCSF.  I would remind trainees that it is also possible to ask about fellowships during residency interviews and make contacts for the future…even if you choose residency and ultimately fellowship training at two different institutions.   Admission into competitive fellowship programs can be harder and more complex due to their smaller size, so a guaranteed fellowship position is more valuable than I initially realized.  While "short tracking" at one institution is not for everyone, I am so very, very grateful for this opportunity.
What problem(s) need to be solved in your chosen field of expertise?
Although ARDS was unusual, it has become common in the SARS CoV2 era. During my PhD, I had been thinking about the lung injury, repair, and fibrosis. Other than mechanical ventilation and oxygen, we have little to offer for treating ARDS and many patients die.  Some survivors appear in my pulmonary clinic with post-COVID lung diseases that is not yet understood. Now we have an explosion of questions to be answered in pulmonary critical care. I think about these questions because I see outcomes affecting human beings…it is definitely tragic to see patients dying and also feels inspiring. This crisis will happen again at some point in our lifetime…but maybe we will have a better idea of how help our ARDS patients.
What additional training would have been valuable before you left BUSM?
I actually think our medical and research training was excellent. I do wish for training in stress management techniques. Residency was really hard (granted there was a global pandemic) but I did not previously consider mental health and activities outside of work that I enjoyed… as result, I found it really hard to attain a sense of life balance during residency. Residency support, including a therapist, made a huge difference in my happiness.  I do think that it is one of the most important things I learned after leaving BUSM!
Contact info: anjali.jacob@ucsf.edu