Education
A Physician-Scientist is a leader who forms the link between basic biomedical science and clinical practice.  In our efforts to both nurture and mold our students to achieve this goal, we focus on providing a flourishing environment through our expertise in training, mentoring and advising, and fostering community.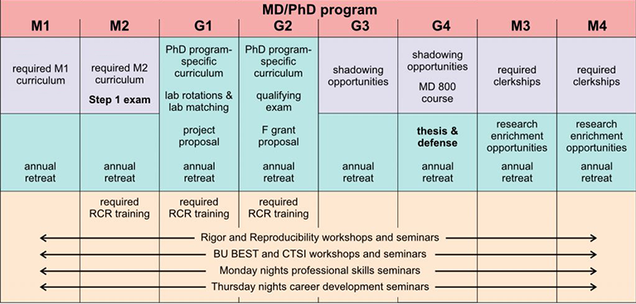 A typical MD-PhD program consists of two years of pre-clinical medical education, followed by three to five years of graduate training, and capped by two years of clinical medical education.
Our program integrates the medical and research training in their respective phases.
M1 and M2
Vertical peer mentorship is provided for each incoming student to ease transition into the new program and establish relationships. Students have found this feature helpful in adjusting to medical curriculum and learning about various research opportunities.

During the foundational science phase of the curriculum, students learn scientific principles through the study of

sciences such as

biochemistry, histology, physiology and the principles of

effective

doctoring. In our two-year doctoring curriculum,

MD/PhD

students are taught communication skills, physical diagnosis, and critical thinking

through Doctoring 1 and 2 taught in personalized fashion by our MD/PhD Co-Directors across two-years

.

In addition, MD/PhD students learn presentation skills using case-based scientific research, attend science journal clubs, and practice writing a "specific aims page" as if submitting a grant and in preparation for their training grant application during the early graduate years.
Graduate years
Students take MD800, a low-stakes clinical clerkship provided by Dr. Borkan in the last year of the PhD portion. The class provides a setting for students to refamiliarize doctoring techniques and common medical knowledge, thus better preparing them for upcoming clinical clerkships.
The program organizes an annual meeting between the G4's and M3's, where helpful advice for clinical clerkships is provided peer to peer.
M3/M4
The program organizes an annual meeting where alumni of the Boston University MDPhD program are invited to talk about the paths the M4's can take, including more information about MDPhD specific research track residencies.