Livestream of the Department of Pathology & Laboratory Medicine, 2022 Resident and Graduate Student Graduation event
Friday June 3rd 6:00 – 9:00 p.m.
2022 Graduation
L-R Bottom: Drs. Ilyas Yambayev, Aishatu Aloma, Katie Doonan, Isabela Medeiros, Isa Jacoba, Sanket Choksi, Artem Shevtsov, Murad Elsadawi. L-R Top: Drs. Ramya Narasimhan, Charitha Vadlamudi, Claire Avillach, Soo Hyun Lee, Adeyemi Sofoluwe
2021 Residents
L-R: Drs. Ilyas Yambayev, Lina Ma, Charitha Vadlamudi, Hanqiao Zheng, Michael Kritselis, Artem Shevtsov, Isabela Medeiros, Claire Avillach, Murad Elsadawi, Lubna Suaiti (absent Sanket Choksi)
2021 Resident Graduates
L-R: Drs. Michael Kritselis, Ilyas Yambayev, Artem Shevtsov and Hanqiao Zheng
2021 Faculty & Residents
Welcome New Resident Picnic 2021
Hosted by Program Leadership Drs. Henderson, Thomasson, Higgins (absent) and Daphney Noel (Program Coordinator). New residents L-R: Adeyemi Sofoluwe, Isabela Medeiros, Katie Doonan (absent Isa Jacoba, Soo Hyun Lee, Ramya Narasimhan)
Residency Training 
Department of Pathology & Laboratory Medicine at
Boston Medical Center &
Boston University School of Medicine
Programs Offered
This is a fully accredited program in the Department of Pathology and Laboratory Medicine at Boston Medical Center (BMC) and Boston University School of Medicine (BUSM). The program offers a combined Anatomic Pathology (AP) and Clinical Pathology (CP) pathway to American Board of Pathology certification. This program consists of a minimum of 24 months AP and 18 months CP. The remaining 6 months may be spent doing either AP or CP, depending on the resident's particular interests. Residents alternate between AP and CP at yearly and six-month intervals.
Fellowship
Currently the department hosts one funded fellowship position in Cytopathology at a PGY5 level.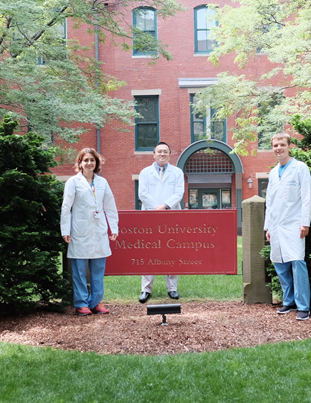 Drs Shoreh R. Fazeli, Weiwei Shi and Andrey Prilutskiy (L-R), graduated from our Residency Training Program in 2020 and are moving on to strong Fellowship Programs in Boston. Dr. Shoreh R. Fazeli (General Surgical Pathology Fellowship – Beth Israel Deaconess Medical Center), Dr. Andrey Prilutskiy (Head and Neck Pathology Fellowship – Massachusetts General Hospital), Dr. Weiwei Shi (Thoracic Pathology Fellowship – Brigham and Women's Hospital).
About the Department
Training at BMC/BUSM is enhanced by our socially diverse and global patient population. There is depth and breadth of AP and Lab Medicine across many medical and surgical subspecialties. Our department supports several centers of excellence on campus including but not limited to the: Center for Infectious Diseases, Cancer Care Center, renal transplant service, Grayken Center for Addiction Medicine, the Amyloid center, the Immigrant and Refugee Health Center Program. BMC is a Level One Trauma center supported by our Transfusion Medicine Service.
Anatomic Pathology receives 24,000 surgical pathology accessions and 18,000 cytology specimens each year. Additionally, the department performs approximately 70 autopsies annually. Laboratory Medicine performs approximately 4.5 million tests annually.  Our laboratories are accredited by the College of American Pathologists (CAP) and The Joint Commission and are CLIA certified and participate in team inspections at other institutions.
Types and Numbers of Appointments
There are a total of 10 residency positions available in the program including up to 3 first-year positions. There is currently one fully funded fellowship position in cytopathology. The program actively seeks to recruit physicians who are under-represented in medicine.
The Department of Pathology & Laboratory Medicine at Boston University School of Medicine also supports a Masters in Pathology Laboratory Sciences and a PhD program in pathology that has an enrollment of 27 students and shares facilities and some academic programs with the residency program. Active participation in research projects, by our residents, is expected, supported and encouraged.
Facilities
The Boston Medical Center is a modern tertiary care 496-bed facility with a distinguished tradition in academic medicine. The medical center is immediately adjacent to and flanks the campus of the Boston University School of Medicine.
Residents in AP train in our state-of-the-art facility at 670 Albany Street. One of the few custom built AP and CP laboratories in the USA, it replaced the Mallory Institute of Pathology building which housed the pathology department from its construction in 1933. The design took 1.5 years, with consultation from Stubbins Associates (an architectural firm with wide experience in lab design for the Biotech industry), and features modern ventilation, equipment, laboratory and office space for AP & CP residents and for administrative support.
Residents are provided shared administrative space with conference room and lounge.