Residency Program
---
This is a fully accredited program in the Department of Pathology and Laboratory Medicine at Boston Medical Center (BMC) and Boston University Chobanian & Avedisian School of Medicine. The program offers a combined Anatomic Pathology (AP) and Clinical Pathology (CP) pathway to American Board of Pathology certification. This program consists of a minimum of 24 months AP and 18 months CP. The remaining 6 months may be spent doing either AP or CP, depending on the resident's particular interests. Residents alternate between AP and CP at yearly and six-month intervals.
About the Department
---
Training at BMC and Boston University Chobanian & Avedisian School of Medicine is enhanced by our socially diverse and global patient population. There is depth and breadth of AP and Lab Medicine across many medical and surgical subspecialties. Our department supports several centers of excellence on campus including but not limited to the: Center for Infectious Diseases, Cancer Care Center, renal transplant service, Grayken Center for Addiction Medicine, the Amyloid center, the Immigrant and Refugee Health Center Program. BMC is a Level One Trauma center supported by our Transfusion Medicine Service.
Anatomic Pathology receives 24,000 surgical pathology accessions and 18,000 cytology specimens each year. Additionally, the department performs approximately 70 autopsies annually. Laboratory Medicine performs approximately 4.5 million tests annually.  Our laboratories are accredited by the College of American Pathologists (CAP) and The Joint Commission and are CLIA certified and participate in team inspections at other institutions.
Program Strengths
Types and Numbers of Appointments
---
There are a total of 10 residency positions available in the program including up to 3 first-year positions. There is currently one fully funded fellowship position in cytopathology. The program actively seeks to recruit physicians who are under-represented in medicine.
The Department of Pathology & Laboratory Medicine at Boston University Chobanian & Avedisian School of Medicine also supports a Masters in Pathology Laboratory Sciences and a PhD program in pathology that has an enrollment of 27 students and shares facilities and some academic programs with the residency program. Active participation in research projects, by our residents, is expected, supported and encouraged.
Facilities
---
The Boston Medical Center is a modern tertiary care 496-bed facility with a distinguished tradition in academic medicine. The medical center is immediately adjacent to and flanks the campus of the Boston University School of Medicine.
Residents in AP train in our state-of-the-art facility at 670 Albany Street. One of the few custom built AP and CP laboratories in the USA, it replaced the Mallory Institute of Pathology building which housed the pathology department from its construction in 1933. The design took 1.5 years, with consultation from Stubbins Associates (an architectural firm with wide experience in lab design for the Biotech industry), and features modern ventilation, equipment, laboratory and office space for AP & CP residents and for administrative support.
Residents are provided shared administrative space with conference room and lounge.
AP facilities offer surgical pathology processing, histology, immunohistochemistry, electron microscopy, cytology prep. and screening, image analysis center, molecular pathology (e.g. Next Generation Sequencing, FISH, PCR, Molecular Microbiology), biobanking service, intraoperative consult suite for frozen section service and a recently renovated autopsy suite.
The CP laboratory is a 24/7/365 state-of-the-art supported by modern automation and robotics. Examples include: a new automated track in Chemistry, automated cell analyzers and 6 -10 color flow cytometry in Hematology, proteomic and molecular platforms and a commissioned BSL-3 containment room in Microbiology, and automated cross-matching in Blood Bank. The division supports point-of-care services throughout the medical campus and a rapid response laboratory.
The 670 Albany street building is also home to BU pathology research space that features modern pathology equipment including confocal, FACScan, and digital brightfield and immunofluorescence slide-scanning microscopes.
Laboratory Tour
Community
---
Our mission is to join BMC and Chobanian & Avedisian School of Medicine to serve a vulnerable patient population and contribute to the improved health of all our patients. We promote and support, equity, integrity, respect and social justice, and collaborate with a number of Community Health Centers in the City of Boston.  BMC also has strong collaborative relationships with area Academic Medical Centers including but not limited to: Boston Children's Hospital and Mass General Brigham, Tufts Medical Center and the Lemuel Shattuck Hospital. Boston is a lively cultural center with a fine arts museum, numerous art galleries, professional and collegiate sports, the Boston Symphony Orchestra, theater, groups, opera and a heavy concentration of educational institutions. The New England countryside and Boston Harbor are easily accessible and there are opportunities for a wide variety of winter and summer activities. The medical center is located on an attractive campus in Boston's historic South End.
Stipends and Other Benefits
---
The presence of a strong house officer union at Boston Medical Center ensures that residents receive premium pay and benefits. Residents receive not less than $75,094.65 per annum (2023) with stipends increasing approximately $1,500 for each additional year of training. Residents are given four weeks of paid vacation a year and medical and dental insurance are available at low group rates. The hospital also provides short-term disability, long term disability and malpractice insurance at no cost to the resident. Parking is available at reduced rates in our recently completed parking deck. For those residents who elect not to drive, the hospital offers discounted rates on public transportation passes.
Applications
---
Residency candidates must be graduates of approved medical schools in the US or Canada. Graduates of foreign medical schools must have an ECFMG certificate. Applicants must apply through ERAS for this program. The deadline for submission of applications is October 2023.
Address inquiries to:
Sara Higgins, MD
Director of Residency Training Program
Daphney Noel
Residency Program Coordinator
Dept. of Anatomic Pathology
670 Albany Street, 3rd Floor
Boston, MA 02118
(617) 414-5314; Fax (617) 414-5315
Pathology.Residency@bmc.org
Fellowship
---
Currently, the department hosts one funded fellowship position in Cytopathology at a PGY5 level.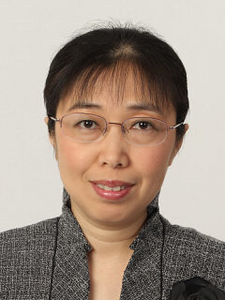 Lina Ma, MD, 2023-2024 Cytopathology Fellow
Job Description
The Department of Pathology and Laboratory Medicine at Boston Medical Center offers a one- year ACGME accredited Cytopathology fellowship with extensive training and experience in diagnostic cytopathology with exposure to management problems that enables physician to practice in this branch of pathology in academic or private environments. Strengths of this program include a large variety of specimens from an intercity safety net hospital as well as neighborhood health clinics, exposure to ultrasound-guided FNA procedures, ROSE, and cytologic specimen processing, Additional opportunities for participation in Endocrine and Breast tumor boards.
Requirements:  Completion of an ACGME certified pathology training in AP or AP/CP. Board Eligible/ Certified and eligible to hold Massachusetts license.
Applications Materials:
CAP Standardized Application for Pathology Fellowship
Three Letters of Recommendations
Brief Personal Statement
Most Recent CV
Application Deadline: Now for AY 2024 
Application Deadline for AY 2025: July 31st, 2023 
Application Submission:
Daphney Noel
Cytopathology Fellowship Program
Program Administrator
Daphney.Noel@bmc.org
617- 414-5314
Sandra Cerda, MD
Cytopathology Fellowship Director
Boston Medical Center
One Boston Medical Center Place
Boston, MA 20118
Sandra.Cerda@bmc.org
617-414-7037