Curriculum/Education
Pulmonary Fellowship Training
---
Core Curriculum
There is a weekly teaching session for the first year fellows that are designed to cover core topics in pulmonary and critical care medicine. The goal of the core curriculum is to provide a foundation in the basics of pulmonary and critical care medicine. The sessions include didactic lectures, chest x-ray and CT interpretation, hands-on teaching about ventilators, BiPAP, CPAP, and tracheostomy tubes.
Pulmonary/Thoracic Work Conference
This is a weekly conference attended by the fellows and faculty of the pulmonary and cardiothoracic services to discuss the diagnostic and therapeutic management of patients at Boston Medical Center. Specific patients are discussed, imaging is reviewed, and pathology is discussed. The goal of this conference is to develop treatment plans for complex patients. This conference provides an opportunity to discuss patient care in a multidisciplinary format.
Chest Conference/Pulmonary Grand Rounds
The entire pulmonary division along with several community-based practicing pulmonologists attends the weekly Pulmonary Grand Rounds. At this interactive conference, first year fellows present clinical cases to faculty members. Key elements of the case are discussed. At the end of the discussion, first year fellows present a summary of the relevant literature. The intent is to highlight new and classical literature regarding diagnosis, treatment, or disease mechanisms. At lease twice a year, the core topics of sleep, exercise physiology, and allergy are focal points of the conference.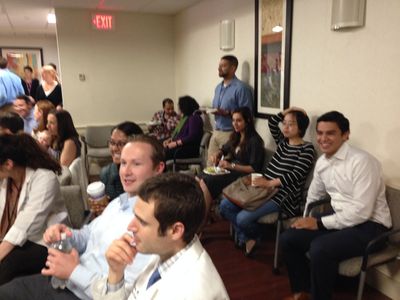 Sample Presentations:
Journal Club
Once a month, a clinical journal club immediately follows the chest conference. A fellow and faculty member presents a selected article and oversees the ensuing discussion. The goals are to identify new and interesting clinical findings, and to teach a critical reading of the literature in pulmonary and critical care medicine.
Senior Fellows' Conference
This is a weekly conference that is run by senior fellows. Individual senior fellows lead a case-based discussion on a specific topic along with a review of the pertinent literature. The conference varies from reviewing interesting radiography, case management issues, reviewing exercise physiology and sleep cases, and new treatment strategies.
Thoracic Oncology Conference
This weekly conference is a multidisciplinary conference in which thoracic surgery, oncology, radiology, pulmonary, and radiation oncology review lung cancer patients and formulate diagnostic and management plans.
Simulation Training Programs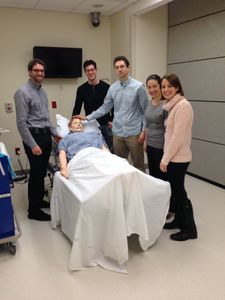 Boston Medical Center has a state of the art Simulation Center which is utilized by the Pulmonary and Critical Care Medicine Fellowship for skill development. The list of simulation programs that Boston University Pulmonary and Critical Care Fellows cycle through include:
Bronchoscopy Simulation
EBUS Simulation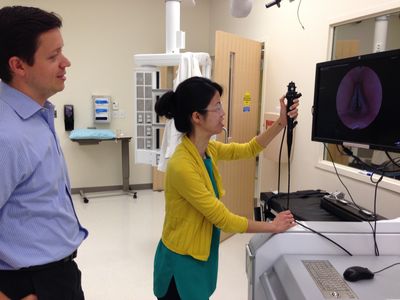 Mechanical Ventilation Training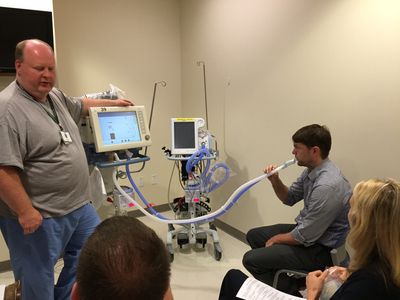 Pleural Biopsy Training
Critical Care Ultrasound Training
Pleural
Vascular
Cardiac
FAST exam
Lung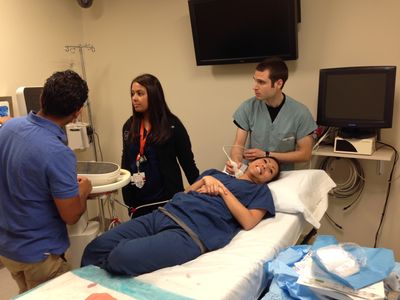 Airway Training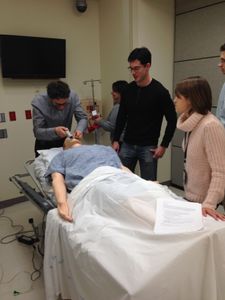 Chest Tube Placement
Emergency Airway Management
Emergency Tracheostomy tube management
Code Blue Simulations: facilitating cases for residents
Decompensating patients
First Year Fellows' Pulmonary Core Curriculum
| Topic | Speaker |   | Competency |
| --- | --- | --- | --- |
| Allergy Consultations | Fred Little | | MK, PBL, PR, CIS |
| Grand rounds presentations | Frank Schembri | | MK, PBL, PR, CIS |
| Fellowship Overview | Berk/Reardon | | PBL, PR, CIS |
| Bronchscopy, Pleural bx, Intubation workshop | Berk/Al Silva/Reardon | | MK, PC |
| Ventilators: Modes and Protocols | Julie Silva/Dan Gavin | | MK, PC |
| Administration Orientation | Kathy Adamson, Beverly McFarlane, Raquel McDonald | | PBL, PR, CIS |
| Ultrasound guided Central Line Placement | Frank Schembri | | MK, PBL, PC |
| Ultrasound guided Thoracentesis | Frank Schembri | | MK, PBL, PC |
| Performing PFTS | Al Silva | | MK, PBL |
| Pulmonary Function Test Interpretation | Michael Ieong | | MK, PBL, PC |
| VA orientation | Susie Cieri | | PBL, CIS, PR |
| Pulmonary Clinic Orientation | Jeff Berman | | PBL, CIS, PR |
| Outpatient management of TB | John Bernardo | | MK, PC |
| BMC Computer/POE orientation | Geralyn Saunders | | PBL, PR, CIS |
| Swan Ganz Catheters | Hap Farber | | MK, PC |
| BMC benefits orientation | | | PBL, PR, CIS |
| Bronchoscopy course | John Berk Chris Reardon | | MK, PBL, PC |
| Pre-operative Risk Assessment | Frank Schembri | | MK, PC |
| Lung Cancer Staging | Hasmeena Kathuria | | MK, PC |
| Dyspnea | Karin Sloan | | MK, PC |
| Solitary Pulmonary Nodule | Hasmeena Kathuria | | MK, PC |
| Pulmonary Hypertension | Hap Farber | | MK, PC |
| COPD | Karin Sloan | | MK, PC |
| Asthma | Fred Little | | MK, PC |
| Noninvasive Mechanical ventilation | Chris Reardon | | MK, PC |
| Mechanical ventilation | Michael Ieong | | MK, PC |
| ARDS | Chris Reardon | | MK, PC |
| Pleural Diseases | Ross Summer | | MK, PC |
| Hemoptysis | Avi Spira | | MK, PC |
| Thromboembolic Disease | Liz Klings | | MK, PC |
| Chest Tubes/PTX | John Berk | | MK, PC |
| Pregnancy related lung disease | Felicia Chen | | MK, PC |
| Jack Faling session | Jack Faling | | MK, PC |
| Obstructive Sleep Apnea | Ting Chen | | MK, PC |
| Interfaces | Ting Chen | | MK, PC |
| Critical Care session | Kevin Wilson | | MK, PC |
| Jack Faling session | Jack Faling | | MK, PC |
| Tracheostomies | Marty Joyce-Brady | | MK, PC |
| Sarcoidosis | Jeff Berman | | MK, PC |
| Cystic Fibrosis | Andrew Wilson | | MK, PC |
| Cough | Fred Little | | MK, PC |
| Anaerobic lung infection and empyema | Art Theodore | | MK, PC |
| Bronchiectasis | James Murphy | | MK, PC |
| Pathology: infections | Katherine Valentine | | MK, PC |
| Jack Faling session | Jack Faling | | MK, PC |
| TBA | TBA | | MK, PC |
| EBUS/Bronch anatomy refresher | Frank Schembri | | MK, PC |
| Jack Faling session | Jack Faling | | MK, PC |
| Pulmonary complications of sickle cell disease | Liz Klings | | MK, PC |
| Pulmonary vasculitides | Jussi Saukkonen | | MK, PC |
| Jack Faling session | | | MK, PC |
| Pulmonary complications of HIV | Michael Ieong | | MK, PC |
| UIP/Pulmonary fibrosis | katie Steiling | | MK, PC |
| Jack Faling session | Jack Faling | | MK, PC |
| Alpha-1 antitrypsin deficiency | Andrew Wilson | | MK, PC |
| Pulmonary Complications of Amyloidosis | John Berk | | MK, PC |
| Control of Breathing and Central Sleep Apnea | Ting Chen | | MK, PC |
| Critical Care session | Kevin Wilson | | MK, PC |
| Jack Faling session | Jack Faling | | MK, PC |
| Occupational Lung Diseases | James Murphy | | MK, PC |
| Diving, Drowning, Altitude | Jeff Berman | | MK, PC |
| Jack Faling session | Jack Faling | | MK, PC |
| BOOP/LAM/EG | Jeff Berman | | MK,PC |
| Eosinophilic lung diseases | Felicia Chen | | MK, PC |
| Jack Faling session | Jack Faling | | MK, PC |
| Introduction to CPET | Michael Ieong | | MK, PC |
| Pulmonary complications of transplantation | Darrell Kotton | | MK, PC |
MK: Medical Knowledge
PBL: Practice based learning
PR: Professionalism
PC: Patient Care
CIS: Communication and Interpersonal Skills