Boston Education and Mentoring in STEM (BEAMS)



OUR VISION
To recruit, develop, and retain underrepresented (URM) youth* of Boston in post-secondary STEM (science, technology, engineering & math) education in an ongoing effort to diversify the healthcare work force.
*racially, ethnically, and linguistically diverse youth
OUR GOALS
Provide career exploration and mentoring in STEM and healthcare professions for URM students (high-school, undergraduate, and post-graduate).
Increase the number of URM students entering college and choosing STEM majors.
Increase the number of URM individuals in STEM and healthcare work force.
WHO WE ARE
BEAMS is a pipeline program create by the Department of MSE with three inter-related student levels: high-school level, undergraduate level, and post-graduate level.  BEAMS partners with the Boston Area Health Education Center (BAHEC) to provide career exploration and mentoring for high-school students attending Boston Public Schools in grades 9 through 12. Through BEAMS, Boston University Medical Campus (BUMC) provides post-graduate participation by collaboration with faculty and students from School of Medicine (BUSM), Graduate Medical Sciences (GMS), Goldman School of Dental Medicine (GSDM), and School of Public Health (SPH). BEAMS also provides undergraduate participation by collaboration with students in the BU Kilachand Honors College. Most recently, BEAMS has partnered with the Pre-Health Programs at BU College of Arts & Sciences and the College Access & Student Success Officeat BU Wheelock College of Education & Human Development, in our efforts to create bridges between high-school students and undergraduate students as well as bridges between undergraduate students and post-graduate students.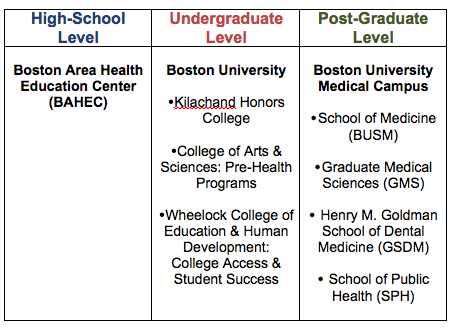 WHAT WE DO
BAHEC: High-School Programming  
BAHEC Summer Enrichment Program
BAHEC After-School Academic Year Program
Other BAHEC Events
CRC: Undergraduate Programming  
CRC-BUMC Events
BUMC: Post-Graduate Programming
CRC-BUMC Events
CONTACT
Maura Kelley, MD, and Elaine Lee, PhD, BEAMS Committee Leaders