16th Annual McCahan Education Virtual Conference 
May 26 & 27, 2021
Check out our Sessions happening now on our Schedule and Program!
Theme:

Teaching Self-Directed Learners in Times of Uncertainty and Change
Keynote Speaker:

Angelique C. Harris, PhD
Keynote Presentation:

Socially Just Teaching/Socially Just Learning:
Incorporating Diversity, Equity, Inclusion, Belonging, and Justice into Medical & Graduate Education Discourse
May 26 | 12-2pm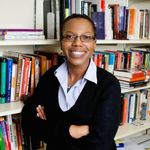 Dr. Angelique C. Harris is the Director of Faculty Development at Boston University Medical Campus (BUMC) and Director of Faculty Development and Diversity in the Department of Medicine (DoM) at the Boston University School of Medicine. Dr. Harris works to design, implement, and lead innovative programs and initiatives aimed at providing and promoting more equitable learning and working environments for faculty, staff, and students.
Dr. Harris
In recognition of his excellence as an educator, the Department of Medical Sciences & Education and the Boston University Medical Campus is proud to host the 16th Annual McCahan Medical Campus Education Day.
Dr. McCahan