John McCahan Medical Campus Education Day
Thank you to all who participated in this year's event!
Plenary speaker: Dr. David Keegan, M.D.,Undergraduate Education Director of the Department of Family Medicine,
University of Calgary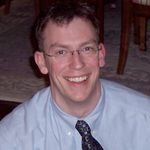 Dr. David Keegan
How to get your team ready to pounce on opportunities and handle unexpected challenges!
In this keynote presentation, Dr. Keegan will be discussing the concept of "strategic capacity" and how to develop it within educational teams.
He will lead participants through an audit of their own educational teams to find gaps in their strategic capacity.  Participants will go on to use provided materials to build a customized plan to fill these strategic gaps in their teams so that they can pounce on opportunities that come their way and/or deal with unexpected challenges.
Target audience: Faculty, fellows, residents, students and staff at BU interested in educational innovation and scholarship on the BU Medical Campus.
Projects that have been presented in the past include:
"Promoting deep learning in a student centered classroom: A case study for Public Health"
"Teaching motivational interviewing in an ambulatory medicine clerkship"
"Assessment of a peer teaching model in Yemen"
"The effect of faculty presence vs. absence on small-group learning and group dynamics"
"Oral disease – Educational strategies to address a significant health issue in children"
Past workshops include:
How the brain learns: How neuroscience informs our teaching
Using digital media inside and outside the classroom
Technology- enhanced active learning
Contact Jackie McDonnell in the Office of Medical Education at 617-638-5110 or jdesmara@bu.edu for more information.