2nd Annual GSI Research Symposium a Huge Success
The 2nd Annual GSI Research Symposium has come and gone this October.  Hundreds of faculty, staff, and students stopped by the Heibert Lounge to support genetic and genomic research at Boston University.
Dozens of posters lined the walls of the 14th floor of the L-Building on the Medical Campus.  Graduate and undergraduate students as well as postdoctoral fellows and faculty were all presenting posters.
Awards were given out to the best student and postdoctoral fellow presenters in multiple categories.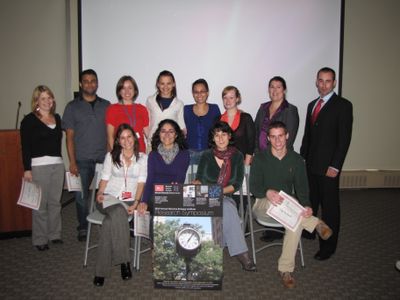 The GSI Symposium Awards Recipients: (top row) Elizabeth Tanner, Badri Vardarajan, Stephanie Correa, Rebecca Kusko, Constantina Christodoulou, Kristen Ott, Stephanie Schneider, Daniel Dworkis; (front row) Catalina Perdomo, Irene Degano, Stephanie van Veen, Cody MacDonald.