Evans Center for Interdisciplinary Biomedical Research (Evans Center)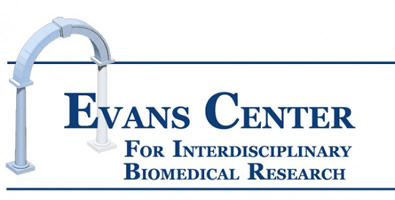 The goal of the Evans Center is to promote growth and discovery in emerging interdisciplinary biomedical research and educational areas by providing faculty affiliated with the Department of Medicine and with various schools, departments and centers at Boston University a dynamic, interdisciplinary organizational structure, which allows investigators with different areas of expertise to collectively address mechanisms of disease, and to facilitate new training opportunities.

Mission Statement

Faculty affiliated with the Evans Center hold academic appointments with different departments. The Center provides opportunities for collaborations within Affinity Research Collaboratives (ARCs) organized around foci of common research interests. The extraordinary strength in biomedical and physical sciences at Boston University, and the support and development of the ARCs create opportunities for new interdisciplinary approaches to both research and training in biomedical research. Basic science discovery promoted by ARCs are also available to the Clinical and Translational Science Institute and to other centers for collaborative translational applications.
Thomas Jefferson's vision of the spread of knowledge, freedom and democracy inspired Eero Saarinen's masterpiece of modern design of the Gateway Arch

Links to publications on the Evans Center as New Paradigm for pursuing Research and Education

Publication 1: K. Ravid et al, Academic Medicine, 2013; Publication 2: AAAS Press Release, April 27, 2017; Publication 3: K. Ravid et al, J. Academic Medicine, 2017; Publication 4: Coleman, Spira and Ravid, Trans Am Clin Climatol Assoc., 2013

~~~~~~~~~~~~~~~~~~~~~~~~~~~~~~~~~~~~~~~~~~~~~~~~~

Upcoming mini-Symposia and Deadlines

(check our periodical announcements and/or contact us)

Watch for upcoming email announcements: Think Tanks to be held in late Fall/early Winter 2019:

Environmental Toxicants Initiative

;

BUMC Health Data Science Initiative

;

ME-Health ARC Annual Symposium

| the later hosted by the Mobile and Electronic Health ARC | Dr. Belinda Borrelli, Director and Drs. Lisa Quintiliani and Tibor Palfai, co-Directors
January 30, 2020: Boston University Office of Technology Development | 4:00pm – 6:00pm | Annual networking event | Hiebert Lounge, Medical Campus | 88 E Newton St
March 30, 2020:

Tobacco Regulatory Science ARC Symposium

| 3:00pm – 5:00pm | Hillel House 4th Floor, 213 Bay State Rd, Boston, MA | Keynote Speaker, Dr. Stanton Glantz, is an internationally renowned expert in the cardiovascular effects of tobacco products and the impact of tobacco control policies on use patterns.
April 13, 2020: ARC applications due at

10AM

SHARP for New Proposals and Renewals | The Review Panel is scheduled to meet on Thursday, April 23, 2020.
~~~~~~~~~~~~~~~~~~~~~~~~~~~~~~~~~~~~~~~~~~~~~~~~~

~~~~~~~~~~~~~~~~~~~~~~~~~~~~~~~~~~~~~~~~~~~~~~~~~

Thank you for your participation!

Please see our Past Events under Seminars/Mini-Symposia/Research Retreats