Evans Center for Interdisciplinary Biomedical Research (Evans Center)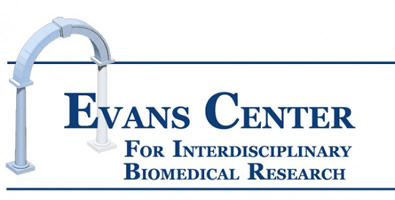 The goal of the Evans Center is to promote growth and discovery in emerging interdisciplinary biomedical research and educational areas by providing faculty affiliated with the Department of Medicine and with various schools, departments and centers at Boston University a dynamic, interdisciplinary organizational structure, which allows investigators with different areas of expertise to collectively address mechanisms of disease, and to facilitate new training opportunities.

Mission Statement

Overview

Faculty affiliated with the Evans Center hold academic appointments with different departments. The Center provides opportunities for collaborations within Affinity Research Collaboratives (ARCs) organized around foci of common research interests. The extraordinary strength in biomedical and physical sciences at Boston University, and the support and development of the ARCs create opportunities for new interdisciplinary approaches to both research and training in biomedical research. Basic science discovery promoted by ARCs are also available to the Clinical and Translational Science Institute and to other centers for collaborative translational applications.
Links to publications on the Evans Center as New Paradigm for pursuing Research and Education
K. Ravid et al, J. Academic Medicine: http://www.ncbi.nlm.nih.gov/pubmed/23269301
Coleman, Spira and Ravid, Trans Am Clin ClimatolAssoc.: http://www.ncbi.nlm.nih.gov/pubmed/23874035
~~~~~~~~~~~~~~~~~~~~~~~~~~~~~~~~~~~~~~~~~~~~~~~~~
~~~~~~~~~~~~~~~~~~~~~~~~~~~~~~~~~~~~~~~~~~~~~~~~~
2014 ARC Directors Luncheon Meetings
NEW TIME   11:30-12:45, W-502
Wednesday, April 23
Thursday, June 19
Wednesday, September 10
Thursday, November 6
~~~~~~~~~~~~~~~~~~~~~~~~~~~~~~~~~~~~~~~~~~~~~~~~~
Current ARC Meetings (announcements of special seminars/presentations may be found on the ARC pages)


Protein Trafficking and Neurodegenerative Diseases, Mon April 7 / Mon May 12 / Mon June 9, 9:30-10:30am, Evans Building, Room E201 at 88 East Newton Street, Medical Campus


BU iPS Cell Bank/Regenerative Medicine, 1st Tuesday of each month, 9-10am, R3


Mitochondria in Health and Disease (mtARC), Wednesdays at 4pm; specific dates will be announced as speakers are scheduled, EBRC 714 at 650 Albany Street, Medical Campus


Molecular, Biomechanical and Genetic Mechanisms of Arterial Stiffness, Tuesdays at 4pm; please watch for details, location is shared between 44 Cummington St, ERB 203, Charles River Campus and EBRC 714 at 650 Albany Street, Medical Campus


Sex Differences in Adipose Tissue Biology and Related Metabolic Diseases, Wednesdays at 4 pm; please watch for specific dates and other meetings as available, locations will be announced

Nanotheranostic Platforms for Cancer and Vascular Disease, Meetings will be announced; location is shared between Photonics Building at 8 St. Mary's Street, Charles River Campus and EBRC at 700 Albany Street, Medical Campus


Metabolic Disease and Insulin Resistance: Studies in Patients Undergoing Bariatric Surgery,  Meetings and location will be announced

Computational Genomic Models of Environment & Chemical Carcinogenicity, Meetings and location will be announced

Etiology and Pathogenesis of Oral Cancer (EPOC), Meetings are scheduled for 12p in the Molecular & Cell Biology Conference Room (Evans 4), the first Monday of each month: Jan 6, Feb 3, Mar 3, Apr 7, May 5, June 2, July 7, Aug 4, Sept 2, Oct 6, Nov 3, Dec 1.