Pathology & Laboratory Medicine News Items – June 2018
Pathology & Laboratory Medicine News Items – June 2018
Announcements:
Happy to report that Gabriel Lerner is now a funded T32 Research Fellow! He heard back a couple of weeks ago, his Medical Student Research Supplemental project studying the etiology of minimal change disease was accepted for the existing NIDDK supported T32 training grant in the Renal Section of the Department of Medicine. This Fellowship will last ~9 months, and end prior to Gabriel's graduation in Spring 2019. Mentorship is dually by both Dr Joel Henderson and Dr Laurence Beck (in the Renal section)
At the 41st European Congress of Cytology (ECC 2018) last week, June 10-12, Madrid, Spain.
Sandra Cerda, MD was an invited speaker at the conference.
Her first talk was in the Cytotechnology session titled "Training of Cytotechnologists in the United States".
Her second talk at the CNS symposium was titled; "Cytology of Metastatic Solid Tumor in CSF"
Shoreh Fazelli, MD gave an oral presentation.  The title of her abstract was "Second review of FNA versus Thyroseq Testing in Thyroid Nodules Interpreted as Atypical cells of Undetermined Significance (AUS)/ Follicular Lesion of Undetermined Significance (FLUS) and Follicular Neoplasm (FN) /Suspicious for Follicular Neoplasm (SFN). Shoreh Fazeli MD, Sandra Cerda MD
Israa Laklouk, MD presented a poster "Clinical Outcomes and Diagnostic Implication of Cytologic Atypia/ Architectural Atypia Subcategorization of Indeterminate Thyroid Nodules (Bethesda-III) with RAS Mutations Subtype and Clinical Outcomes.  Israa Laklouk MD. Cecilia Ponchiardi MD, Sandra Cerda MD
Dr. Laklouk also presented the communication entitled "DIAGNOSTIC IMPLICATION OF CYTOLOGIC ATYPIA/ ARCHITECTURAL ATYPIA SUBCATEGORIZATION OF INDETERMINATE THYROID NODULES (BETHESDA-III) WITH RAS MUTATIONS SUBTYPE AND CLINICAL OUTCOMES"
Cecilia Ponchiardi, MD also presented a poster: "Bethesda III Thyroid Nodules and Thyroseq Genomic Classifier (GC) Testing: Prevalence of Driver Mutations in Matched Resected Lesions and Potential Implications in Management Approach" Cecilia Ponchiardi MD, Israa Laklouk MD, Sandra Cerda MD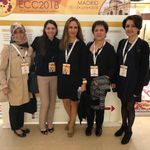 At the EDD Conference: Drs. Israa Laklouk, Cecilia Ponchiardi, Sandra Cerda, Dr. Rosario Granados, the President of the Organizing committee and Dr. Shoreh Fozelli
From the Winandy Lab: Nicole Derosia, a Master's student in the Pathology program, joined the lab this summer. She will be investigating the role of the transcription factor Ikaros in suppressing the pro-inflammatory phenotype in T cells
Dr. Ivana Delalle recently obtained a Genome Science Institute grant
Dr. Delalle also gave an invited lecture at UT San Antonio on Monday, June 18
Anna C. Belkina, MD, PhD, an Associate Director of the Flow Cytometry Core Facility of BUMC, has joined the Department of Pathology as an Assistant Professor; here is some news form her recently…
Dr. Belkina. has given an oral presentation at the International Society for Advancement of Cytometry annual meeting in Prague (CYTO2018) entitled "Inhibitory receptor signatures on gamma delta T cells predict ART-suppressed HIV infection, are synergistically altered by HIV and aging, and co-vary with inflammatory plasma analytes"
Dr. Belkina has also been teaching a half-day workshop entitled "Computational Analysis of Cytometric Data" at the NIH-sponsored 2018 Summer School on Computational Immunology
Dr. Belkina. will be an invited speaker at the University of Washington Department of Immunology seminar on July 12, 2018. She will be giving a talk entitled "Revealing disease phenotypes with computational analysis of high-dimensional flow cytometry
Dr. Joel Henderson and his collaborators recently received the good news that their proposal entitled "KidneyAI: Point-of-care software application for assessment of renal diseases" has been selected to receive a Digital Health Initiative (DHI) Research Award. Their project was one of seven that the DHI has selected for its annual solicitation for Spring 2018. Congratulations!
Publications PUBLISHED:
Schechter-Perkins EM, Miller NS, Hall J, Hartman JJ, Dorfman D, Andry C, Linas B. Implementation and Preliminary Results of an Emergency Department Nontargeted, Opt-Out Hepatitis C Virus Screening Program. Academic Emergency Medicine. 2018 May 31. doi: 10.1111/acem.13484. [Epub ahead of print]. PMID: 29851238