Pathology & Laboratory Medicine News Items – May 2018
Pathology & Laboratory Medicine News Items – May 2018
Announcements:
Dr. Israa Laklouk had a poster/abstract presentation in April at the 1st Annual BUMC Health Equity Symposium (HES) at the Boston University Medical Campus- School of Medicine in Hiebert Lounge.  "Impact of Racial and Ethnic Differences on the Accurate Classification of Thyroid Nodules Using ThyroSeq Next Generation Sequencing" Israa Laklouk MD, Cecilia Ponchiardi MD, David Kindelberger MD, Sandra Cerda MD
This is the same abstract that was awarded with a Mallory funding grant this month
On Behalf of Dr. Barbara Slack, Pathology Department Russek Awards Committee: I am pleased to announce that this year's H.I. Russek Student Achievement Award recipients in the Department of Pathology and Laboratory Medicine are:

First Prize –

 

Gregory Hall, PhD Candidate (Advisor: Deborah Stearns-Kurosawa)

 

Second Prize – Timothy Norman, PhD Candidate (Advisor: Alan Fine)
Congratulations to the award winners, and thank you to everyone who submitted abstracts for the poster session. Russek Day was held on Thursday, May 10th in the Hiebert Lounge (L building, 14th floor). The keynote speaker this year was Dr. Rudolf Jaenisch, Professor of Biology at MIT's

 

Whitehead Institute. Posters were available for viewing throughout the day, and slide presentations by the first-prize winners took place in the afternoon. I hope everyone had a chance to attend

Nancy S. Miller, M.D. presented "Fungal Fest", as the ASM Distinguished Lecturer at the Indiana Branch and the Illinois Branch of the American Society for Microbiology (ASM), on April 6th and May 15th.
Dr. Miller also presented "Culture Independent Testing: A case-based perspective" at the 3rd joint meeting of the Northeast Association for Clinical Microbiology and Infectious Disease and Northeast-Branch-ASM, April 23-24, Wakefield, MA
Dr. Ivana Delalle has received an invitation to present her research on biomarkers for neurodegeneration at Johns Hopkins School of Medicine on May 16, 2018
Tim Norman, 5th year PhD student in Alan Fine's lab, attended the first annual workshop on induced pluripotent stem cells and CRISPR/Cas9 gene editing at the University of Pennsylvania, May 14-18.
Dr. Mostafa Belghasem has a new MAMS Student, Elysia Heilig, joining our department this summer and will do her thesis work in his lab.
Max Vaickus, MS, has a poster accepted to the 41st Annual Conference on Shock in Scottsdale Arizona this June. His poster title is: "Mild Traumatic Brain Injury stimulates immune changes in mouse lung to enhance survival after Pseudomonas aeruginosa infection"
Max was also awarded a BUSM Division of Graduate Medical Sciences Travel Award for this same conference
Happy to report that Dr. Ivana Delalle will serve as chair/moderator at American Association of Neuropathologists at the 94th Annual Meeting Alzheimer's Disease Platform Session on June 8, 2018.  Also, there is a platform presentation:  Benayoun L, Himali JJ, Conner SC, Adams SL, Seshadri S, and Delalle I: "Methionine Sulfoxide Reductase-B3 Risk Allele Implicated In Alzheimer's Disease Affects Odds For Small Covert Brain Infarcts".
Dr. Delalle has also been invited to visit and give a talk on dementia biomarkers at a newly opened Alzheimer's Institute in UT San Antonio by its recently appointed Director Dr. Seshadri (https://therivardreport.com/ut-health-sa-names-seshadri-director-of-alzheimers-institute) on June 18, 2018
Ahmad Al-Moujahed, PhD (MGH Vavvas Lab) successfully defended his Thesis "The Role of Cytosolic Accumulation of Nuclear DNA in Retinal Pigment Epithelium Dysfunction and Age-related Macular Degeneration" on Tuesday, June 5t
Congratulations to this year's Graduates!!!
Residents:

Dr. Ram Al-Sabti; Ram will be moving into a Gastrointestinal & Hepatic Pathology Fellowship at the University of Chicago
Dr. Reyhan Gedik, Reyhan will be staying with us as our Cytopathology Fellow for next year
Dr. Cecelia Ponchiardi; Cecilia will be staying local in a Surgical Pathology Fellowship at Beth Israel Deaconess Medical Center

Graduate Students:

Junbo Chen, MS: Junbo will be working as a medical specialist technologist here in BMC Pathology Department that back up Hui Chen to process kidney biopsies for Dr. Joel Henderson
Terry Hsieh, MD, PhD: Terry will spend his preliminary year in Internal Medicine at Slaone-Kettering in New York before movng on to UCLA for his ophthalmology residency
Subha Singh, MS; Subha is working at OPKO Diagnostics as a Research Associate
Rawan Tahboub; MS;
Mark Wojnarowicz, PhD; Dr. Wojnarowicz is now working for MilliporeSigma as the Isotec Senior Specialist – East Region. His job involves sales and specialization in stable isotope

2018 residents and Graduate students, along with Pathology Faculty, BRAVO!!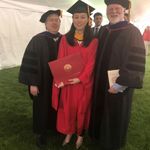 Masters Graduate Junbo Chen, MS with her PI,. Dr. Joel Henderson and Program Director, Dr. Chris Andry
   
Junbo Chen, MS and her mother (in from China) at the BU Graduation Ceremonies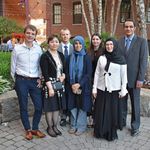 Pathology Residents at this year's Graduation Dinner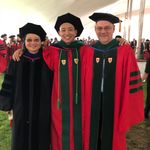 MD, PhD Graduate Terry Hseih and his Mentor/PI, Department Chair, Dr. Daniel Remick, along with his mother here from California
Publications ACCEPTED:

Adams SL, Benayoun L, Tilton K, Mellot TJ, Seshadri S, Blusztajn JK, and Delalle I. : "Immunohistochemical analysis of Activin Receptor-Like Kinase 1 (ACVRL1/ALK1) expression in the rat and human hippocampus: decline in CA3 during progression of Alzheimer's disease"  Journal of Alzheimer's Disease
Martin Peter Steinbuck and Susan Winandy; A review of Notch processing with new insights into ligand-independent Notch signaling in T-cells; Frontiers in Immunology
Sowmiya Kumaradevan, Shin Yin Lee, Sean Richards, Vijay Kolachalama, Chimera Lyle, Qing Zhao4, Yulian Jianliu, Shmyle Ghumman, Joshua Walker, Mostafa Belghasem, Angela Kuhn, Janice Weinberg, Jean Francis, Kevan Hartshrone, Daniel Cifuentes, Nader Rahimi, Vipul C. Chitalia. "c-Cbl expression correlates with human colorectal cancer survival and its Wnt/ β-catenin suppressor function is regulated by Tyr371 phosphorylation". The American Journal of Pathology. Accepted May 17 2018.

Publications PUBLISHED:

Crossland N1, Hawke J1, Del Piero F1, Sokolova Y2, Waltzek T3, Viadanna P3.; Investigation of a Cyprinid Herpesvirus 1 Disease Episode in a Group of Pond-Reared Koi. J Aquat Anim Health. 2018 Apr 19. doi: 10 https://www.ncbi.nlm.nih.gov/pubmed/29672928
Warshaw M, Crossland NA, DiGeronimo PM, Jarvi SI, Pirie GJ Jr, Evans DE; Pathology in Practice; J Am Vet Med Assoc. 2018 Mar 1;252(5):545-548. doi: 10.2460/javma.252.5.545. https://www.ncbi.nlm.nih.gov/pubmed/29461