Pathology & Laboratory Medicine News Items – February 2018
Pathology & Laboratory Medicine News Items – February 2018
Dr. John Kim had a volunteer opportunity serving as a judge for the Science Fair at Excel High School (http://www.excelhigh.org/index.jsp) which is located at the summit of Telegraph Hill in South Boston. Approximately 70 projects were presented by students, and he felt honored and privileged when talking to enthusiastic students about their projects and future in STEM. Dr. Kim would like to encourage all member of pathology community to get involved in another session in next January
Dr. Daniel Remick, M.D., gave the Gustave Dammin Lecture at Brigham and Women's Hospital on February 12, Sepsis: Progress and Challenges
Daniel Remick, M.D. also presented Grand Rounds at the University of Pittsburgh Department of Pathology on January 24th, Sepsis Heterogeneity
Sandra Cerda MD, was invited as a speaker to discuss "Cytotechnologist Education and Training in the US" at the 41st European Congress of Cytology, to be held from 10 to 13 June, 2018 in Madrid, Spain
Abstract accepted for Oral presentation at the Tenth International Symposium VTEC (Verocytotoxin) 2018, Florence, Italy: Shinichiro Kurosawa, Miho Watanabe-Takahashi, Kiyotaka Nishikawa, D.J. Stearns-Kurosawa.  Urtoxazumab (Humanized Monoclonal Anti- Shiga Toxin 2) in the baboon model of Hemolytic Uremic Syndrome and Comparison to in vitro Cytotoxicity.  May 6-9, 2018
Dr. Carmen D. Sarita-Reyes organized a cardiology gross demonstration session on 02/14/18 for the BU School of Medicine's Cardiology Interest Group (comprised of 15 first year medical students). Our residents: Israa Laklouk, Mahmoud Soliman, Weiwei Shi and Ilyas Yambayev, each presented to the students a gross specimen illustrating a specific type of cardiovascular pathology (valve disease, myocardial infarction, atherosclerotic coronary artery disease, etc). The students greatly enjoyed this learning experience and gave rave reviews of our residents' presentations. We would like to acknowledge our residents for their excellent teaching, enthusiasm, and dedication. BRAVO!!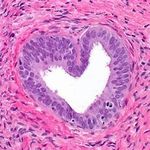 A pathology heart just because it was on Valentine's Day
Cardio  Demonstration Student Group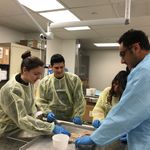 Cardio Demonstration Group with Resident Dr. Mahmoud Soliman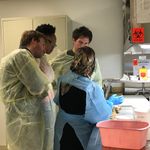 Cardio Demonstration Group with Resident Dr. Israa Lakloud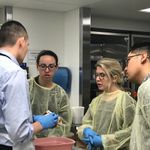 Resident Dr. Ilyas Yambayev with the Cardio Demonstration Group
Nancy S. Miller, M.D. is the ASM Distinguished Lecturer at the Northern California Branch-American Society for Microbiology, March 2-3, in Pleasanton, CA.
Dr. Miller will present The Dr. Gerri Hall Memorial Lecture at the South Central Association for Clinical Microbiology, March 9-10, in French Lick, IN.
Vural Kara, Chuanhua Duan, Kalpana Gupta, Shinichiro Kurosawa, Deborah J Stearns-Kurosawa, Kamil L Ekinci. Microfluidic detection of movements of Escherichia coli for rapid antibiotic susceptibility testing. Lab on a Chip 2018, DOI: 10.1039/c7lc01019b.  Impact Factor 6.04
Hsieh T, Vaickus MH, Remick DG. Enhancing Scientific Foundations to Ensure Reproducibility: A New Paradigm. Am J Pathol. 2018;188(1):6-10.  PubMed PMID: 28958817; PMCID: PMC5745519
Kasotakis G, Galvan MD, Osathanugrah P, Dharia N, Bufe L, Breed Z, Mizgerd JP, Remick DG. Timing of valproic acid in acute lung injury: prevention is the best therapy? J Surg Res. 2017;220:206-12. PubMed PMID: 29180183; PMCID: PMC5726455
Warner TD, Weil CJ, Andry C, Degenholtz HB, Parker L, Carithers LJ, Feige M, Wendler D, Pentz RD; Broad Consent for Research on Biospecimens: The Views of Actual Donors at Four U.S. Medical Centers.. J Empir Res Hum Res Ethics. 2018 Jan 1:1556264617751204. doi: 10.1177/1556264617751204. [Epub ahead of print]
Crossland NA1, Alvarez X2, Embers ME3. Late Disseminated Lyme Disease: Associated Pathology and Spirochete Persistence Posttreatment in Rhesus Macaques. Am J Pathol. 2018 Mar;188(3):672-682