Pathology & Laboratory Medicine News Items – April/May 2017
Pathology & Laboratory Medicine News Items – April/May 2017
Announcements:
A Mallory grant "The Utility of Ki-67 and Phosphohistone H3 in the Differentiation Between Classic Papillary Thyroid Carcinoma, Follicular Variant of Papillary Thyroid Carcinoma and Non-invasive Follicular Neoplasm with Papillary-like Nuclear Features" was funded. This will support the work of Drs. Jing Yang, Cerda and Tan.
The T32 training grant, T32GM086308 "Immunobiology of Trauma" was funded for an additional 5 years with a budget of $1,401,170. This grant provides salary support for BMC residents to engage in basic science research full time for two years. Daniel Remick, M.D. is the principal investigator.
Max Vaickus, graduating Masters student had his abstract accepted for the 40th Annual Conference on SHOCK in June in Fort Lauderdale, Florida. His abstract title is: "Mild traumatic brain injury induces genetic changes in mouse lung to augment Pseudomonas aeruginosa clearance"
Max also received a Travel Award of $1000 to attend the SHOCK Conference
On Behalf of Dr. Barbara Slack, Pathology Department Russek Awards Committee
I am pleased to announce that this year's H.I. Russek Student Achievement Award recipients in the Department of Pathology and Laboratory Medicine are:
First Prize -Stephanie Adams (Delalle lab)
Second Prize – Elizabeth Moses (Spira-Lenburg lab)
Third Prize – Nisma Mujahid (Fisher lab, MGH)
Congratulations to the award winners, and thank you to everyone who submitted abstracts for the poster session. Russek Day was held on Friday, April 21st in the Hiebert, The keynote speaker this year was Dr. Carla Shatz, Professor of Biology and Neurobiology at the Stanford Neurosciences Institute https://www.bumc.bu.edu/gms/students/phd/23rd-annual-henry-i-russek-student-achievement-day-april-21/
I would also like to thank Dr. Rahimi, Dr. Andry, and Dr. Stearns-Kurosawa, for serving on the departmental Russek committee this year.
Richard Kozak retired April 30th after 38+ years in the Clinical Microbiology Laboratory; thank you!
For Nancy S. Miller, MD:
Was an invited speaker at a full-day Medical Mycology Workshop presented at the 2nd joint meeting of the Northeast Association for Clinical Microbiology and Infectious Disease (NACMID) and Northeast Branch-American Society for Microbiology (NEBASM), April 3, 2017, Wakefield, MA
An invited guest also for, "Micro meets multiplex: A case-based view of syndromic panel testing", presented at the Syndromic Testing Symposium, April 6 in Burlington, MA
Dr. Miller will present a Meet-the-Experts session at ASM Microbe 2017 on June 5th, at the international conference of the American Society for Microbiology June 1-5 in New Orleans.  Session Title: "Who knew? And what to do? Tales from the benches and trenches."
It was Medical Laboratory Professionals Week April 23 -28!! Activities included:
Some of the Lab Areas had breakfast and lunches for staff throughout the week
There were two Luncheon Seminar Talks with Pizza
Cake and Ice Cream on Friday Dessert Day, April 28th for everyone
Staff were allowed to wear jeans if they donated $2 to a BMC Fund we raised $150 going to pieces of home back pack project at BMC which serves children who are in foster care
Thank you one & all!!!!
Nisma Mujahid, MD/PhD (Off-Site at MGH, David Fisher Lab) successfully defended her Thesis, "The LKB1-SIK Pathway: Dysregulation in Melanomagenesis and Regulated Use in Skin Cancer Prevention" on May 1st, 2017. HOORAY!!
Stephanie Adams, OD/PhD (Blusztajn/Delalle Lab) successfully defended her Thesis, NEURONAL PHENOTYPES IN HUMAN HIPPOCAMPUS AND NEOCORTEX IN LATE-ONSET ALZHEIMER'S DISEASE: PROTEIN EXPRESSION OF NOVEL GENES IMPLICATED IN PATHOGENESIS" on May 1st, 2017. HOORAY!!
Caitlin Miller, PhD (Gummuluru Lab) successfully defended her Thesis, "Role of viral protein R in infection of human dendritic cells by primate lentiviruses" on May 9th 2017. HOORAY!!
Dr. Daniel Remick was invited to the 9th Wiggers-Bernard Conference at the Ludwig Bolzmann Institute in Vienna, Austria the first week of May. He chaired the working group on defining organ injury in pre-clinical models of sepsis
Dr. Remick also presented a proposal to Wacker Biosolutions in Munich Germany for Boston University. The proposal would potentially fund a student at either the undergraduate or medical campus
Barb Nikolajczyk, PhD participated in the IMMUNOLOGY 2017TM Capitol Hill Day held on May 16 in conjunction with the Annual Meeting of the American Association of Immunologists. She was one of a contingent from MA who met with staff of Representatives from MA Districts 2 and 7 and both Senators to promote a consistent and robust increase in NIH and other science funding "over the long haul". Check out  #AAIHillDay on Twitter to see more.
Daniel Remick was invited to speak at the American Thoracic Society's annual meeting in Washington DC. His presentation was titled "Heterogeneity in the Septic Inflammatory Response"
Dr. Ivana Delalle is pleased to report that she will give a platform presentation entitled "Expression of MSRB3, Implicated in Decreased Hippocampal Volume, Changes in Alzheimer's Disease and Associates With Synaptic Vesicles" on June 9 at the Annual Meeting of American Association of Neuropathologists in Orange County, CA.
Dr. Nikolajczyk was invited to give a seminar at East Carolina University, EDCOI Center, Greenville, NC, Mechanisms Driving Inflammation in Human Obesity and Type 2 Diabetes, 2017.
CONGRATULATIONS GRADUATES!!!!!
Masters Degrees:

Keith Keller, MS
Denis Kyabaggu, MS
Carolina Lyon de ana, MS
Morgan Thompson, MS
Max Vaickus, MS
PhD Degrees:
Stephanie Adams, PhD/OD
Liz Moses, PhD – Liz by the way was the PhD Commencement Speakers, BRAVO LIZ!!!!
Jessica Ritter, PhD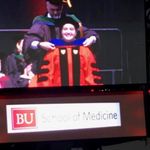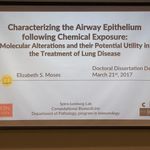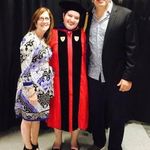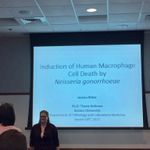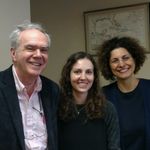 Pathology Residency Completed: (Photos to come next issue)
Cecilia Ponchiardi, MD
Dhay Kamel, MD – from the Cytopathology Program
Nancy L.R> Bucher, MD; Celebration of Life & Legacy
On Thursday, May 4th the department, friends and family gathered to celebrate and honor the remarkable life and legacy of Professor Nancy L.R. Bucher of Harvard Medical School and Boston University School of Medicine. Dr. Bucher was a pioneer in liver regeneration studies and hepatocyte cultures. Dr. Bucher was a Fellow of the American Association for the Advancement of Science as well as the American Academy of Arts and Sciences. She also received The Distinguished Scientific Achievement Award from the American Liver Foundation.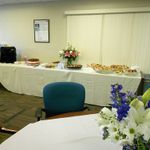 Publications ACCEPTED:
Miller, C.; Akiyama, H.; Agosto, L.; Emery, A.; Ettinger, C.; Swanstrom, R.; Henderson, A.; Gummuluru, S. Virion associated Vpr alleviates a post-integration block to HIV-1 infection of dendritic cells. Journal of Virology. 2017
Li, L., A. Gautam and N.S. Miller. Actinomyces neuii, An Uncommon Bacterial Isolate from a Neck Abscess. Accepted for publication April 10, 2017, Internal Medicine Review
Publications PUBLISHED:
Bi B, Li F, Guo J, Li C, Jing R, Lv X, Chen X, Wang F, Azadzoi KM, Wang L, Liu Y, Yang JH. Label-free quantitative proteomics unravels the importance of RNA processing in glioma malignancy. Neuroscience. 2017 Mar 21;351:84-95. doi: 10.1016/j.neuroscience.2017.03.023. [Epub ahead of print] PMID: 28341197
Li C, Wang D, Lv X, Jing R, Bi B, Chen X, Guo J, Wang F, Sun S, Azadzoi KM, Yang JH. Yersinia pestis acetyltransferase-mediated dual acetylation at the serine and lysine residues enhances the auto-ubiquitination of ubiquitin ligase MARCH8 in human cells. Cell Cycle. 2017 Apr 3;16(7):649-659. doi: 10.1080/15384101.2017.1281481. Epub 2017 Jan 19. PMID: 28103160
Bharath, LP, Ip, B, Nikolajczyk BS. 2017. Adaptive immunity and metabolic health: harmony becomes dissonant in obesity and aging (In Press, Comprehensive Physiology)
Sanaz Bahari-Javan, Hristo Varbanov, Rashi Halder, Eva Benito, Lalit Kaurani, Susanne Burkhardt, Heike Anderson-Schmidt, Ion Anghelescu, Monika Budde, Roman M. Stilling, Joan Costa, Juan Medina, Detlef E. Dietrich, Christian Figge, Here Folkerts, Katrin Gade, Urs Heilbronner, Manfred Koller, Carsten Konrad, Sara Y. Nussbeck, Harald Scherk, Carsten Spitzer, Sebastian Stierl, Judith Stöckel, Andreas Thiel, Martin von Hagen, Jörg Zimmermann, Antje Zitzelsberger, Sybille Schulz, Andrea Schmitt, Ivana Delalle, Peter Falkai, Thomas G. Schulze, Alexander Dityatev, Farahnaz Sananbenesi, and André Fischer; "HDAC1 LINKS EARLY LIFE STRESS TO SCHIZOPHRENIA-LIKE PHENOTYPES" PNAS 2017 ; published ahead of print May 22, 2017, doi:10.1073/pnas.1613842114