Vascular Neurology Fellowship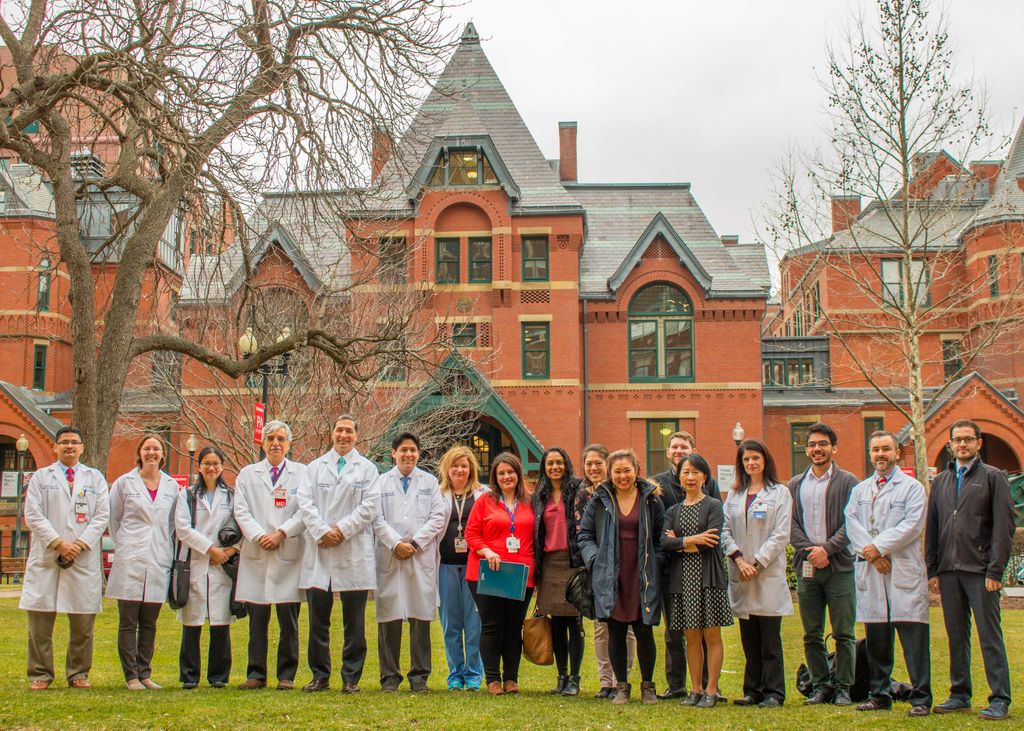 The Vascular Neurology Fellowship has existed at Boston Medical Center for more than 20 years. It is ACGME accredited for one year, and interested fellows are welcome to stay for a second research year. Up to two fellows are accepted for clinical training each year. Over thirty fellows have graduated from the program since 1996, with seven completing two-year fellowships. 
Fellows are trained on the clinical aspects of stroke diagnosis and management, including the use of ultrasonographic and neuroimaging techniques, along with the principles of medical and surgical management of ischemic and hemorrhagic stroke. Fellows are involved in the acute management, daily assessment, and follow-up of all stroke patients admitted to Boston Medical Center. Involvement in ongoing clinical research trials is also expected and encouraged. Many additional research opportunities exist through our close relationship with the Framingham Heart Study.
Comprehensive Stroke and Cerebrovascular Center
Boston Medical Center's Comprehensive Stroke and Cerebrovascular Center offers a full spectrum of clinical and academic services to provide contemporary treatment for patients with cerebrovascular and spinal vascular diseases. We are a multidisciplinary group comprised of stroke neurologists, interventional neuroradiologists and cerebrovascular neurosurgeons with 24/7 coverage, committed to excellence in patient care, research and education.
We achieved Comprehensive Stroke Center (CSC) certification from the Joint Commission in 2018. We are located in Boston Medical Center's beautiful Shapiro Center in Boston's historic South End.
Program Highlights
20+ year history of training leaders in the stroke field,

Diverse patient population allowing exposure to uncommon conditions,

Framingham Heart Study (since 1948 the Framingham Heart Study has been committed to identifying the common factors or characteristics that contribute to cardiovascular disease (CVD). We have followed CVD development over a long period of time in three generations of participants).

Opportunities to attend the annual International Stroke Conference and the Wake Forest Neurovascular Ultrasound Course,

Weekly Clinical Neuroscience Grand Rounds,

Weekly multi-disciplinary Cerebrovascular Case Conference,

A range of Journal Clubs on clinical stroke studies and new therapeutic approaches,

Participation in ongoing clinical trials involving neurovascular patients,

Outpatient stroke follow-up clinic located on-site,

Paid AAN membership fee.

A close knit, friendly atmosphere among faculty, fellows, residents, and staff.
Boston Medical Center offers a range of benefits and stipends all listed on the BMC web pages. Follow this link to view details.
Clinical and Research Components
Inpatient stroke unit

Outpatient stroke follow-up clinic

Neuroradiology and Neurosonology

Neuro-rehabilitation at Encompass Health Rehabilitation Hospital of Braintree

Neurocritical care

Nursing home visits

Protected academic development time

Research (Framingham Heart Study)
Applications
Applications for 2025 should be submitted through the Electronic Residency Application Service (ERAS) of the National Resident Matching Program (NRMP). A link to the ERAS system can be found on the NRMP website.
Contact
Julie G. Shulman, MD
Director, Vascular Neurology Fellowship


Assistant Professor of Neurology




Boston University School of Medicine




85 East Concord Street, First Floor




Boston, MA 02118


Julie.Shulman@bmc.org
2023-2024 Fellows
| | |
| --- | --- |
| Navreet Kaur, MD | Neha Kumar, MD |
---
In the news:
WPRI: Surviving a Stroke, Caroline's Story
Hugo Aparicio, MD, MPH, Neurology
---
Program Alumni
(Where are they now?)
2022-2023
Thomas Ford, MD – University of Massachusetts, Worcester, MA
Anurag Sahoo, MD – Neuro-IR Fellowship, Rutgers New Jersey
2021-2022
Rakhee Lalla, DO – University of Massachusetts, Worcester, MA
Riwaj Bhagat, MD – Conemaugh Memorial Medical Center,  Johnstown, PA
2020-2021
Kristine C. Arandela, MD – Atlantic Med Group Neurology Comprehensive Stroke Center, Summit, NJ
Shilpa Samudrala, DO – Providence Regional Medical Center, Everett, WA
2019-2020
Suhas Gangadhara, MD – University of Kentucky, Lexington, KY
2018-2019
Sharjeel Panjwani, MD – Baystate Health, Springfield, MA
Virginia M. Roberts, MD – Private Practice, Ottawa, Canada
2017-2018
Malveeka Sharma, MD – University of Washington, Seattle, WA
Syed Abbas, MD – Providence Sacred Heart Hospital, Spokane, WA
2016-2017
Courtney A. Scott, MD – Mackenzie Health Richmond Hill, Richmond Hill, Canada
Julie G. Shulman, MD – Boston University Medical Center, Boston, MA
2015-2016
Sumeet Multani, MD – Bayhealth, Dover, DE
Varun Naragum, MD – Capital Institute for Neurosciences, Pennington, NJ
2014-2015
Abdullah A. Tawakul, MD – Medical College of Wisconsin-Freodetert Hospital, Milwaukee, WI
2013-2014
Hesham Masoud, MD – SUNY Upstate, NY
Hugo Aparicio, MD – Boston University Medical Center, Boston, MA
2012-2013
Ashkan Shoamanesh, MD – McMaster University, Hamilton, Canada
Rony Salem, MD – The Queen's Health Systems, Honolulu, HI
2011-2012
Anna M. Cervantes Arslanian, MD – Boston University Medical Center, Boston, MA
Erica Camargo Faye, MD – Massachusetts General Hospital, Boston, MA
2010-2011
Nicholas Tarlov, MD – Community Memorial Health System, Ventura, CA
2009-2010
Barbara Voetsch, MD – Lahey Clinic, Burlington, MA
Feliks Koyfman, MD – New York Presbyterian, New York City, NY
2008-2009
Yih Lin Nien, MD – St. Bernardine Medical Center, Torrance, CA
2007-2008
Aleksandra Pikula, MD – University of Toronto, Toronto, Canada
Rodica Petrea, MD – Research Scientist at Framingham Heart Study (FHS), Boston, MA
2006-2007
Jane G. Morris, MD – Maine Medical Partners, Portland, ME
Cynthia R. Murphy, MD – Providence Sacred Heart Hospital, Spokane, WA
2005-2006
J. Rafael Romero, MD – Boston University Medical Center, Boston, MA
2003-2005
Cristina S. Ivan, MD – Indiana University School of Medicine,  Indianapolis, IN 
2002-2003
Thomas Jeerakathil, MD – University of Alberta, Edmonton, Canada
2001-2003
Andreas P. Schoeck, MD – Beth Israel Lahey Health, Newburyport, MA
1999-2000
Jason C. Viereck, MD – Hawaii Pacific Neuroscience Center, Honolulu, HI
1998-1999
Naveen Goyal, MD – The Brooklyn Hospital Center, New York, NY
Salman Malik, MD – Malik Neurological Associates Inc. , Cameron, MO
1996-1998
Christine Wijman, MD – Stanford University School of Medicine, Palo Alto, CA
Lenore Joseph, MD – Virginia Commonwealth University, Richmond, VA