Introduction to Careers in Medicine (BU-ICM)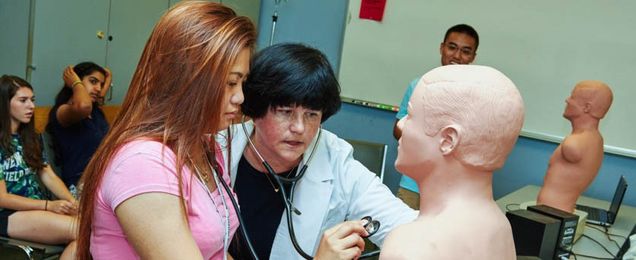 A pre-medical program that combines classroom work in the sciences with experiential, hands-on learning activities taught by distinguished clinical educators of Boston University School of Medicine and Boston Medical Center—featuring topics such as Anatomy, Physiology, Surgery, Sports Medicine, and Radiology.
Open to high-school students (grades 9-12) who would like to explore the field of medicine.
INFORMATION:
Due to the COVID pandemic, the program for the summer of 2020 had to be cancelled. For those students accepted  for the summer of 2020, we are able to offer a 1-week virtual program in the summer of 2021.
Our hope is to run the 1-week in-person program in the summer of 2022. Details (dates/tuition) to be determined.
APPLICATION:
Enrollment for summer 2022 is NOT open.
The following materials are required for application:
(1) On-line application
(2) Personal statement (1-page maximum)
(3) High-school transcript
(4) One letter of recommendation from a teacher
Personal statement, transcript, and letter should be submitted via e-mail to makelley@bu.edu.
CONTACT:
Maura Kelley, M.D., Program Director
Boston University School of Medicine
Department of Medical Sciences & Education
72 E. Concord Street
Boston, MA 02118
E: makelley@bu.edu

Additional Information