Dr. Sagar has been named the Associate Director of Basic and Preclinical Science at Boston Medical Center!

The Office of the Chief Scientific Officer along with Research Operations leadership are pleased to announce that Manish Sagar, MD has been named the Associate Director of Basic and Preclinical Science. As Associate Director, Dr. Sagar will lead efforts to support and catalyze the foundational science conducted by our basic and preclinical scientists across BMC, in service of addressing our patients' most pressing health needs. 
Dr. Sagar is a Professor of Medicine, Virology, Immunology & Microbiology at Boston Medical Center/ Boston University Chobanian & Avedesian School of Medicine. His research focuses on HIV and SARS-CoV-2 transmission and pathogenesis, and it spans the translational spectrum from basic sciences to clinical trials. His work has been continuously funded through the National Institutes of Health, private foundations, and pharmaceutical companies since 2000. He also cares for patients with infectious diseases, such as HIV, and he is an active investigator in numerous inpatient and outpatient clinical trials. In his research and clinical practice, he actively mentors postdoctoral fellows, PhD students, and medical trainees. He also co-directs the program for early research career development aimed at producing the next generation of academic researchers. 
We used the principles and practices outlined in the Review Based Guidelines for the Equitable Appointment of Leadership Roles (RBG) for this open call and interview process, including using standardized interview questions and specific evaluation criteria, and are deeply appreciative of the many truly outstanding faculty members that stepped up to apply for this important leadership role.
Please join us in congratulating Dr. Sagar in his new role.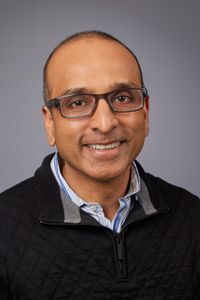 Megan H Bair-Merritt, MD, MSCE
Vice President & Chief Scientific Officer, BMCHS
Professor of Pediatrics, BU Chobanian & Avedisian School of Medicine
Multi-PI, BU CTSI