Under-represented Groups at BU/BMC
Our fellowship program is committed to hiring applicants from under-represented groups. Boston University and Boston Medical Center have a deep commitment to diversity and aim to have faculty who reflect the diversity of our patient population. We believe that diversity is essential to promoting patient care, advancing research, and serving our community.
The university was the first coeducational medical college in the world and was the first US University to award a PhD to a woman.
At BU/BMC, leadership is committed to making this a place where trainees and faculty from under-represented group can thrive. Institutional resources include:
The Diversity & Inclusion Office leads efforts on the medical campus. https://www.bumc.bu.edu/busm/about/diversity/

The Under-Represented Racial and Ethnic Groups Faculty Development Program (URG). This longitudinal leadership and career development program is for faculty members from under-represented racial and ethnic groups on the BU Medical Campus (Schools of Medicine, Public Health, and Dentistry). 

The program uses self-reflection and assessment, experiential learning, and peer and senior mentorship to provide faculty with the tools necessary to navigate a successful career in academic health sciences, and to foster leadership skills that enable participants to positively affect change from where they stand. 

https://www.bumc.bu.edu/facdev-medicine/all-bumc/

The Women's Leadership Program (WLP) is a longitudinal program for women faculty on the Boston University Medical Campus (BUMC).

The Department of Medicine has a training program in place for 

unconscious

 

bias and we participate in an NIH randomized controlled trial for bias reduction in Internal Medicine (the BRIM study)

.

The Department of Medicine has developed

 programs for recognizing and combatting micro-aggressions.

The Faculty Development & Diversity Committee hosts informal dinners for faculty groups throughout the year

.

Our fellows and faculty are committed to social justice and have spearheaded efforts around protests for Black Lives Matter. 

For our international graduates in the US on visas, there are a variety of opportunities available for additional training. These include: the option to do the 3rd year of ID training at the VA (https://www.bumc.bu.edu/id/research-programs/hospital-epidemiology-and-antimicrobial-stewardship/ ); Quality Improvement (QI) activities through BMC; audit classes at BU School of Public Health (with instructor approval) https://www.bu.edu/sph/ ; access dedicated diversity, equity, inclusion and belonging (DEIB) related programs, trainings & resources (https://www.bumc.bu.edu/facdev-medicine/dom-opportunities/diversity-in-dom/), and join a larger community of international graduate trainees and faculty.
We recognize that creating and maintaining a workplace that meets our inclusion goals means working proactively to mitigate micro-macro aggressions experienced in the workplace through our managers and leaders. Our office of Graduate Medical Education has launched the GME Diversity &Inclusion Council. This serves as another process for reporting issues of discrimination and micro/macro aggressions witnessed and or experienced. Human Resources has also created the Raising and Addressing Concerns guide to support fostering a workplace that provides a supportive training environment where every team member feels welcomed and valued.

For additional resources available at BU/BMC, please see 

https://www.bumc.bu.edu/busm/about/diversity/office-of-diversity-and-inclusion/diversity-policies/
Racial Justice Curriculum
The Division of Infectious Diseases holds Racial Justice Conferences bi-monthly on Fridays at 9 am. Conferences are open to all members of the division, including clinic and research staff. We work to create a safe place for discussing the ramifications of racism on our lives and the lives of our patients, as well as the intersections between race, class, gender, and other experiences. Discussions range from sharing reflections on articles and current events to action/goal-oriented planning. Previous topics of discussion include: 
Voting rights
Critical race theory and the 1619 project
Micro/macroaggressions in medicine and academia
Prison abolition
COVID and structural racism
Police brutality
Dr. Karim Khan, co-chair of Racial Justice group: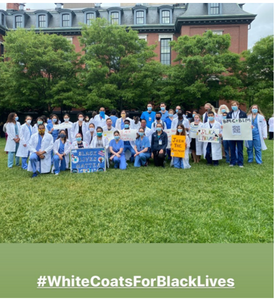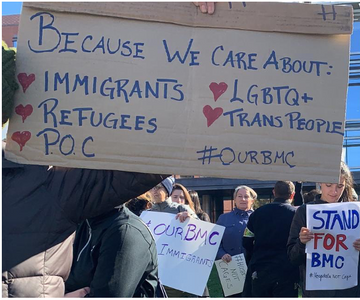 Racial Justice white coats for Black lives article:
https://www.kevinmd.com/blog/2020/07/white-coats-for-black-lives-how-to-transform-anger-into-action.html