Resources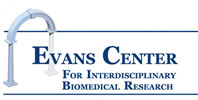 BUMC SharePoint: Online collaboration tool for groups
Microsoft SharePoint services enable groups to collaborate by sharing document libraries, calendars, task lists, discussion boards, meeting resources, etc. SharePoint sites come with standard BU branding, which you can customize. Simple templates are available to help you get started quickly.
For more information, see http://www.bu.edu/tech/comm/collaboration-sites/sharepoint/
---
Video Conferencing: a helpful tool to confer with colleagues at CR campus or out of town
There are extensive instructions on using Adobe Connect, complete with video tutorials and a test environment at
https://www.bu.edu/tech/services/teaching/digital-multimedia-production/adobe-creative-cloud/
At that site, you can also complete a form to request use of a shared license, which can be used to host a one-time web conference.
The Evans Center holds a dedicated license available to Evans Center ARC meetings and affiliates.
There are also options for TeleConferencing. Visit TechWeb for details.
Telecommunications on the Charles River Campus has also provided the attached report of the security of Adobe Connect Pro (click to view), which was prepared by a 3rd party company. If you have any questions about the security, purchasing licenses, or using Adobe Connect in general, contact Telecommunications at Tel: 617.353.2097 or phone@bu.edu.
An alternative to Adobe Connect Pro that's free you available to all BU faculty and staff: BU Lync (Skype for Business).  BU Lync is an application that provides instant messaging, Lync to Lync high-definition (HD) voice and video calling, video conferencing, screen sharing, virtual whiteboards and session recording.  BU Lync is available for use from both desktop computers and mobile devices.
---
Boston University School of Medicine
Research Resources website (http://www.bu.edu/orc/)
Funding Resources (timely updated) (https://pivot.proquest.com/session/login)
Graduate Studies (http://www.bumc.bu.edu/gms/)
Office of Minority Affairs (http://www.bumc.bu.edu/oma/)
Boston University
Research at BU (http://www.bu.edu/research/)
CTSI BU Profiles (http://www.bu.edu/ctsi/support-for-research/networking/bu-profiles/)
Biology seminars (http://www.bu.edu/biology/)
BU Nanotechnology Innovation Center (http://www.bu.edu/nano-bu/)
BUnano Research (http://www.bu.edu/nano-bu/research/)
Research Links
NHLBI  Program Trains Scientists to Bring More Science Out of the Lab and into the Patient Care Marketplace (http://www.nhlbi.nih.gov/about/directorscorner/messages/new-nhlbi-program-trains-scientists-bring-more-science-out-lab-and)
SMARTT: Speeding the Translation of Discoveries to the Clinic (http://www.nhlbi.nih.gov/news/spotlight/fact-sheet/smartt-speeding-translation-discoveries-clinic)
GeneFisher Interactive Primer Design (http://bibiserv.techfak.uni-bielefeld.de/genefisher2/)
Transcription Regulatory Element Search (http://www.xmarks.com/site/bioportal.bic.nus.edu.sg/tres/)
Jackson Laboratory (http://www.jax.org/)
PubMed (http://www.ncbi.nlm.nih.gov/sites/entrez)
College and University Directory (https://www.migrantclinician.org/toolsource/resource/braintrack-college-and-university-directory.html)
Biology weekly Seminars at MIT (http://www.wi.mit.edu/programs/biologyweek/biologyweek.html)
Transportation
MBTA Public Transportation (http://www.mbta.com/)
BUMC Transportation (http://www.bu.edu/maps)
---
Expertise Search Portal:
Expertise search portal allows for the identification of faculty expertise, core facilities and instrumentation.
Please visit: http://wwwapp1.bumc.bu.edu/expertiseresources/
Internal Funding:
External Funding:
Finding Funds via OSP at BUSM: using COS (previously known as Community of Science) funding database – in the search box, type any search term(s) you want and sortable results will appear immediately
NOTE:
NIH Research Portfolio Online Reporting Tools (replaced the CRISP system)
RePORT Expenditures and Results: