1) Organization of the Training program
A schematic describing the organization of the training grant is provided in Figure 1. Three separate groups will report directly to the executive committee. Starting from the bottom row, 18 faculty from the Boston University Medical Center have been selected as program faculty to provide laboratories for training physician\dental scientists. Departments from Boston Medical Center and Boston University Schools of Medicine and Dental Medicine will serve as the primary recruitment pool for the training grant. We will also actively recruit trainees from the rich educational programs in the New England area. The trainees constitute the third, and by far the most important group, and they will also report directly to the executive committee. The responsibilities of the executive committee are provided in greater detail below.
An external advisory committee composed of three scientists will provide overall evaluation and direction for the training program. Finally, the principal investigator/program director will be ultimately responsible for all aspects of the grant.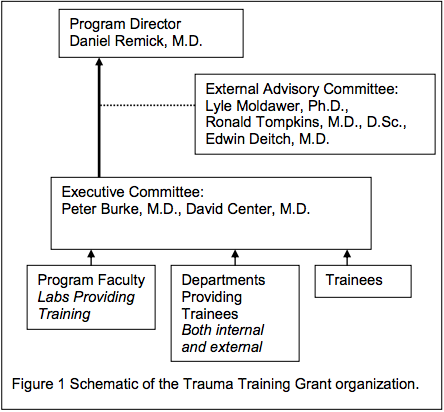 1a) Program director, Daniel G. Remick
M.D., Professor and Chair Department
of Pathology and Laboratory Medicine.
Dr. Remick has been actively involved in training and education at multiple levels
including medical students, graduate students, residents, and mentoring
junior faculty. Dr. Remick has served on numerous NIH grant review panels and
formerly chaired the Surgery, Anesthesiology, and Trauma study
section. Dr. Remick has also done an excellent job mentoring his postdoctoral
fellows, and Marcin Osuchowski, D.V.M., Ph.D., won the 2006 Shock
Society Young Investigator Award while a postdoctoral fellow working in Dr.
Remick's laboratory. Three of his postdoctoral fellows have also won
national awards from the American Society of Investigative Pathology.
Developing and mentoring postdoctoral fellows and junior faculty has been an
important component of his academic career. While Dr. Remick primarily engages in basic science research, he does run the autopsy service at Boston University and attends clinical conferences, including the weekly trauma conference. He also serves as an external adviser on T32 training grant directed by Dr. Albina at the Rhode Island Hospital.
1b) Executive committee for T32 Training Grant.
The executive committee will be composed of the following faculty:
Daniel Remick, M.D., Chair of the Committee, Department of Pathology and Laboratory Medicine
David Center, M.D., Associate Provost for Translational Research and Director of the CTSI, Chief of the
Pulmonary, Allergy and Critical Care Section of the Department of Medicine
Peter Burke, M.D.,Professor, Department of Surgery, Director Trauma Program Boston Medical Center.
The executive committee will be charged with the following tasks.
A member of the executive committee will meet twice per year with each trainee to review his/her
progress. A written evaluation will be provided to the trainee, the program director, and the faculty
mentor.
The executive committee will evaluate, interview, and select trainees.
The executive committee will review the recommended course work for each individual trainee.
The overall direction of the training grant will be evaluated on an annual basis by the executive committee./li>
A brief review of the credentials of each of the executive committee members is listed below.
Daniel G. Remick, M.D., chair, please see paragraph on program director.
David Center, M.D. Professor of Internal Medicine. Dr. David Center is Associate Provost for Translational Research and Chief of the Pulmonary, Allergy and Critical Care Section of the Department of Medicine. In the former role, he serves as Director of Boston University's Clinical and Translational Science Institute and is Principal Investigator of the BU CTSA application. In the latter, he is the PI of the Pulmonary Cell Biology T32, which supports 12 post-doctoral and 8 pre-doctoral trainees per year. This T32 has had a formal executive committee structure for over 20 years, which rigorously reviews all trainees' (and junior faculty members') progress twice yearly. Appropriate milestones for manuscript and grant writing, acquisition of technical and writing skills and general career guidance are the major emphases of this executive committee. Thus, Dr. Center has extensive experience both as a primary mentor and as the director of a T32 and the Chair of its executive committee. His scientific interests in lung inflammation blend well with the theme of this training grant and he should be a substantial asset with experience in all aspects expected of an executive committee member. The grant is very fortunate to have Dr. Center serving on the Executive Committee.
Peter A. Burke, MD. Professor of Surgery, Director of Trauma Services Boston Medical Center. Dr. Burke's clinical responsibilities include the provision and administration of an inner-city Level-One trauma service involving daily direct patient care and resident and medical student training. Dr. Burke's research interests focus on the transcription regulation of the injury response and he is funded by NIH via an RO1 grant. These research interests directly relate to the Immunobiology of trauma. Dr. Burke has developed and maintains a close collaborative research program with members of the Orthopedic trauma service including both patient related and laboratory research projects. Dr. Burke has successfully mentored multiple surgical residents and fellows. Dr. Allan Murdock received a competitive grant from AAST to study aspects of the transcription response to hemorrhagic shock under Dr. Burke's mentorship. Dr. Graciela Bauza was rewarded a grant in support of under represented minorities to work with Dr. Burke's NIH funded project. Dr. Bauza is finishing her surgical residency training and has been awarded a Surgical Critical Care Fellowship at the University of Pittsburg. Her intent is to pursue a career in academic trauma surgery. Presently three surgical residents are working in the laboratory and in trauma related research projects.
1c) External Advisory Committee
We are extremely fortunate to have recruited the following three investigators to serve on the external advisory committee. Each of these investigators currently heads a T32 Training Grant in trauma and enjoys an international reputation for their investigative work. The external advisory committee will be brought to Boston once per year to review the progress and overall direction of the grant with particular detail to the trainees.
Lyle L. Moldawer, Ph.D., Professor Of Surgery, Vice Chair of Research, Department of Surgery, University of Florida.
Edwin A. Deitch, M.D., Chair And Professor Of Surgery, Department Of Surgery, New Jersey Medical School, University Of Medicine And Dentistry New Jersey.
Ronald G. Tompkins, M.D., ScD, John Francis Burke Professor Of Surgery, Chief of The Trauma, Burn, and Surgical Critical Care Service of the Massachusetts General Hospital.
b. Program faculty
Listed in a separate document are the program faculty for this training grant. A brief paragraph about their research interests is included. Because faculty interactions are an important aspect of the training program, we have grouped the training faculty based on research interests.
The faculty for the program have been organized into thematic groups in order to highlight the similarities in their research interests and to facilitate trainees selecting a lab. For example, if a fellow has an interest in wound healing, they would turn to the section with that group of investigators. This grouping is meant to facilitate interactions and identification of potential labs for the trainees. It is not meant to imply that these groups work in independent silos without sharing ideas with other investigators in the grant.