Huihong Xu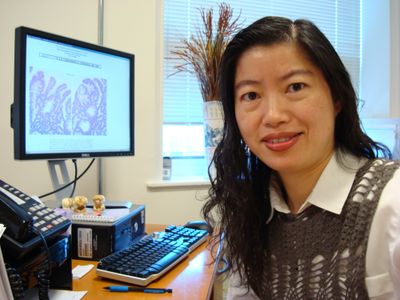 p

p

p

p

p
p
Degree(s) – MD, MS
Academic Title – Assistant Professor of Pathology & Laboratory Medicine
Education/Training –
Medical Center of Fudan University, Shanghai, China – MD, 1992
University of Massachusetts Boston – MS, 1996
Boston University Medical Center – Residency, 2007
Boston University Medical Center – Cytology Fellowship, 2008
Research Interests –
Colorectal Cancer – Investigating new molecular regulatory mechanism in the progression of colorectal premalignant lesion (some hyperplastic polyp and adenoma) to carcinoma in serrated neoplasia pathway.
Barrett's Esophagus – Developing and implementing of the elastic scattering spectroscopy technique to distinguish between normal esophagus and various pathological conditions associated with Barrett's esophagus.
Recent Publications –
O'Brien MJ, Yang S, Bucknor Y, Mack C, Xu H, Huang C, Mulcahy E, Amorosino M and Farraye FA, Comparison of microsatellite instability, CPG island methylation phenotype, BRAF and KRAS status in serrated polyps and traditional adenomas indicates separate pathways to distinct colorectal carcinoma end points, Am J Surg Pathol. 2006 Dec; 30(12): 1491-501
Srinivasan D., Fisk R, Xu H, and van den Heuvel S, A complex of LIN-5 and GPR proteins regulates G protein signaling and spindle function in C. elegans, Genes & Development, 2003 17: 1225-1239
White R, Xu H, Münch T, Bennet R, and Grable E, The retina of Manduca sexta: rhodopsin expression, the mosaic of green-, blue- and UV-sensitive photoreceptors, and regional specialization, JEB, 2003 206: 3337-3348.
Contact Information Email – huxu@bu.edu