Shi Yang, MD, MSc.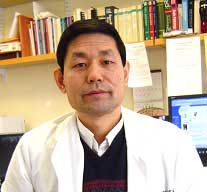 Associate Professor
Department of Pathology and Laboratory Medicine
Boston University School of Medicine
Director, Diagnostic Molecular Pathology Lab
Division of Anatomic Pathology
Boston Medical Center
Degree(s):
MB (MD equivalent), Hebei Medical College, ShijiaZhuang, China. 1978-1983. Medicine
MSc, Chinese Academy of Medical Sciences, Beijing, China. 1983-1986. Etiology,
Carcinogenesis & Experimental Cancer Pathology.
ACADEMIC APPOINTMENTS:
1990-1992:  Research Associate

Mallory Institute of Pathology, Boston University Medical Center, Boston MA.

1993-2011:  Assistant Professor

Department of Pathology and Laboratory Medicine Boston University School of Medicine, Boston MA.

2008 Assistant Professor and Faculty Member

Division of Graduate Medical Science Boston University Medical Campus, Boston MA

2011 Associate Professor

Department of Pathology and Laboratory Medicine Boston University School of Medicine, Boston MA

2011  Research Faculty, Cytology Fellowship Program

Department of Anatomic Pathology, Boston Medical Center.
MEMBERSHIP IN PROFESSIONAL SOCIETIES & INTEREST GROUPS:
10/1991- American Society for Cell Biology (ASCB).
03/2008- Association for Molecular Pathology (AMP-ASIP)
2009-      Member, United States and Canadian Academy of Pathology (USCAP)
1993-      Member, Breast Cancer Research Program, BUSM
2005-      Member, Cancer Research Center, BUSM.
2006-      Member, Women's Health Interdisciplinary Research Center (WHIRC), BUMC.
2008-      Founding member, Genomic Science Institute (GSI), Boston University
MAJOR RESEARCH INTERESTS:
In-vitro studies of genetic and epigenetic changes in colorectal polyps, on "Serrated Polyp Neoplasia pathway".
Breast cancer carcinogenesis and dietary prevention in animal models (green tea).
Molecular diagnosis of hematology disorders, solid tumor and infectious diseases.
Molecular pathways to melanoma.
RECENT PUBLICATIONS:
MJ O'Brien, S Yang, JL Clebanoff, E Mulcahy, FA Farraye, M Amorosino, N Swan. Hyperplastic (serrated) Polyps of the Colorectal: Relationship of CpG – Island Methylation Phenotype and K-ras Mutation to Location and Histologic Subtype. AJSP 28(4): 423-434, 2004.
Christopher S Huang, Michael J O'Brien, Shi Yang and Francis A Farraye. Hyperplastic polyps, Serrated Adenomas and the Serrated Neoplasia Pathway. Am J Gastroenterol. 99: 2242-2255, 2004.
Shi Yang, Francis A. Farraye, Charline Mack, Oksana Posnik and Michael J. O'Brien. BRAF and KRAS Mutations in Hyperplastic Polyps and Serrated Adenomas of the Colorectum. AJSP 28(11): 1452-1459, 2004.
Stephen A Murray, Shi Yang, Elizabeth Demicco, Haoqiang Ying, David H Sherr, Laurie J Hafer, Adrianne E Rogers, Gail Sonenshein and ZhiXiong Jim Xiao. Increased expression of MDM2, cyclin D1, and p27Kip1 in carcinogen-induced rat mammary tumors. J Cell Biochem. 2005 Aug.1;95(5):875-84.
Michael J O'Brien, Shi Yang,  Charline Mack, Huihong Xu, Christopher S Huang, Elizabeth Mulcahy, Mark Amorosino, Francis A Farraye.  Comparison of Microsatellite Instability, CpG Island Methylation Phenotype, BRAF and KRAS Status in Serrated Polyps and Traditional Adenomas Indicates Separate Pathways to Distinct Colorectal Carcinoma Endpoints. AJSP 30: 1491-1501, 2006
Daniel W. Rosenberg, Shi Yang, Devon C. Pleau, Emily J. Greenspan, Richard G. Stevens, Thiruchandurai V. Rajan, Christopher D. Heinen, Joel Levine, Yijian Zhou, and Michael J. O'Brien.  Mutations in BRAF and KRAS Differentially Distinguish Serrated versus Non-Serrated Hyperplastic Aberrant Crypt Foci in Humans. Cancer Res 2007; 67(8): 3551-3554.
Karine Belguise, Shangqin Guo, Shi Yang, Adrianne E. Rogers, David C. Seldin, David H. Sherr, and Gail E. Sonenshein. Green Tea Polyphenols Reverse Cooperation between c-Rel and CK2 that Induces the Aryl Hydrocarbon Receptor, Slug, and an Invasive Phenotype. Cancer Res 2007;67(24):11742-50.
Michael J O'Brien, Shi Yang, Christopher S Huang, Courtney Shepherd, Sandra Cerda, Francis A Farraye. The Serrated Polyp Pathway to Colorectal Carcinoma. Diagnostic Histopathology. 2008;14(2):78-93.
O.E. Dadzie, S. Yang, A. Emley, M. Keady, J. Bhawan and M. Mahalingam. RAS and RAF mutations in banal melanocytic aggregates contiguous with primary cutaneous melanoma: clues to melanomagenesis. BJD, 2009;160:368-375.
Jeremy T. Hetzel, Christopher S. Huang, Jennifer A. Coukos, Kelsey Omstead, Sandra R.  Cerda,

Shi Yang

, Michael J. O'Brien, Francis A. Farraye. Variation in the detection of serrated polyps in an average risk colorectal cancer screening cohort.  Am J Gastroenterol 2010;105:2656–2664.
Andrew Emley, Lisa Nguyen,  

Shi Yang

, Meera Mahalingam. Somatic mutations in GNAQ in amelanotic/hypomelanotic blue nevi. (Human Pathology 2010 Nov. 5, e-pub).
Christopher S. Huang, Francis A. Farraye,

Shi Yang

, Michael J. O'Brien. The Clinical   Significance of Serrated Polyps. Am J Gastroenterol advance online publication, 2 November 2010; doi: 10.1038/ajg.2010.429
Brahmbhatt M,

Yang S

, Mahalingam M (2010). Proliferative Nodules in Congenital Nevi – A Histopathologic, Genetic and Immunohistochemical Reappraisal. J Clin Exp Dermatol Res 1:105. doi:10.4172/2155-9554.1000105 (http://www.omicsonline.org/2155-9554/2155-9554-1-105.digital/fscommand/2155-9554-1-105.pdf).
Elizabeth Park,

Shi Yang

, Andrew Emley, Kristen Decarlo, Joanna Richards and Meera Mahalingam. Lack of correlation between immunohistochemical expression of CKIT and KIT mutations in atypical acral nevi. (AJD-D-11-00065R1) Am J Derm. (Accept for publication; April 1, 2011).
Michael H. A. Roehrl, Marier Hernandez,

Shi Yang

, Thomas G. Christensen, Claudio Morera, and Julia Y. Wang "Helicobacter Heilmannii Gastritis in a Young Patient with Pets" Gastrointestinal Endoscopy (2011, in press)
Feller K,

Yang S

, Tung N, Lee JE, Mahalingam M. c-myc in Kaposi's sarcoma – Incidental or causative. Abstract # 491(poster session March 20 AM) USCAP 2012 Annual Meeting, March 17-23, 2012, Vancouver, BC, Canada.
Miller DD, Emley A,

Yang S

, Richards JE, Lee JE, Deng A, Hoang MP, Mahalingam M. Mixed versus pure variants of desmoplastic melanoma: a genetic and immunohistochemical appraisal. Mod Pathol. 2011 Dec 9. doi: 10.1038/modpathol.2011.196. [Epub ahead of print] PMID: 22157936.
Michael J O'Brien, Robert D Odze, Sandra Cerda, Huihong Xu, Katherine Downey, Bohdana Burke, Christopher S Huang, Francis A Farraye,

Shi Yang

.  Ectopic Crypt Formation and Other Histological Parameters in Relation to BRAF and KRAS Mutation Status of Dysplastic Serrated and Non-Serrated Colorectal Polyps.  USCAP 2012 Annual Meeting Abstract#717, Tuesday AM 3/20/12, Vancouver  BC, Canada.
CURRENT FOUNDING:
NIH/NIEHS: PO1 ES 11624-05 (PI, G. Sonenshein); Signaling Pathways in Stages of Mammary Tumorigenesis. Dr. Yang is a Co-Investigator in the Animal Bio-model Core.
ACS seed grant through Cancer center in BUSM- Human papillomavirus Vaccination in Boston University Medical Center Patients (Dr. Yang is a member of this study in charge if molecular tests).
CONTACT INFO:
E-mail, shiyang@bu.edu; shi.yang@BMC.org
Tel:   617-414-5057
Lab:  617-414-7916
Fax:   617-414-5315