Nader Rahimi, Ph.D.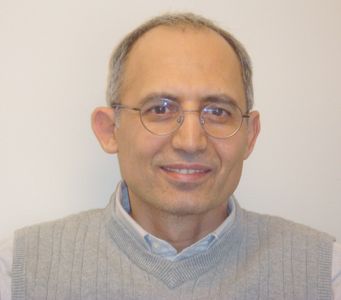 Associate Professor Department of Pathology & Laboratory of Medicine
Contact Information
E-mail: nrahimi@bu.edu Tel: 617-638-5011
Education:
M.Sc., Ph.D. Queen's University, Kingston, Ontario, Canada

A crucial aspect of many of human diseases such as cancer, inflammatory diseases, and age-related macular degeneration is the formation of new blood vessels known as angiogenesis. Our laboratory is studying molecular mechanisms of angiogenesis and its application to human diseases, in particular its role in cancer and ocular diseases. An understanding of how angiogenic signals are being instigated and fine-tuned will help in the design of more effective anti-angiogenesis therapies. More recently, our laboratory has identified a number of novel and uncharacterized transmembrane proteins. The course of our research changed radically when we discovered that these cell surface receptors act as cell adhesion molecule and play critical role in endothelial and epithelial biology. A brief description of the current projects is outlined below.
Pathological angiogenesis and posttranslational modification-based anti-angiogenesis and anti-cancer therapeutics:
Our laboratory studying how posttranslational modifications (PTMs) such as phosphorylation, methylation and ubiquitination pathways on VEGF receptors are transduced, and how these events govern the diverse angiogenic function of VEGF receptors. We have recently identified methylation, as a novel PTM, regulating VEGFR-2 kinase activation and angiogenesis. We are currently investigating the molecular regulation of PTMs of angiogenic signaling proteins and novel PTM-based anti-angiogenesis and anti-cancer therapeutics.
Identification of novel genes involved in tumor-angiogenesis, tumor growth:
We have identified a number of novel and uncharacterized transmembrane proteins through a unique strategy of bioinformatics coupled with cell culture-based analysis of human genome. Of these receptors, Immunoglobulin and Proline rich receptor-1 (IGPR-1) and transmembrane and immunoglobulin containing 1 (TMIGD1) play critical role in disease processes involving angiogenesis and epithelial cell function. The overall goal of this project is to establish role of these novel gene products in angiogenesis and tumor growth and metastasis. Various biological assays including, in vivo mouse model, conditional knockout strategy and in vitro cell culture system are used to elucidate function of these gene products in angiogenesis and tumor growth. These studies will provide insight into aspects of tumor development that have been poorly explored because the expression and function of these transmembrane proteins has remained uncharacterized.
Role of TMIGD1 in chronic kidney cell injury:
More than 20 million people (10% of the population) ages 20 and older in the United States have CKD, and their number is growing at an alarming rate. CKD results in substantial morbidity and mortality and staggering healthcare costs of approximately $32.8 billion of Medicare budget. Though there are several causes of CKD such as diabetes and hypertension, renal epithelial cell damage is a universal feature, which subsequently is replaced by fibrotic tissue. Interstitial fibrosis is the hallmark of CKD and generally considered irreversible. Since, the protection of renal tubular cells determines the progression of CKD, it is imperative to preserve it. While the current therapeutic regimens address various predisposing factors of CKD, other than ACE inhibitors, they neither directly target tubular epithelial cells nor offer survival advantage in the hostile milieu of CKD, which is characterized by several cellular stresses including oxidative, hypoxic and 'toxic' insults. Protecting renal tubular epithelial cells represents a tantalizing therapeutic opportunity for prevention of CKD progression, which is also an area of high unmet clinical need. Identifying factors that regulate survival of tubular epithelial cells during renal injury could provide new insight into pathobiology and possible novel class of therapeutics for these diseases.
Our recent work has identified the second family member of IGPR-1 called TMIGD1. TMIGD1expression is highly upregulated in the initial stage of kidney injury and significantly reduced in the chronic phase in different mouse models such as deoxy-corticosterone acetate salt (DOCA)-induced hypertensive CKD and acute renal ischemia reperfusion injury.  We are currently investigating role of TMIGD1 in renal diseases and TMIGD1 mediated signal transduction in renal epithelial cells.
News about our recent work:
http://www.futuremedicine.com/doi/pdf/10.2217/epi.14.1
http://ckdnews.com/2015/09/10/new-protein-tmigd1-protects-renal-cells-injury/
Recent Publications:
Arafa E, Bondzie PA, Rezazadeh K, Meyer RD, Hartsough E, Henderson JM, Schwartz JH, Chitalia V, Rahimi N. TMIGD1 Is a Novel Adhesion Molecule That Protects Epithelial Cells from Oxidative Cell Injury. Am J Pathol. 2015 Oct; 185(10):2757-67.
Srinivasan S, Chitalia V, Meyer RD, Hartsough E, Mehta M, Harrold I, Anderson N, Feng H, Smith LE, Jiang Y, Costello CE, Rahimi N. Hypoxia-induced expression of phosducin-like 3 regulates expression of VEGFR-2 and promotes angiogenesis. Angiogenesis. 2015 Oct; 18(4):449-62.
Rahimi N, Costello CE. Emerging roles of post-translational modifications in signal transduction and angiogenesis. Proteomics. 2015 Jan; 15(2-3):300-9.
Hartsough EJ, Meyer RD, Chitalia V, Jiang Y, Marquez VE, Zhdanova IV, Weinberg J, Costello CE, Rahimi N. Lysine methylation promotes VEGFR-2 activation and angiogenesis. Sci Signal. 2013 Dec 3; 6(304):ra104
Rahimi N, Rezazadeh K, Mahoney JE, Hartsough E, Meyer RD. Identification of IGPR-1 as a novel adhesion molecule involved in angiogenesis. Mol Biol Cell. 2012 May; 23(9):1646-56
Rahimi N. The ubiquitin-proteasome system meets angiogenesis. Mol Cancer Ther. 2012 Mar; 11(3):538-48
Meyer RD, Srinivasan S, Singh AJ, Mahoney JE, Gharahassanlou KR, Rahimi N. PEST motif serine and tyrosine phosphorylation controls vascular endothelial growth factor receptor 2 stability and downregulation. Mol Cell Biol. 2011 May; 31(10):2010-25
Meyer RD, Husain D, Rahimi N. c-Cbl inhibits angiogenesis and tumor growth by suppressing activation of PLC?1. Oncogene. 2011 May 12; 30(19):2198-206
Singh AJ, Meyer RD, Navruzbekov G, Shelke R, Duan L, Band H, Leeman SE, Rahimi N. A critical role for the E3-ligase activity of c-Cbl in VEGFR-2-mediated PLCgamma1 activation and angiogenesis. Proc Natl Acad Sci U S A. 2007 Mar 27; 104(13):5413-8.
A full list of our publications: http://profiles.bu.edu/display/153241
Rahimi Lab Members:
| | | |
| --- | --- | --- |
| Razie-Amraei-MS-Pathology | Alvaro-Ferriol-Alonso-MAMS | Christa Lim-MAMS MED |
| Evan Sutherland- MAMS | Rachel Ho-MAMS  MED | Kyle De La Cena MS- Pathology |
| Linzi Sun, MS Pathology | Shawn Wang-MAMS | |