Mary Jo Murnane PhD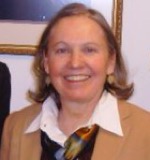 Degree(s) –
BA Biology College of New Rochelle
MPhil Biology Yale University
PhD Biology Yale University
Academic Title – Adjunct Associate Professor
Education:
BA Biology College of New Rochelle
MPhil Biology Yale University
PhD Biology Yale University
Training:
1978-1980 NIH Postdoctoral Training Grant in Hematology for research in cell and molecular biology, Yale University School of Medicine (Advisor: Dr. Bernard G. Forget)
1975-1978 NIH Individual Postdoctoral Fellowship (General Medical Sciences Division) for research in Human Genetics, University of Pennsylvania School of Medicine (Advisor: Dr. W.J. Mellman)
1975 Dissertation: "Somatic Cell Genetic Analysis of Human Glycosyl Hydrolases" (Advisor: Dr. Frank H. Ruddle, Departments of Biology and Human Genetics, Yale University )
1971-1975 NIH Training Grants in Developmental Biology and Genetics, Yale University
1969-1970 University Fellowship, Yale University
Research Interests –
We have been studying variations in proteinase activity levels for many years,with a focus on identifying proteolytic profiles that reflect stages of colorectal tumorigenesis and can be related to the presence of ras and p53 abnormalities.Characterization of the expression and regulation of cathepsins B, H, L and D together with matrix metalloproteinases, MMP-2 and MMP-9, in multiple matched sets of human colorectal mucosa, adenoma and carcinoma provides a means of identifying markers for patient diagnosis, prognosis or cancer recurrence.We have also explored the regulation of MMP-9 expression in human colorectal cancers by gene methylation and histone deacetylation; relating differences in gene methylation to clinicopathologic parameters, patient characteristics and patient survival outcomes.
In a recent study, MMP-2 andMMP-9 activities were analyzed in matched normal and cancer samples from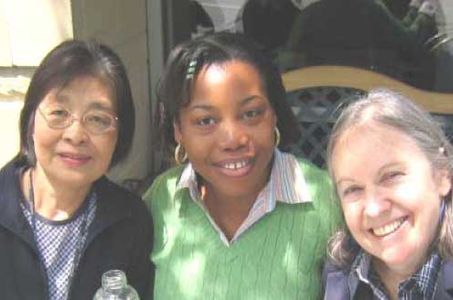 269 patients by gelatin zymography, computer-assisted image analysis, serial dilutions of strong samples and reference to commercial standards for accurate measurement.An index of effect size was designed for comparative evaluation of active MMP-2, pro-MMP-2 and pro-MMP-9 activities as cancer markers.Mean active MMP-2, pro-MMP-2 andpro-MMP-9 activity and protein levels/ mg total soluble protein in normal mucosa and matched colorectal cancer tissues were calculated with respect to commercial standards.Active MMP-2 activity, detected in 99% of colorectal cancers, was increased in 95% of colorectal cancers versus matched normal mucosa samples.Pro-MMP-2 and pro-MMP-9, but not active MMP-9, activities were also significantly increased in cancers versus normal mucosa.
Active MMP-2 activity provided the most accurate test of the presence of cancer (P< 0.0001) with an effect size significantly larger than the effect size for either pro-MMP-2 or pro-MMP-9.The definition of active MMP-2 activity and protein levels in normal and cancer tissues with reference to a commercially available purified standard is a significant step in development of this cancer marker for clinical application.Use of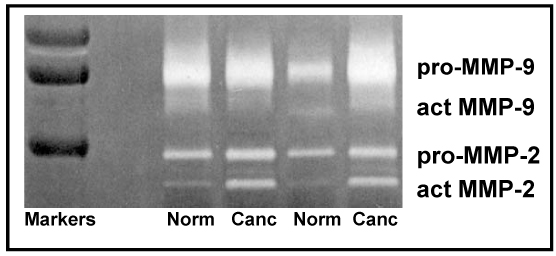 this assay to characterize adenomas may help identify premalignant lesions with high cancer potential.In addition, statistical demonstration that the active form of MMP-2 is a much more effective indicator of the presence of colorectal cancer than either pro-MMP-2 or pro-MMP-9 activities, based on matched normal and cancer tissue from 269 cancer patients (the largest such patient data base for these markers) suggests that targeting MMP-2 activation in cancer mayprove more effective as a cancer therapy than broad spectrum inhibition of MMP-2 and MMP-9 activities.
Publications –
Iacobuzio-Donahue

CA , Shuja S, Cai J and Murnane MJ. Elevations in cathepsin B protein content and activity occur independently of glycosylation during colorectal tumor progression. J Biol Chem. 272:29190-29199, 1997.

Kim K, Cai J, Kuo T, Shuja S, and Murnane, MJ. Presence of activated Ras correlates with increased cysteine proteinase activities in human colorectal carcinomas. Internat. J. Cancer (Pred. Oncol.), 79(4):324-333, 1998.

Del Re, E., Shuga, S., Cai, J. and Murnane, M.J. Alterations in cathepsin H activity and protein banding patterns in primary colorectal cancers. Brit. J. Cancer 82: 1317-1326, 2000.

Sengupta, P.K., Smith, E.M., Kim, K., Murnane, M.J. and Smith, B.D. DNA hypermethylation near the transcription start site of collagen alpha2(I) gene ( COL1A2 ) occurs in both cancer cell lines and primary colorectal cancers. Cancer Research 63:1789-1797, 2003.

Iacobuzio-Donahue, C.A. , Shuja, S., Cai, J., Peng, P. and Murnane, M.J. Cathepsin D Protein Levels in Colorectal Tumors: Divergent Expression Patterns Suggest Complex Regulation and Function. Internat. J. Oncology 24:473-485, 2004.

Mary Jo Murnane, Jinguo Cai, Sania Shuja, David McAneny, Veronica Klepeis and John B. Willett. Active MMP-2 Effectively Identifies the Presence of Colorectal Cancer.Internat. J. Cancer (in revision), 2008.