Anesthesiology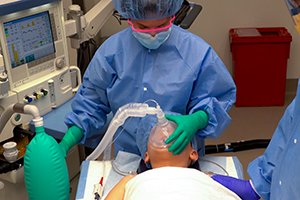 The Department of Anesthesiology at Boston Medical Center cares for more than 43,000 patients each year. Our diverse department includes 35 anesthesiologists, 30 anesthesia residents and 26 CRNAs. Our faculty members have specialized training in cardiac anesthesia, acute and chronic pain medicine, pediatric anesthesia, critical care medicine, regional anesthesia and obstetric anesthesia. We care for patients of all ages from everywhere in the world. From the preoperative clinic to the endoscopy center, to radiology and interventional cardiology, to the operating room, to Labor and Delivery and the Acute and Chronic Pain services, we serve patients throughout the hospital.
The Department of Anesthesiology's chair reports to the Dean of the School of Medicine, the President of the hospital, and the President of the Boston University Medical Group.  Follow this link to learn more about the BU School of Medicine.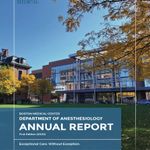 On July 1 2019, the Department of Anesthesiology joined Boston University Medical Group, becoming the last clinical area at Boston Medical Center to merge with our integrated multi-specialty group practice. This event heralded a new beginning for our specialty at Boston Medical Center.
This illustrated report outlines our achievements over the last year and describes future directions. Click on the image to follow the link to the online version of the report.