Translational-Clinical Research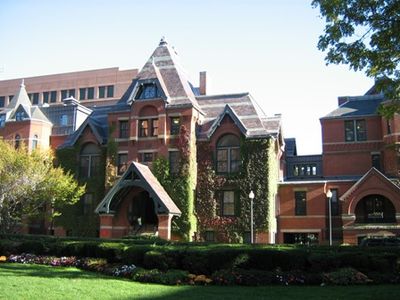 ID faculty have several programs in clinical investigation including HIV and hepatitis C care, global health and tuberculosis, hospital epidemiology and health services research. 
Clinical Investigation
Multiple research opportunities for HIV-related clinical and translational research exist through the projects and activities of the CID.  CID serves a unique population including women, immigrants, patients with active substance abuse, and patients with hepatitis C virus (HCV) co-infection.  The CID is currently engaged in multiple research and evaluation projects related to high-risk HIV-infected patients, examining both prevention activities and how to better engage and retain those patients in care.  The HIV and Women's Health services are participating in several projects including assisted reproduction treatments in serodiscordant HIV-affected couples desiring conception and surveillance and monitoring methods for cervical and anal dysplasia.
In addition to CID-based research activities, faculty participate in active research and implementation projects in HIV and hepatitis C at both the Boston University School of Public Health and the Center for Health Quality, Outcomes and Economic Research, a VA Center of Excellence.  Translational research projects include current work in HIV pathogenomics, immune – muscle cell interaction and aging science.
Boston Medical Center provides research training in HIV/AIDS through the Center for Infectious Diseases (CID) and our training grant, the Boston University Clinical HIV/AIDS Research Training (BU-CHART) program. 
The BU-CHART training program focuses on racial disparities in care; the interplay of HIV/AIDS and substance abuse including medical complications such as hepatitis C and tuberculosis; international HIV/AIDS research; and ethical issues in HIV/AIDS research. BU-CHART integrates this training with existing national centers of excellence at BMC in ethics, substance abuse, and women's health.  It also seeks to increase the number of underrepresented minority HIV/AIDS researchers and to facilitate the transition from traineeship to faculty status for BU-CHART trainees. Trainees will receive an intensive 8 week course in HIV virology, immunology, pathophysiology, and pharmacology. Trainees will participate in a biweekly clinical research seminar series (Boston University Clinical Research Training: CREST).
Faculty
Mari-Lynn Drainoni PhD, Jerrold Ellner MD, Davidson H. Hamer MD, C. Robert Horsburgh MD, Edward Jones-Lopez MD, Stephen I. Pelton MD and Meg Sullivan MD
Affiliated Faculty
John Bernardo MD, Shalender Bhasin MD, Allen L. Gifford MD, Michael A. Grodin MD, Wendy K. Mariner MPH, Mark Mirochnick MD, Richard Saitz MD MPH, Jeffrey H. Samet MD MA MPH, Jonathon Simon DSc MPH , Elizabeth A. Stier MD, Donald Thea MD MSc  
Global Health / Tuberculosis
The Section of Infectious Diseases has several faculty members with longstanding international research activities and many active field sites in Africa, Asia, and Latin America. In September 2009, Boston University launched a major global health initiative, investing $10 million to bolster research and education to improve health in the developing world.  As part of this effort, Dr. Jerrold Ellner was recruited to head the Section of Infectious Diseases in the Department of Medicine at the Boston University School of Medicine. At the same time, the former Center for International Health and Development at the Boston University School of Public Health was recognized by BU and its status was changed to a university-wide center with a focus on global health. The newly named organization, the Center for Global Health and Development, includes Dr. Davidson Hamer and Christopher Gill, members of the Section of Infectious Diseases. The addition of Dr. Ellner to the large group of researchers at BU active in global research on infectious diseases has created an outstanding environment for mentoring global health physician scientist trainees. 
Members of the Section of Infectious Diseases have active research projects in several African countries including Kenya, South Africa, Tanzania, Uganda, and Zambia; in Asia in India and South Korea with recently completed work in China, Pakistan, and Vietnam; and in Latin America in Brazil and Ecuador. Two of the major international sites include the Infectious Diseases Institute (IDI) in Kampala, Uganda and the Zambia Center for Applied Health Research and Development (ZCAHRD). Thus, there are many options for international research on a range of diseases including HIV/AIDS, tuberculosis, malaria, pediatric pneumonia, meningitis, and a range of other tropical diseases. 
Faculty 
Jerrold Ellner MD, Lisa Ganley-Leal PhD, Christopher Gill MD, Davidson Hamer MD, Natasha Hochberg MD, Robert Horsburgh MD, Edward Jones-Lopez MD, Jonathon Simon DSc MPH, and Donald Thea MD MSc
Hospital Epidemiology and Infection Control   
Boston Medical Center is an active participant in clinical research involving hospital epidemiology and infection control including antimicrobial stewardship.  Specific interests include understanding the epidemiology of antibiotic-resistant pathogens such as methicillin-resistant Staphylococcus aureus; improving the appropriate use of antimicrobial agents to prevent and treat infection; and exploring best practices for the prevention of hospital-acquired infections e.g., through reducing transmission and improving environmental decontamination.  We study the factors that affect physician practices, particularly the prescribing of antimicrobial agents. We study factors that affect healthcare worker safety, including prevention of exposure to bloodborne pathogens and communicable infectious diseases.  We conduct site-specific and collaborative projects. We are members of the National Healthcare Safety Network (NHSN), the Society of Healthcare Epidemiology of America (SHEA) Research Network, and participate in CDC and Joint Commission sponsored multihospital research.   We are a partner in the Boston University ACTION center for the Agency for Healthcare Research and Quality, participating actively in the AHRQ projects for the prevention of healthcare-associated infections. Research is conducted at the Boston Medical Center, at the Boston University School of Public Health and at the VA.
Faculty
Tamar Barlam MD, Philip Carling MD, Mari-Lynn Drainoni PhD, Kalpana Gupta MD, and Carol Sulis MD