John Bernardo, M.D.
Faculty and Fellows
---
Professor of Medicine, Research Professor of Biochemistry
Tuberculosis Control Officer, Massachusetts Department of Public Health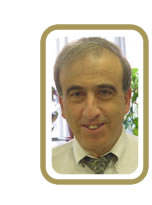 Medical School: Univ of Illinois, Chicago
Internship: New York Hospital/Memorial Hospital
Residency: New York Hospital/Memorial Hospital; Boston City Hospital
Fellowship: NHLBI, NIH
Board Certifications:
Internal Medicine
Pulmonary Medicine
Critical Care Medicine
Special Interests:
Research:
Basic Science Research: Control of Phagocyte Function and novel applications of Flow Cytometry/kinetic flow imaging
Translational-Clinical Research: Tuberculosis: diagnostics; treatment; community-based prevention; education; policy
Clinical:
Clinical/Research Activities:
Dr. Bernardo is Professor of Medicine at Boston University School of Medicine. He attends on the pulmonary consult service and critical care unit at Boston Medical Center. He is active in local and national TB programmatic activities, including: National Tuberculosis Controllers' Association where he has served as Executive Committee President from 2002 to the present. Dr. Bernardo is also an active member of the Advisory Committee on the Elimination of Tuberculosis (ACET; NTCA) and the Association of Public Health Laboratories Task Force on the Future of TB Laboratory Services. Dr. Bernardo is a co-investigator at the Northeast Tuberculosis Regional Training and Medical Consultation Center (CDC), and a TB Control Officer, Massachusetts Department of Public Health, Div of TB Prevention and Control. He is a Principal Investigator at the Boston University site, TB Trials Consortium and co-Principal Investigator, Massachusetts DPH site, TB Epidemiologic Studies Consortium;.
Outside of Boston Medical Center, Dr. Bernardo is a Pulmonary/TB Physician for Boston's Health Care for the Homeless, Inc., with a weekly, full-service, evening TB Clinic at Pine Street Inn shelter, where Claire Murphy, RN, NP, and Dr Bernardo provide specialty care to persons with TB infection and disease.
Dr. Bernardo's basic research interests include basic studies of the control of the phagovacuolar environment (human neutrophils and monomuclear phagocytes) using kinetic flow cytometry and novel flow cytometric techniques (NHLBI support), in collaboration with Elizabeth Simons, Ph.D., Professor of Biochemistry. For more details, please see our webpage of TB/HIV Basic Science Research.
Selected recent publications:
Herrmann, J.M., Kantarci, A., Long, H., Bernardo, J., Hasturk, H., Wray, L.V., Jr., Simons, E.R., Van Dyke, T.E. Simultaneous measurements of cytoplasmic Ca2+ responses and intracellular pH in neutrophils of localized aggressive periodontitis (LAP) patients. J Leukoc Biol 78: 612-619, 2005.
Jasmer, R.M., Saukkonen, J.J., Blumberg, H.M., Daley, C.L., Bernardo, J., Vittinghoff, E., King, M., Kawamura, L.M., Hopewell, P.C. Short-Course Rifampin and Pyrazinamide Compared with Isoniazid for Latent Tuberculosis Infection: A Multicenter, Prospective, Randomized, Controlled Trial. Annals Int. Med. 137:640-647, 2002.
Burman, W., Breese, P., Weis, S., Bock, N., Bernardo, J., Vernon, A. The effects of local review on informed consent documents from a multicenter clinical trials consortium. Controlled Clin Trials 24:245-255, 2003.
Hsu K, Christiansen D, O'Connor D, Bernardo J, Hacker K. Self -assessment of tuberculosis infection risk by urban adolescents. Archives of Pediatrics and Adolescent Medicine 157(12):1227-31, 2003.
Lerman, S.J., Bernardo, J., Daly, J.S. Tuberculosis prevention in college students. J. Amer. College Health 53:53-58, 2004.
Bernardo, J., Hartlaub, H., Yu, X., Long, H., Simons, E.R. Immune complex stimulation of human neutrophils involves a novel Ca2+/H+ exchanger that participates in the regulation of cytoplasmic pH: flow cytometric analysis of Ca2+/pH responses by subpopulations. J Leukoc Biol 72: 1172-1179, 2002.
Controlling Tuberculosis in the United States. Recommendations from the American Thoracic Society, CDC, and the Infectious Diseases Society of America. Am J Respir Crit Care Med. 172: 1169-1227, 2005.
Beavis, K.G., Bernardo, J., Blank, E., Desmond, E., Harris, R., Humes, R., Iademarco, M., Ridderhof, J., Shinnick, T., Warren, N. The Future of TB Laboratory Services. A Framework for Integration, Collaboration, Leadership. Association of Public Health Laboratories, Washington, D.C., February, 2004.
Dr Bernardo see patients in the following locations:
Allergy Clinic, Doctor's Office Building, 4th floor
Mycobacteriology Clinic, DOB4 (free TB medications)
Pine Street Inn TB Clinic
TB Clinic, Quincy Medical Center