Global Health and Tuberculosis
Introduction
We offer the trainee unique opportunities for global health research and clinical rotations.  We offer many options for international research on a range of diseases including HIV/AIDS, tuberculosis, malaria, pediatric pneumonia, meningitis, and neglected tropical diseases.  Faculty in our section have longstanding international research studies in active field sites in Africa, Asia, and South America. Many of these faculty members have joint appointments in the Boston University  Center for Global Health and Development, located at the Boston University School of Public Health.
Program Goals:
Train world-class scientists in clinical or laboratory-based research to become independent investigators in an academic setting
Develop expert clinician investigators who can become leaders in the field of global health and tuberculosis.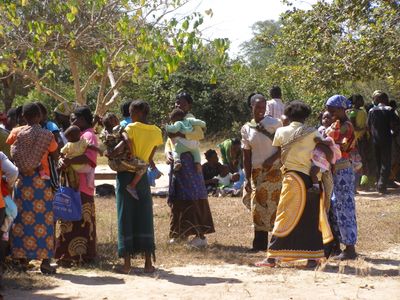 Overview
Fellows interested in global health and tuberculosis will have the opportunity to work with faculty who have established research activities throughout the world.  The fellow will have many clinical opportunities, both seeing patients with diseases more often found in low-resourced settings that present to BMC and to travel to sites for medical work.  Those who elect to pursue a global health career as a grant-funded investigator will work closely with mentors to secure funding for a third and possibly fourth year of research training, during which time they will develop advanced skills and prepare an NIH career development award proposal.
Year One
During the first year, fellows rotate through the infectious disease consult and inpatient services similar to the other trainees in the program.  Elective time in the first year will be dedicated to applying for funding in the second year of fellowship.  During this time, fellows will be expected to meet regularly with their identified mentor(s).  This time will be dedicated to gaining a greater understanding of the research of interest and starting to accumulate preliminary data and any necessary ethics approval for future grant applications.
 Year Two
During the second year, trainees' primary responsibility will be working on their research project and applying for independent funding; they will continue with one outpatient clinic session and complete remaining inpatient consult service duties.  Fellows may elect to do additional clinical activities relevant to this track.  A 2-4 week elective in Uganda or Brazil can be an enriching way to gain hands on, practical experience with the disease and populations of interest.  In addition, fellows can choose to participate in the ambulatory experience for travel medicine, and for refugee care.
Year Three
Fellows will devote 100% of their time to their research efforts. The primary goal of the third year is to complete and publish ongoing work such that the fellow is in an outstanding position to apply for an NIH career development award, or similar foundation funding.
Potential Projects
Our faculty collaborate with the following international institutions:
The Tuberculosis Clinical Diagnostic Research Consortium (TB-CDRC) is an inter-disciplinary consortium with administrative and data management activities based at Boston Medical Center. Since 2009, the TB-CDRC has conducted feasibility studies of novel TB diagnostics, advising on further development and refinement of diagnostics that promise to accelerate and improve accuracy of TB diagnosis and the rapid detection of drug resistance. International, clinical sites for TB-CDRC studies include: University of Cape Town, South Africa; Infectious Disease Institute, Kampala, Uganda; Núcleo de Doenças Infecciosas, Vitória, Brazil; National Masan Tuberculosis Hospital, Masan, Republic of Korea; Kenya Medical Research Institute (KEMRI), Kisumu, Kenya, and China. Close collaboration and well established relationships with investigators at all of these locations have fostered excellent environments for large-scale clinical studies.
Cayetano Heredia University and Socios en Salud in Lima, Peru. Boston University investigators are collaborating with these two sites in Lima for the Opti-Q study, a clinical trial to determine the optimal dosing of levofloxacin for the treatment of MDR-TB.
The Jawaharlal Institute of Postgraduate Medical Education & Research (JIPMER) in Pudicherry, India. Investigators from Boston University Medical Center, JIPMER and Rutgers University are conducting a study in Puducherry and Tamil Nadu in Southern India. Between 2014 and 2019, we will enroll 4000 pulmonary tuberculosis (TB) patients and 8820 of their household contacts to identify biomarkers that predict TB treatment failure and likelihood of developing TB among household contacts. The study will also examine how comorbidities (diabetes mellitus, tobacco use, alcoholism, helminth infections and others) affect these biomarkers and risks.
The Makerere University Infectious Diseases Institute (IDI) in Kampala, Uganda. An intensive training program has been developed to bring Ugandan scientists to BU laboratories for graduate work after which they will return to Makerere as academic faculty. This training program is the product of a needs assessment by academic leaders at IDI and BU. This partnership will produce valuable research programs, established by trainees, on tuberculosis and other emerging infectious diseases in Uganda.
Muhumbili University of Health and Allied Sciences (MUHAS) in Dar es Salaam, Tanzania. Boston University and Dartmouth Medical School have partnered with MUHAS to develop a TB clinical trials unit at MUHAS. This partnership extends to the MUHAS school of Public Health, where BU and Dartmouth are assisting with curriculum and faculty development
The Núcleo de Doenças Infecciosas (NDI) in Vitória, Brazil. The BMC–NDI collaboration led by Drs. Ellner, Jones-López and Reynaldo Dietze started in 1994 and has remained uninterruptedly involved in advanced clinical and basic research focused on TB.  The NDI is currently a site for several large NIH-funded programs including an International Collaboration for Infectious Diseases Research (ICIDR), the Tuberculosis Clinical Diagnostics Research Consortium (TB-CDRC) and the Tuberculosis Research Unit (TBRU).  Since 2005, the ICIDR study has developed a large, household contact study platform, providing the site significant expertise in community-based research that is coupled with excellent infrastructure for clinical studies, and laboratory capacity for advanced clinical research in microbiology.
Stellenbosch University, Tygerberg Medical Campus, in Cape Town, South Africa. Investigators in Stellenbosch are also participating in the Opti-Q study. In addition, Dr. Jacobson has a highly productive collaboration with researchers at Stellenbosch University in conjunction with the National Health Laboratory Services to investigate drivers of drug resistance in the Western Cape Province and working to identify potentially modifiable factors using spatial analysis.
The Zambia Center for Applied Health Research and Development (ZCAHRD) in Lusaka, Zambia.  The Boston University-based and Zambia-based teams have developed several portfolios of work in Zambia through funding primarily from the United States Centers for Disease Control and Prevention (CDC), the United States Agency for International Development (USAID), the Bill and Melinda Gates Foundation, Department for International Development, Merck for Mothers, Grand Challenges Canada, and the National Institutes of Health (NIH). Recently completed and ongoing research projects have integrated training opportunities for DrPH, PhD, and MPH candidates from the Boston University School of Public Health and the Tufts University Friedman School of Nutrition Science and Policy.
Participating Faculty
Jerrold Ellner MD, Christopher Gill, MD, Davidson Hamer MD, Natasha Hochberg MD MPH, Robert Horsburgh MD, Karen Jacobson, MD, MPH,  Donald Thea MD MSc
Websites:
Makerere University Infectious Diseases Institute (IDI)
Zambia Center for Applied Health Research and Development (ZCAHRD)
Núcleo de Doenças Infecciosas (NDI)
Tuberculosis Clinical Diagnostic Research Consortium (TB-CDRC)