Bhadelia, Nahid, M.D., M.A.L.D
Medical School: Tufts University School of Medicine, Boston
Graduate School: Fletcher School of Law and Diplomacy
Residency training: Mount Sinai Hospital, New York
Fellowship training: Columbia Presbyterian Hospital, New York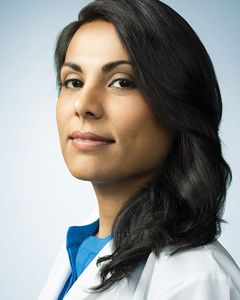 Dr. Nahid Bhadelia is an infectious diseases physician and the medical director of Special Pathogens Unit at Boston Medical Center a medical unit designed to care for patients with highly communicable diseases. She is an Associate Professor in the Section of Infectious Diseases at Boston University School of Medicine. She oversees the medical response program for Boston University's maximum containment biosafety level 4 program at National Emerging Infectious Diseases Laboratories.
She has experience with direct patient care, outbreak response, and medical countermeasures research during multiple Ebola Virus Disease outbreaks in West and East Africa. During the West African Ebola epidemic, she served as a clinician in several Ebola treatment units, working with World Health Organization and Partners in Health. She currently as medical lead of Department of Defense (DoD) funded viral hemorrhagic fever research center in Uganda, entitled Joint Mobile Emerging Disease Intervention Clinical Capability (JMEDICC) program. She co-directs NIH's Fogarty International Center funded research training program in Liberia entitled "Boston University and University of Liberia Emerging and Epidemic Virus Research" program (BUULEEVR). Her research focuses on identification of safe and effective clinical interventions and infection control measures related to viral hemorrhagic fevers and other emerging infectious diseases.
She has prior and ongoing experience in health system response to pathogens such as H1N1, Zika, Lassa fever, Marburg Virus Disease, and COVID-19 at the state, national, and global levels, including supply chain evaluation, diagnostic positioning, infection control policy development, and healthcare worker training. She serves on state, national, and interagency groups focused on biodefense priority setting, development of clinical care guidelines, and medical countermeasures research. She has served as a subject matter expert to US Centers for Disease Control and Prevention, Department of Defense, Global Fund to Fight AIDS, Tuberculosis and Malaria, and World Bank.
Dr. Bhadelia is also an Associate Professor at the Institute of Human Security at the Tufts Fletcher School of Law and Diplomacy, where she teaches a course on human security and emerging infectious diseases. She received her Doctorate of Medicine from Tufts University and completed her internal medicine residency and chief residency at Mount Sinai Hospital in New York. Her Infectious Diseases Fellowship was completed at Columbia Presbyterian Hospital.