Nalini Balgobin, MD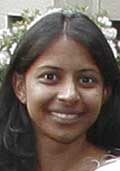 ACADEMIC HISTORY-
Residency: Boston University Medical Center, Boston, MA, U.S.A.
Postdoctoral Training:

Higher Specialist Training (Specialist Registrar) in Histopathology, Dublin, Ireland
Basic Specialist Training (Senior House Officer) in Histopathology, Waterford, Ireland
Intern Year: General Medicine/Surgery, Limerick & Cork, Ireland

Medical School: University College Cork, Cork, Ireland

Edward Gurr Prize in Histology

Undergraduate: University of Massachusetts at Amherst, MA, U.S.A.
SPECIALITY-
Anatomic Pathology/Clinical Pathology (AP/CP)
PUBLICATIONS-
Balgobin N, Farrell M, Ryan S, Naughten E, and Devaney D. Glutaric aciduria type I: discrepancy between neuroimaging and postmortem findings. Arch Dis Child. 2005;90(Suppl II):A64. (Presented – Royal Academy of Medicine, Ireland; British Pediatric Pathology Association, Royal College of Pediatrics and Child Health, U.K.).
CONTACT INFO-
nalini.balgobin@bmc.org
PERSONAL COMMENTS REGARDING THE PROGRAM-
This program has provided me with a unique opportunity for both professional and personal growth.  The learning experience includes lectures, conferences, exposure to a wide variety of specimens, and time for self-directed study.  Here every last person meets expectations.