Maria V. Panchenko, Ph.D.
Assistant Professor

Contact
Boston University School of Medicine
Department of Pathology and Laboratory Medicine
670 Albany Street, #416
Boston, MA 02118
.

.
Education
BA in Biology Moscow State University
MS in Biochemistry Moscow State University Department of Biochemistry
Ph.D in Biochemistry Moscow State University Department of Biochemistry
Training/Positions
Associate Research Scientist, Department of Biochemistry, Boston University School of Medicine, Boston, MA
Associate Research Scientist, Department of Medicine,  Boston University School of Medicine, Boston, MA
Instructor of Medicine, Department of Medicine, Boston University Medical Center, Boston, MA
Research Interests:
Multicellular organism consists of various highly specialized cells that are known to express different sets of specific proteins and perform diverse functions. How do cells with identical genetic information feature variety of phenotypes? An important mechanism accounting for such differences operates on epigenetic level and utilizes chromatin structure. It has become clear now that proper packaging of DNA strands is by far not the only function of chromatin. By virtue of dynamic post-translational modifications and protein-protein interactions chromatin can regulate DNA metabolism and transcription. The proper functioning of this chromatin-mediated signal transduction network is required for DNA maintenance and integrity, while defects are known to result in inappropriate cell division, DNA damage, instability leading to various diseases.
A number of conserved aminoacids within the N-terminal tails of histones can be modified by acetylation, methylation, phosphorylation, and SUMOylation. This in turn alters chromatin structure and its interactions with transcription related factors, DNA and RNA polymerases, DNA repair complexes, other crucial regulatory factors in the cell nucleus. The covalent modifications of histones are reversible, dynamic and therefore provide means for efficient regulation. Histone modifying enzymes are often found within the large multisubunit complexes. Proteins within these complexes contain various interaction domains such as bromodomains and chromodomains that have affinity to specific modified histones. Thus chromatin-mediated transcription is based on a network of regulated protein-protein interactions and operates in combinatorial mode.

We characterized the novel PHD zinc finger protein PHF17/JADE1 and reported that JADE1 is a transcriptional factor that promotes histone H4 acetylation in vivo and in vitro. Moreover we found that JADE1 is responsible for bulk histone H4 acetylation levels in epithelial cells. The unique histone H4 specificity of JADE1 is known to be characteristic to TIP60 and HBO1 which belong to the MYST family of Histone Acetyl Transferases (HATs). We found that JADE1 interacts with TIP60 and HBO1. Interestingly, all three JADE1/2/3 paralogs as well as ING4/5 tumor suppressors are found in HAT HBO1 complex, which is a HAT Binding Origin Replication Complex1. HAT activity of HBO1 is thought to be important for the DNA replication licensing that occurs during the G1 phase of the cell cycle.
| | |
| --- | --- |
| | |
| | |
We are interested in a role of JADE1/2/3 and HBO1 in the cell cycle. HBO1-JADE1-ING4/5 might affect DNA replication by acetylating histones at the origin replication sites and thereby affecting interactions with other replication factors. In addition, the activities of HBO1-JADE1 might regulate expression levels of cell cycle related factors by affecting their transcriptional rates or protein stability and half-life. Other possibilities are also considered.
We investigated role of JADE1 in HAT activity of HBO1 and demonstrated that PHD zinc fingers of JADE1 are specifically required for HBO1 to acetylate histone H4 within a nucleosome. Unlike chromo- , bromo- , or SET-domains, the PHD zinc finger of JADE1 targets a HAT complex to the nucleosomal histones regardless of their modification state, representing a novel mechanism of chromatin targeting. We are investigating a role of JADE1 PHD zinc fingers in histone acetylation, cell cycle and transcription activities of HBO1 complex.
Several HAT complexes have been linked to diseases, including cancers. Moreover, PHD zinc fingers of known HATs and other proteins such as p300, MOZ, MORF, AIRE, INGs are targets of mutations in several diseases. JADE1 and HBO1 may play a role in cancers and in cells regeneration after injuries.
We used mice model of acute kidney injury after ischemia-reperfusion and recently identified role of HAT HBO1 complex in tubular cells regeneration. By using combination of in vitro and in vivo models, including transgenic mice model, we are currently dissecting mechanisms by which HBO1-JADE1 participate in tissue regeneration.  Our long term goal is to find out how these complexes regulate cell cycle in regenerating normal tissues, as well as in diseases with abnormal cell proliferation, including cancer.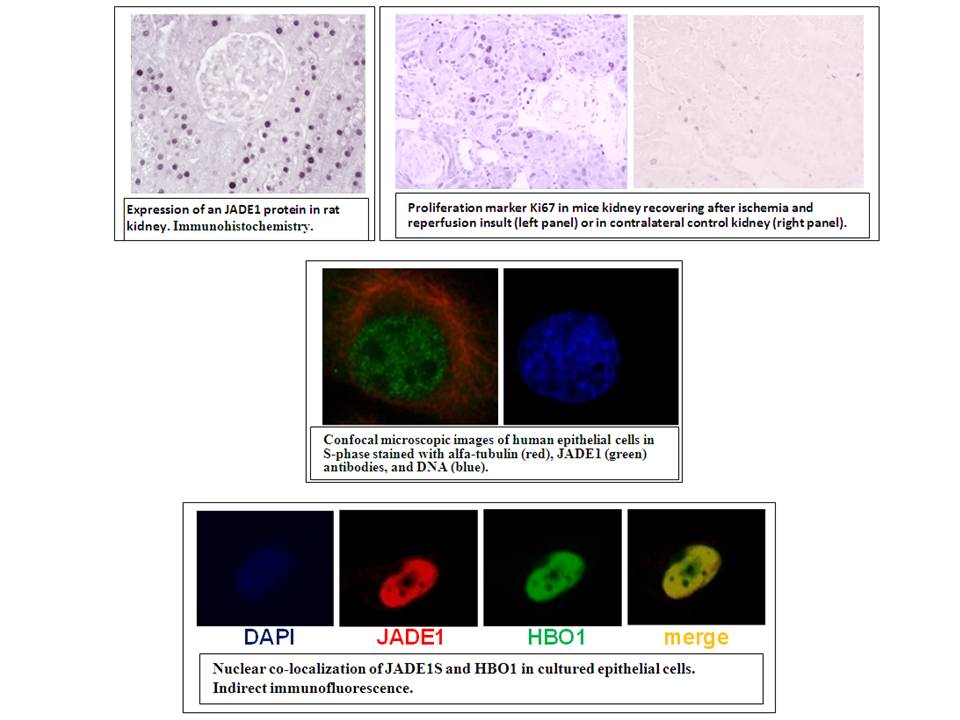 Lab Members
Current
Nirodhini Sirivwardana, Ph. D., Research Associate Scientist
Charlie Aoun, B. Sc. Candidate
Former
Konstantine Spirin, Ph.D., Research Associate Scientist
Lab Technicians:
Somdutta Mitra, M.S.
Joseph Haegele, B. Sc.
Sherry Blackmon, B. Sc.
Alice Lee, 2012 Summer UROP award, B. Sc. Candidate
Funding
1R01DK087910
NIH NIDDK
"Histone Acetyl Transferase HBO1 in kidney epithelial cell cycle"
Role: PI This 5 year project investigates role of JADE1-HBO1 in the cell cycle in kidney epithelial cell cycle and regeneration after hypoxic injury.
Positions Available:
Postdoctoral Fellow
Graduate (Ph.D.) Student
Selected Publications
Siriwardana, NS, Meyer RD, and Panchenko MV (2015): The novel function of JADE1S protein in cytokinesis of epithelial cells. Cell Cycle 2015 Sep 2;14(17):2821-34 [Epub 2015 Jul 7]
* Featured in News&Views of Cell cycle by Dr. Rytis Prekeris (2015): Cut or NoCut: the Role of JADE1S in Regulating Abscission Checkpoint. Cell Cycle. 2015 Sep 1:0. [Epub ahead of print] PMID:26327571
Siriwardana NS, Meyer R, Havasi R, Dominguez I, and Panchenko MV (2014): Cell cycle-dependent Chromatin shuttling of HBO1-JADE1 histone acetyl transferase (HAT) complex.  Cell Cycle Jun 15;13(12):1885-901 PMID: 24739512
* Featured in News&Views by Dr. Brian Calvi (2014): HBO1:JADE1 at the cell cycle chromatin crossroads Cell Cycle 2014;13(15):2322 PMID:25483181
* Leading article in the issue with free access granted by Cell Cycle.
Havasi, A., J. A. Haegele, J. M. Gall, S. Blackmon, T. Ichimura, R. G. Bonegio, and M. V. Panchenko. 2013. Histone acetyl transferase (HAT) HBO1 and JADE1 in epithelial cell regeneration. Am J Pathol 152-162.
Foy, R. L., V. C. Chitalia, M. V. Panchenko, L. Zeng, D. Lopez, J. W. Lee, S. V. Rana, A. Boletta, F. Qian, L. Tsiokas, K. B. Piontek, G. G. Germino, M. I. Zhou, and H. T. Cohen. 2012. Polycystin-1 regulates the stability and ubiquitination of transcription factor Jade-1. Hum Mol Genet 5456-5471.
Foy, R. L., I. Y. Song, V. C. Chitalia, H. T. Cohen, N. Saksouk, C. Cayrou, C. Vaziri, J. Cote, and M. V. Panchenko. 2008. Role of Jade-1 in the histone acetyltransferase (HAT) HBO1 complex. J Biol Chem 283:28817-28826.
Chitalia, V. C., R. L. Foy, M. M. Bachschmid, L. Zeng, M. V. Panchenko, M. I. Zhou, A. Bharti, D. C. Seldin, S. H. Lecker, I. Dominguez, and H. T. Cohen. 2008. Jade-1 inhibits Wnt signalling by ubiquitylating beta-catenin and mediates Wnt pathway inhibition by pVHL. Nat Cell Biol 1208-1216.
DiCamillo, S. J., S. Yang, M. V. Panchenko, P. A. Toselli, E. F. Naggar, C. B. Rich, P. J. Stone, M. A. Nugent, and M. P. Panchenko. 2006. Neutrophil elastase-initiated EGFR/MEK/ERK signaling counteracts stabilizing effect of autocrine TGF-beta on tropoelastin mRNA in lung fibroblasts. Am J Physiol Lung Cell Mol Physiol L232-243.
Zhou, M. I., R. L. Foy, V. C. Chitalia, J. Zhao, M. V. Panchenko, H. Wang, and H. T. Cohen. 2005. Jade-1, a candidate renal tumor suppressor that promotes apoptosis. Proc Natl Acad Sci U S A 11035-11040.
Panchenko, M. V., M. I. Zhou, and H. T. Cohen. 2004. von Hippel-Lindau partner Jade-1 is a transcriptional co-activator associated with histone acetyltransferase activity. J Biol Chem 56032-56041.
DiCamillo, S. J., I. Carreras, M. V. Panchenko, P. J. Stone, M. A. Nugent, J. A. Foster, and M. P. Panchenko. 2002. Elastase-released epidermal growth factor recruits epidermal growth factor receptor and extracellular signal-regulated kinases to down- regulate tropoelastin mRNA in lung fibroblasts. J Biol Chem 18938-18946.
Panchenko, M. V., H. W. Farber, and J. H. Korn. 2000. Induction of heme oxygenase-1 by hypoxia and free radicals in human dermal fibroblasts. Am J Physiol Cell Physiol C92-C101.
Panchenko, M. V., W. G. Stetler-Stevenson, O. V. Trubetskoy, S. N. Gacheru, and H. M. Kagan. 1996. Metalloproteinase activity secreted by fibrogenic cells in the processing of prolysyl oxidase. Potential role of procollagen C-proteinase. J Biol Chem 7113-7119.
Graven, K. K., R. F. Troxler, H. Kornfeld, M. V. Panchenko, and H. W. Farber. 1994. Regulation of endothelial cell glyceraldehyde-3-phosphate dehydrogenase expression by hypoxia. J Biol Chem 24446-24453.
Kagan, H. M., V. B. Reddy, M. V. Panchenko, N. Nagan, A. M. Boak, S. N. Gacheru, and K. M. Thomas. 1995. Expression of lysyl oxidase from cDNA constructs in mammalian cells: the propeptide region is not essential to the folding and secretion of the functional enzyme. Journal of Cellular Biochemistry 329-338.