Michael J O'Brien, MD, MPH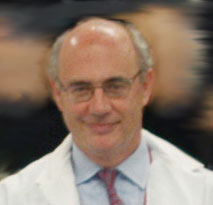 Academic Title - Professor
Education -
1971 M.B., B.ch. (MD Equivalent), National University of Ireland , Galway .
1992 M.P.H. (Quantitative Methods), Harvard University , School of Public Health
Professional Qualifications and Diplomas -
Membership of the Royal College of Pathologists, ( UK ), 1977
American Board of Pathology, Certification in Anatomic Pathology, 1984
American Board of Pathology, Special Competency in Cytopathology, 1994
Positions and Faculty Appointments
2003 – 06   Chairman, ad interim, Dept. of Pathology and Lab Medicine, BUSM
1996 –        Chief of Anatomic Pathology, Boston Medical Center
1994 –        Professor of Public Health (Epidemiology and Biostatistics), BUSPH
1991 – 03   Vice-chairman for Anatomic Pathology, Department of Pathology and Laboratory Medicine, BUSM
1988 –        Professor of Pathology and Laboratory Medicine, BUSM
1986-87     Lecturer on Pathology, University College, Dublin, Ireland
1982-86     Associate Professor of Pathology, BUSM
1980-         Faculty Member, Division of Graduate Medical & Dental Sciences, BUSM
1980-84     Lecturer on Medicine, Harvard Medical School, Boston,  MA
1978-82     Assistant Professor of Pathology, BUSM
1976-78     Teaching Fellow, BUSM
Professional Societies and Committees
1989-.      Fellow of the Royal College of Pathologists(UK)
1986-.      Fellow of the Royal Irish Academy of Medicine
1981-91   Consultant Pathologist, National Polyp Study
1988-98   Advisory Board, World Health Organization Collaborating Center for Prevention of Colorectal Cancer,
1992        Consultant to Committee on Practice Guidelines, Management of Colon Polyps, American College of Gastroenterology
1992-      Committee on Guidelines for colorectal cancer screening and surveillance, WHO.
1995-      Editorial Board, American Journal of Surgical Pathology
1997-      Chairman, Task Force on Digital Imaging, International Academy of Cytology
2001-      Member, Surgical Pathology Committee, College of American Pathologists
2003 –     Fellow, American College of Gastroenterology
2004 –     Member, US National Taskforce on Colon Cancer
2006-      Fellow, Faculty of Pathology (Hon), Royal College of Physicians of Ireland
2006 –     Consultant, Cancer Research Ireland, Irish Cancer Society
Research Interests -
Clinico-pathologic and molecular genetic aspects of the adenoma-carcinoma sequence in colorectal neoplasia have been a long term interest. Current studies in collaboration with Dr Shi Yang are focused on the role of methylation of CpG islands of the promoter regions of suppressor and mutator genes in the progression of serrated polyps to colorectal cancer in susceptible individuals. We are also pursuing studies, in collaboration with other scientists in the department, of basic molecular mechanisms, particularly activation of the RAS-RAF-MAP kinase signaling pathway, that may underlie hyperplastic polyp persistence, regression or progression to adenoma. In collaboration with Dr.s Sidney Winawer and Ann Zauber of MSKCC, New York, I have a continued interest in the analysis of the National Polyp Study pathology and clinical database in the context of new insights into colorectal cancer evolution that have been gained since the completion of this landmark clinical trial over a decade ago. I am also involved, as PI of the Pathology Review Center , with a new national clinical trial based at MSKCC, New York that is designed to evaluate the efficacy of a single screening colonoscopy in colorectal cancer prevention.
Recent Publications -
Winawer SJ, Zauber AM, O'Brien MJ, et al. and The National Polyp Study Workgroup.  Randomized Comparison of Surveillance Intervals Following Colonoscopic Removal of Newly Diagnosed Adenomatous Polyps.  New Eng J Med. 328: 901-906, 1993.
Winawer S J, Zauber A J, Ho M N, O'Brien, M J, Gottlieb L S et al. Prevention of Colorectal Cancer by Colorectal Cancer by Colonoscopic Polypectomy. NEJM, 329:1977-81, 1993.
O'Brien MJ, Winawer SJ, Gottlieb LS, Sternberg S, Zauber A, Diaz B,  Dickersin GR, Ewing S, Geller S, Kasimian D, Komorowski R, Szporn A  and the National Polyp Study Workgroup.  The National Polyp Study: Determinants of High Grade Dysplasia in Colorectal Adenomas.   Gastroenterology, 98:371-379, 1990.
O'Brien MJ, Yang S, Clebanoff JL, Mulcahy E, Farraye FA, Amorosino M, Swan N.Hyperplastic (Serrated) Polyps of the Colorectum: Relationship of CpG- Island Methylator Phenotype and K-ras Mutation to Location and Histologic Subtype. Am J Surg Pathol, 2004, 28:423-434
O'Brien MJ, Winawer SJ, Zauber AG, Bushey MT, Sternberg SS, Gottlieb LS, Bond JH, Waye JD, Schapiro M for the National Polyp Study Workgroup. Flat Adenomas in the National Polyp Study (NPS): is there an increased risk of high grade dysplasia initially or during surveillance? Clin Gastro Hepatol 2004 2(10): 905-911.
O'Brien MJ, Yang S, Mack C, Xu H, Huang CS, Mulcahy E, Amorosino M, Farraye F. Comparison of Microsatellite Instability, CpG-Island Methylation Phenotype, BRAF and KRAS Status in Serrated Polyps and Traditional Adenomas Indicates Separate Pathways to Distinct Colorectal Carcinoma Endpoints. Am J Surg Pathol 2006;30:1491-1501.
Rosenberg DW, Yang S, Pleau DC, Greenspan EJ, Stevens RG, Rajan TV, Heinen CD, Levine J, Zhou Y, O'Brien MJ. Mutations in BRAF and KRAS Differentially Distinguish Serrated versus Non-Serrated Hyperplastic Aberrant Crypt Foci in Humans. Cancer Res. 67(8):3551-4,2007.
O'Brien MJ, Yang S, Huang CS, Shepherd C, Cerda S, Farraye FA. The Serrated Polyp Pathway to Colorectal Carcinoma. Diagnostic Histopathology,14(2):78-83, 2008
Winawer SJ, O'Brien MJ. Management of Malignant Polyps, Chap 30, 401-412, in Colonscopy, Principles and Practice,2nd Edition, Eds:Waye JD, Rex DK, Williams CB Wiley-Blackwell 2009
Huang CS, Farraye FA, Yang S, O'Brien MJ. The clinical significance of serrated polyps. Am J Gastroenterol. 2011 Feb;106(2):229-40; quiz 241. Epub 2010 Nov 2.
Contact Information
Telephone – 617-638-4500/ 617-414-4988
Email – Michael.obrien@bmc.org