Jiyoun Kim, PhD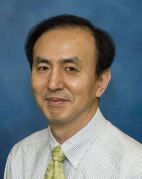 Degree(s) – BS, MS, Ph.D.
Academic Title – Adjunct Research Assistant Professor
Education/Training -
Korea University, Seoul, Korea: BS Biology 1982
Korea University, Seoul, Korea: MS Microbiology 1984
University of Alabama, Tuscaloosa, AL: Ph.D. Immunology 1999
University of Michigan, Ann Arbor, MI: Research Fellow 1999-2004
Research Interests -
Asthma is a unique form of chronic respiratory disease characterized by reversible airway obstruction and substantial pulmonary inflammation.  It represents one of the most common chronic inflammatory diseases affecting an estimated 300 million people worldwide with an expected significant increase to 400 million by 2025.  While the sharply rising prevalence and incidence of asthma causes global concern both in the developing and developed countries, understanding of the pathogenesis of asthma at this time is limited.
We have established a novel mouse model of asthma induced by a house dust that was collected for the house that has asthmatic child. This house dust contains high levels of cockroach allergens and low level of bacterial endotoxin.  Currently we are using commercially available cockroach allergen that is being use for skin test in clinic.
My studies have been focused on expanding our understanding of asthma by using a well-established mouse model:
1.    The role of tumor necrosis factor (TNF) in asthma. TNF is a potentially novel mediator for new insights into the pathogenesis of asthma. In a previous study, we demonstrated a brisk and significant increase in TNF within the bronchoalveolar lavage fluid immediately after pulmonary challenge with the house dust extract. Given the increase in TNF, it would represent a logical target for inhibition and blockade of the pulmonary inflammatory response to the house dust extract. Our studies showed that blockade of TNF resulted in a reduction of the pulmonary inflammation demonstrated by reduced recruitment of inflammatory cells and airway hyper-responsiveness.

2.    The association between increased ambient air pollution levels and symptoms of asthma. To shed light on the cause of recent increases of asthma, several factors have been proposed including genetic and environmental changes. Though the relative contribution of genetics and the environment in the development of asthma remain to be elucidated, numerous studies have documented the effects of environmental exposures on the risk of pulmonary diseases. As several epidemiologic and clinical studies emerged, it has become clear that increased ambient air pollutants, including particular matter, are correlated with dramatic increases in the risk of respiratory and cardiovascular diseases. Asthmatics represent a highly sensitive subpopulation that is at increased risk following exposure to particulate matters in the ambient environment. We are studying the biologic mechanisms responsible for the exacerbation of pulmonary inflammation and AHR. Using a well-established mouse model of asthma, our study is focused on whether asthma-like inflammatory responses in mice are exacerbated by the combination of the air pollutant DEP and allergen challenge.  Our data demonstrate that KC and MIP-2, two CXC chemokines, orchestrate DEP-induced exacerbation of airway inflammation and airway hyperresponsiveness in vivo.

Periodic Acid Schiff (PAS) stained lung from PBS/Asthma mice shows limited mucus in the airway (Left Panel).

PAS sections from DEP/Asthma mice show abundant mucus production (Right Panel).
Heat map analysis and hierarchal clustering of entire data set. Inflammatory cells in bronchoalveolar lavage (BAL), entire respiratory parameters, and inflammatory mediators in BAL (B), plasma (P), and lung homogenates (L) were subject to Z-score normalization. Normalized z-scores were averaged and converted to a heat map. The heat map data were subject to hierarchal clustering by sample group (Naïve, IgG-treated (IgG), and anti CXC antibody-treated (Ab) mice) and by parameter to demonstrate the pattern in each group's response. The hierarchal clustering demonstrated that anti KC and MIP-2 antibody treated mice shared many features with the naïve mice.

3.    Treatment of asthma using herbal extract. While conventional remedies including corticosteroids and β2-agonists are effective in managing asthma symptoms, concerns regarding the side effects of current remedies due to chronic use and the lack of curative therapy lead asthma patients in the Western world to seek complementary and alternative medicine (CAM) treatments. Despite the substantial gain in the popularity of CAM to treat asthma, few studies have reported on the clinical efficacy or mechanisms of the CAM remedies including herbal treatment. A Korean herbal medicine, SO-CHEONG-RYONG-TANG (SCRT), (also known as Xiao-qing-long-tang in traditional Chinese medicine, and as Sho-seiryu-to in Japanese Kampo medicine)  has long been prescribed for the treatment of allergic diseases in Korea, China, and Japan. To elucidate the mechanism of how SCRT modulates the allergic response, we evaluated the immunomodulatory effects of SCRT using our murine model of asthma by examining multiple aspects of respiratory function and pulmonary inflammation including the production of inflammatory mediators and the pulmonary recruitment of inflammatory cells.

SCRT treatment decreases BAL eosinophil infiltration (A) and airway expression of the eosinophil-attracting CC chemokines, eotaxin (B) and RANTES (C).
Recent Publications -
Jiyoun Kim, Sudha Natarajan, Louis J. Vaickus, Jacqueline C. Bouchard, Dominic Beal, William Cruikshank, and Daniel G Remick. Diesel Exhaust Particulates Exacerbate Asthma-like Inflammation by Increasing CXC Chemokines. American Journal of Pathology (in printing).
Jiyoun Kim PhD, Sudha Natarajan PhD, Hyunsu Bae MD, PhD, Sung-Ki Jung MD, PhD, William Cruikshank PhD, and Daniel G Remick MD. Herbal Medicine Treatment Reduces Inflammation in a Murine Model of Cockroach Allergen-Induced Asthma. Annals of Allergy, Asthma & Immunology. 2011; 107: 154-162.
Sudha Natarajan, Jiyoun Kim, Jacqueline Bouchard, William Cruikshank and Daniel G. Remick. Reducing LPS Content in Cockroach Allergens Increases Pulmonary Cytokine Production Without Increasing Inflammation: A Randomized Laboratory Study. BMC Pulmonary Medicine 2011, 11:12. PMID: 21345191.
Louis J. Vaickus, Jacqueline Bouchard, Jiyoun Kim, Sudha Natarajan, and Daniel G. Remick. Assessing Pulmonary Pathology by Detailed Examination of Respiratory Function. 2010; American Journal of Pathology. 177(4):1861-9. PMID: 20724595.
Sudha Natarajan, Jiyoun Kim, and Daniel G. Remick. Chronic Pulmonary LPS Tolerance Induces Selective Immunosuppression while Maintaining the Neutrophilic Response. Shock. 33(2):162-169, February 2010. PMID: 19487981
Jean A Nemzek and Jiyoun Kim. Pulmonary Inflammation and Airway Hyperresponsiveness in a Murine Model of Asthma Complicated by Acid Aspiration. Comparative Medicine 2009; 59 (4):321-330. PMID: 19712571.
Sudha Natarajan, Jiyoun Kim, and Daniel G. Remick. Acute Pulmonary Lipopolysaccharide Tolerance Decreases TNF-a without Reducing Neutrophil Recruitment. Journal of Immunology, 2008, 181:8402-8408. PMID: 19050257
Jiyoun Kim and Daniel G Remick. Tumor Necrosis Factor Inhibitors for the Treatment of Asthma. Current Allergy and Asthma Reports 2007, 7: 151-156.
Jiyoun Kim, McKinley L, Natarajan S, Bolgos G, Siddiqui J, Copeland S, Daniel G Remick. Anti-TNF-alpha antibody treatment reduces pulmonary inflammation and methacholine hyperresponsiveness in a Murine Asthma Model Induced by House Dust. Clinical and Experimental Allergy 2006, 36: 122-132.
Laura McKinley, Jiyoun Kim, Gerry L Bolgos, Javed Siddiqui, and Daniel G Remick. CXC chemokines modulate IgE secretion and pulmonary inflammation in a model of allergic asthma. Cytokine 2005, 32: 178-185.
Jiyoun Kim, Laura McKinley, Javed Siddiqui, Gerry L Bolgos, Daniel G Remick. Prevention and Reversal of Pulmonary Inflammation and Airway Hyperresponsiveness by Dexamethasone Treatment in a Murine Model of Asthma Induced by House dust Containing High Levels of Cockroach Allergens. American Journal of Physiology-Lung Cellular and Molecular Physiology 2004, 287: L503-L509.
Kim Jiyoun, Merry A, Nemzek J, Bolgos G, Siddiqui J, Remick DG. Eotaxin represents the principal eosinophil chemoattractant in a novel murine asthma model induced by house dust containing cockroach allergens. Journal of Immunology, 2001, 167: 2808-2815.
Contact Information
Telephone – (617) 414-5313
Email – jykim@bu.edu
670 Albany St, Rm 404, Boston, MA 02118