Jerome S. Brody, MD, Professor of Pulmonary Medicine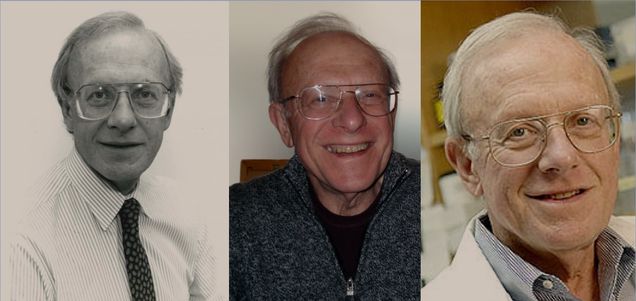 We are so pleased to announce the Jerome S. Brody, M.D., Professor of Pulmonary Medicine, has been endowed thanks to commitments (donations and pledges) from the Department of Medicine, friends and family of Dr. Brody, and members and friends of the Pulmonary Center. The professorship honors Jerry Brody, who had a huge impact on pulmonary medicine worldwide. Jerry's scientific passion focused on lung development. He established foundations for our current knowledge about lung cell and molecular biology, and he made seminal contributions relating to cigarette smoke-induced lung diseases including lung cancer and COPD. He helped establish the American Journal of Respiratory Cell and Molecular Biology, the ATS's red journal, back in 1989, and this journal continues to thrive today. Dr. Brody was the longest serving director of the Pulmonary Center at the BU School of Medicine. For 23 years, his vision of multidisciplinary biological research in pulmonary medicine drove the growth and achievement of the Center, while he also served as a renowned and valued advisor to fellows and students. He began our Lung Biology: A Multidisciplinary Approach T32 training program way back in 1975, and this NIH grant is now funded through year 50 based on the principles of research training that he outlined half a century ago. He is an inspirational visionary in pulmonary research and medical education.
On September 14, 2021, Dr. Joseph P. Mizgerd was named the inaugural Jerome S. Brody, MD, Professor of Pulmonary Medicine.
If you have already given, thank you! If you have not yet donated, or wish to add to your donation(s), you may follow this link to make a secure gift on-line in support of the Brody endowment. For other opportunities or questions, please contact Suzanne Maselli, Assistant Dean for Development, at 617-358-9530 or smaselli@bu.edu. Your donation is tax-deductible, fully credited as a gift to BU, and helps fight lung disease. We hope you are as excited as we are about this opportunity to honor Dr. Brody today and in perpetuity. Thank you for your support!
The Pulmonary Center acknowledges generous support for the Brody Endowment from the following donors (through August 2021):
Anonymous
Ansell, Jack, M.D. and Ansell, Beth
Babayan, Richard K., M.D. and Nersessian, Sonya, Esq.
Barkin, Peter, M.D.
Baron, Michael, M.D. and Baron, Karen
Bauman, Sherry
Beer, Dennis J., M.D. and Beer, Joan F. Esq.
Berk, John, M.D. and Wakamatsu, May
Berman, Jeffrey, M.D. and Walker, Janice
Bharel, Monica and Waikar, Sushrut
Bliss, Charles Michael, M.D.
Bosch, Nicholas, M.D. and Modzelewski, Katherine
Bosmann, Markus, M.D.
Brody, Alan J.
Brody, Karen L.
Brody, Lisa R., M.D. and Ernsberger, Daniel L.
Brody, Marion L., and Ziegler, Donald
Brody, Michael and Brody, Anne
Browder, David S. and Browder, Mrs. Elizabeth T.
Cardoso, Wellington V. and Schott, Cecilia
Carter, Robert
Center, David, M.D. and Rabbett, Patricia
Chen, Felicia, M.D.
Chmielinski, Kasia
Chobanian, Aram V., M.D.
Clark, John and Clark, Mia
d'Avenas, Anne, M.D. and Brody, Jerome, M.D
Dagneau, Lucy and Dagneau, Zack
Desai, Tushar, M.D.
Dickey, Burton, M.D. and Dickey, Yean
Doerschuk, Claire M., M.D.
Evans, John
Evans Medical Foundation, Inc.
Fechheimer, Jean, M.D. and Schur, Peter, M.D.
Fine, Alan, M.D. and Rosenberg, Carol, M.D.
Fox, Pamel
Fredberg, Jeffrey, Ph.D. and Fredberg, Ellen
Gaynor, Robert and Gaynor, Lynne
Glassroth, Jeffrey, M.D. and Glassroth, Carol
Glenn, Vicki Jean
Goodenberger, Daniel, M.D.
Green, David, M.D.
Gruenberg, Lisa, M.D. and Carmichael, Martin
Hammond, Terese, M.D.
Hillman, Aline and Hillman, Scott
Hollingsworth, Helen, M.D. and Reed, John
Hunt, Christine
Jin, Yang, M.D.
Jones, Matthew Robert, Ph.D.
Joyce-Brady. Martin, M.D. and Joyce-Brady, Jean
Kagan, Herbert, Ph.D. and Kagan, Elinore
Kathuria, Hasmeena, M.D. and Singh, Karan
Kirchgasler, Christopher and Kirchgasler, Kathryn
Kotton, Darrell, M.D. and Kotton, Camille, M.D.
Lee, Eun-Hyung, M.D.
Masuyama, Junichi
Mizgerd, Joseph B., M.D. and Mizgerd, Ann M.D.
Mizgerd, Joseph P., Sc.D. and Mizgerd, Louise
Mogayzel, Peter and Mogayzel, Cyndra
Najarian, Carolann S., M.D. and Najarian, George K.
O'Connor, George, M.D. and O'Connell, Rosemary
Powell, Charles, M.D.
Quinton, Lee J., Ph.D. and Quinton, Maria
Ravid, Katya, Ph.D. and Ravid, Shmuel, M.D., M.P.H.
Reardon, Christine, M.D. and Reardon, Michael
Reed, William and Reed, Lynne S.
Rindler, Bruce Harvey
Roberts, Janis
Rounds, Sharon, M.D.
Salant, David J., M.D. and Salant, Anne
Sales, Leila
Samet, Jeffrey, M.D. and Marram, Michele
Schwartz, David, M.D., M.P.H.
Senior, Robert, M.D.
Smith, Lewis J., M.D.
Spira, Avrum, M.D. and Pruyn, Susan
Steiling, Katrina Ann, M.D.
Swartz, Harold and Flood, Ann
Theodore, Arthur, M.D. and Theodore, Dawn
Traber, Katrina, M.D., Ph.D.
Weintraub, Leah
Wilson, Andrew, M.D.