Brody Endowment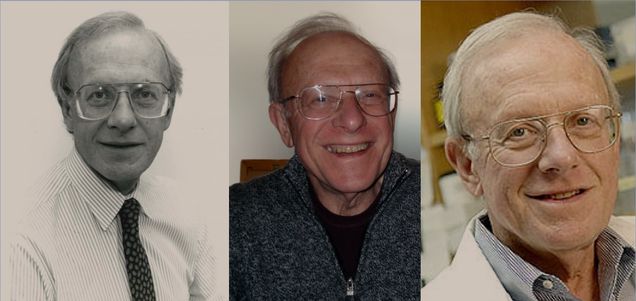 We are pleased to announce the Jerome S. Brody, M.D., Endowed Fund, to honor our friend and colleague Jerry Brody. Dr. Brody was the longest serving director of the Pulmonary Center.  For over 30 years, his vision of multidisciplinary biological research in pulmonary medicine drove tremendous growth and achievement here, while he also served as a renowned and valued advisor to fellows and students.  Jerry's scientific passion focused on lung development.  He established foundations for our current knowledge about lung cell and molecular biology, and he made seminal contributions relating to cigarette smoke-induced lung diseases including lung cancer and COPD.  Jerry substantially improved the Pulmonary Center and the BU School of Medicine, and he had a huge impact on pulmonary medicine worldwide.  This endowment will specifically support pulmonary research at BU, and will convert to the Jerome S. Brody Professorship if and when the professorship target is reached.  We hope you will be as excited as we are about this opportunity to honor Dr. Brody!
Follow this link to make a secure gift on-line in support of the Brody endowment. For other opportunities or questions, please contact Suzanne Maselli, Assistant Dean for Development, at 617-358-9530 or smaselli@bu.edu. Your donation is tax-deductible, fully credited as a gift to BU, and helps fight lung disease. Thank you for your support!
The Pulmonary Center acknowledges generous support for the Brody Endowment from the following donors (through June 2020):
Anonymous
Ansell, Beth and Ansell, Jack E., M.D.
Barkin, Peter M., M.D.
Baron, Michael, M.D. and Baron, Karen
Bauman, Sherry
Berk, John L., M.D. and Wakamatsu, May M.
Bliss, Charles Michael, M.D.
Bosmann, Markus, M.D.
Brody, Alan J.
Brody, Michael L. and Brody, Anne W.
Carter, Robert D.
Center, David M., M.D. and Rabbett, Patricia
Chmielinski, Kasia
Clark, John and Clark, Mia
d'Avenas, Anne L., M.D. and Brody, Jerome S. M.D.
Desai, Tushar, M.D.
Dickey, Burton F., M.D. and Dickey, Yean S.
Evans, John W.
Fechheimer, Jean. M.D. and Schur, Peter H., M.D.
Fox, Pamela
Gaynor, Robert J. and Gaynor, Lynne
Glassroth, Jeffrey, M.D. and Glassroth, Carol H.
Glenn, Vicki Jean
Green, David S,. M.D.
Gruenberg, Lisa, M.D. and Carmichael, Martin
Hillman, Aline I. and Hillman, Scott R.
Hollingsworth, Helen, M.D. and Reed, John I.
Hunt, Christine B.
Jin, Yang, M.D.
Joyce-Brady. Martin F. and Joyce-Brady, Jean M.
Kagan, Herbert M., Ph.D.
Kathuria, Hasmeena, M.D. and Singh, Karan
Kirchgasler, Christopher M. and Kirchgasler, Kathryn
Kotton, Darrell N., M.D. and Kotton, Camille N.
Mizgerd, Joseph B., M.D. and Mizgerd, Ann F., M.D.
Mizgerd, Joseph P., D.Sc. and Mizgerd, Louise
Mogayzel, Peter J. and Mogayzel, Cyndra R.
O'Connor, George T. and O'Connell, Rosemary A.
Powell, Charles, M.D.
Roberts, Janis
Rounds, Sharon I. S., M.D.
Sales, Leila
Samet, Jeffrey H.  and Marram, Michele S.
Smith, Lewis J., M.D.
Swartz, Harold M. and Flood, Ann
Theodore, Arthur C., M.D. and Theodore, Dawn M.
Traber, Katrina E., M.D., Ph.D.
Weintraub, Leah
Wilson, Andrew A., M.D.