Jay Mizgerd named Jerome S. Brody, MD, Professor of Pulmonary Medicine
We are so pleased that Joseph P. Mizgerd, ScD, was named the inaugural Jerome S. Brody, MD, Professor of Pulmonary Medicine. On Sept. 14, colleagues, friends and family gathered in a ceremony held both in-person and over Zoom to witness the installation and to celebrate the contributions of Drs. Brody and Mizgerd to the BU School of Medicine and the field of pulmonary medicine. The picture shows Jerry in the center, along with some of his family members who attended the celebration, plus (left to right in the masks) Drs. Center, Coleman, Mizgerd, Spira, and Antman.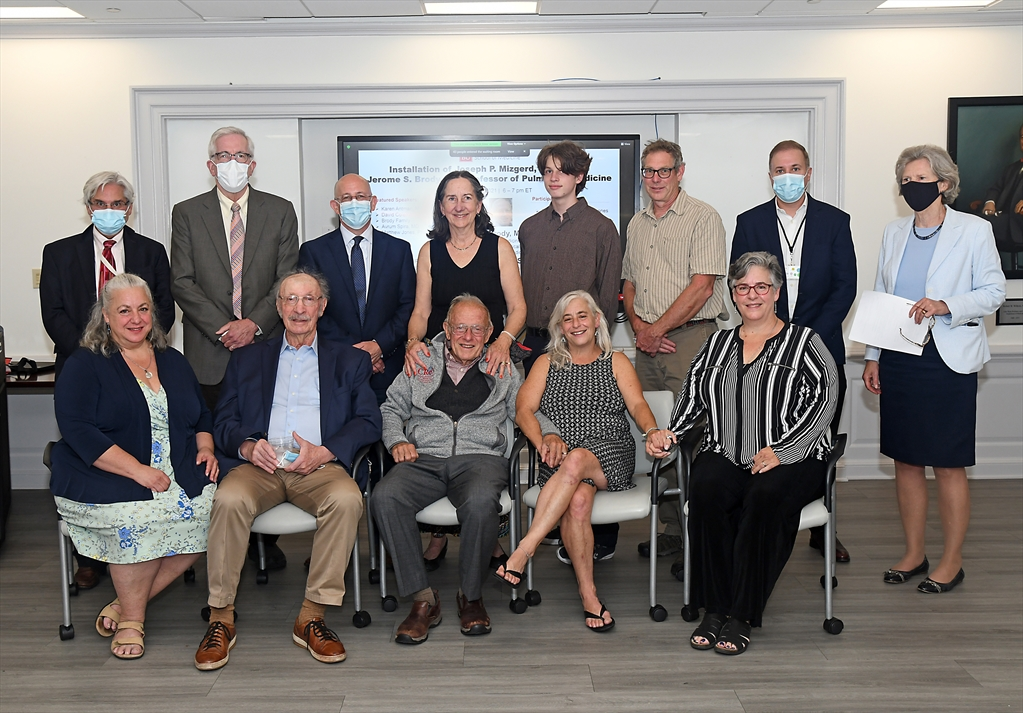 This professorship was established to forever honor Dr. Jerry Brody, now Professor Emeritus. Jerry was the longest serving director of the Pulmonary Center and made many seminal contributions to lung biology and to how pulmonary research is trained and disseminated.
Dr. Jay Mizgerd succeeded Dr. Brody as Director of the Pulmonary Center. His research focuses on pulmonary immunology and respiratory infection. He is dedicated to mentorship and to the Pulmonary Center's training of PhD and MD researchers, continuing Dr. Brody's vision for multidisciplinary discoveries in lung biology.
This endowment was made possible by generous contributions from the Brody family, the Department of Medicine, and the many friends of the Pulmonary Center, for which we are enormously grateful.
More information is available in the BUSM Press Release.