Pain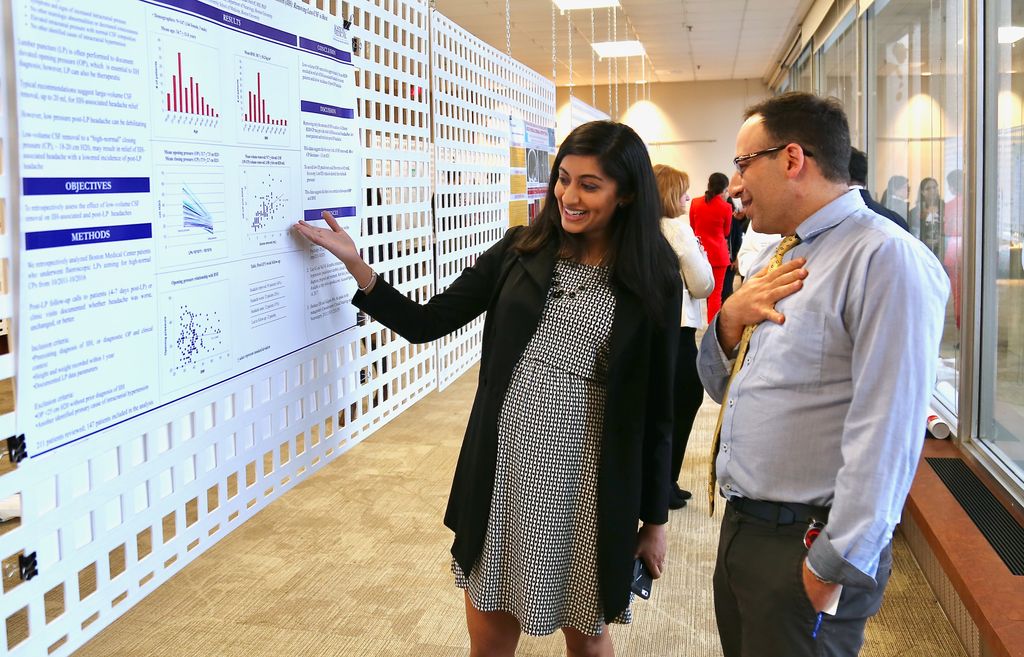 Pain is a natural part of human existence. Alleviating pain that interferes with the basic and advanced activities of daily living, both chronic and acute, is the goal of pain management. To this end, pain management is diagnostically driven to determine the underlying etiologies of somatic, visceral nociceptive, and neuropathic pain in order to deliver pharmacological and interventional treatments to improve quality of life.
Boston University Pain and Headache (BUPH) is a multidisciplinary group dedicated to the treatment of pain. The group is based in the Boston University Department of Neurology. For nearly ten years our group has been at the forefront of pain management and was born out of the increasing recognition of this common and often underestimated problem. We are proud to be one of the few multidisciplinary pain management groups in an academic Neurology department.
Faculty
Michael D. Perloff, MD, PhD
Sunali Shah, MD
Bianca Carson, MD
Ongoing clinical studies and grants:
The Boston University Pain and Headache (BUPH) group has had previous clinical research in lumbar puncture-related headaches and interventional pain procedures, as well as pain medicine in the urgent care setting.
Currently, IRB protocols are in progress for double-blinded trials on lumbar puncture headache prophylaxis and BMI and low back pain.
Ongoing projects include off-label NMDA antagonists for chronic pain and Xray as screening tool in low back pain.
Recent publications:
Fu JL, Perloff MD. Pharmacotherapy for Spine-Related Pain in Older Adults. Drugs Aging. 2022 Jul;39(7):523-550. doi: 10.1007/s40266-022-00946-x. Epub 2022 Jun 27. PMID: 35754070.
Kopel D, Peeler C, Zhu S. Headache Emergencies. Neurol Clin. 2021 May;39(2):355-372. doi: 10.1016/j.ncl.2021.01.003. PMID: 33896523.
Cervantes-Arslanian A, Lau KHV, Anand P, Shulman JG, Ford T, Takahashi C, Daneshmand A, Nguyen TN, Suchdev K, Abdennadher M, Saxena A, Macone A, Perloff MD, Zhu S, Greer DM. Rapid Dissemination of Protocols for Managing Neurology Inpatients with COVID-19. Ann Neurol. 2020 Aug;88(2):211-214. doi: 10.1002/ana.25774. Epub 2020 Jun 3. PMID: 32395831
Macone AE, Perloff MD. Lasmiditan: Its Development and Potential Use. Clin Pharmacol Drug Dev. 2020 Apr;9(3):292-296. doi: 10.1002/cpdd.781. Epub 2020 Feb 5.
Perloff MD, Parikh SK, Fiorito-Torres F, McAdams MT, Rayhill ML. Cerebrospinal Fluid Removal for Idiopathic Intracranial Hypertension: Less Cerebrospinal Fluid Is Best. J Neuroophthalmol. 2019 Sep;39(3):330-332. doi: 10.1097/WNO.0000000000000759.
Perloff MD, Dashkoff J, Ge G. The Simplified Epiduralysis After Laminectomy/Fusion (SEAL) Procedure for Postsurgical Radicular Low Back Pain. Pain Med. 2019 Mar 1;20(3):578-580. doi: 10.1093/pm/pny195.
SE Wahezi, SE Mohamed, A Lederman, AP Beck. Aggregation properties of triamcinolone acetonide injection in human serum: considerations when performing epidural steroid injections Journal of Pain Research 2019; 12: 1033.
Patel EA, Perloff MD. Radicular Pain Syndromes: Cervical, Lumbar, and Spinal Stenosis. Semin Neurol. 2018 Dec;38(6):634-639. doi: 10.1055/s-0038-1673680. Epub 2018 Dec 6.
Macone A; Otis J.A.D. Neuropathic Pain. Seminars in Neurology. 2018; 38(6):644-653
Perloff MD, Chung JS. Urgent care peripheral nerve blocks for refractory trigeminal neuralgia. Am J Emerg Med. 2018 Nov;36(11):2058-2060. doi: 10.1016/j.ajem.2018.08.019. Epub 2018 Aug 8.
Perloff MD, Patel NS, Kase CS, Oza AU, Voetsch B, Romero JR. Cerebellar stroke presenting with isolated dizziness: Brain MRI in 136 patients. Am J Emerg Med. 2017 Jun 22. pii: S0735-6757(17)30484-9. doi: 10.1016/j.ajem.2017.06.034.
Barrette KF, Perloff MD. Physical Medicine and Rehabilitation: The Changing Landscape of Residency and Career. Am J Phys Med Rehabil. 2017 Feb;96(2):131-132. doi: 10.1097/PHM.0000000000000556.
Macone AE, Perloff MD. Triptans and migraine: Advances in use, administration, formulation, and development. Expert Opin Pharmacother. 2017 Jan 27. doi: 10.1080/14656566.2017.1288721. [Epub ahead of print]
Kassavetis P, Joseph JB, Francois R, Perloff MD, Berkowitz AL. Zika virus-associated Guillain-Barré syndrome variant in Haiti. Neurology. 2016 May 6. pii: 10.1212/WNL.0000000000002759.
Savino AK, Perloff MD. Epidural Glucocorticoid Injections for Spinal Stenosis, Interlaminal at the Worst Level. Pain Med. 2016 Feb;17(2):373-4. doi: 10.1111/pm/pme.12901.
A Lederman, D Turk, A Howard, S Reddy, M Stern. Case study: Gluteal compartment syndrome as a cause of lumbosacral radiculoplexopathy and complex regional pain syndrome. Journal of Rehabilitation Research and Development 2016; 53 (4): 483.
Otis J.A.D; Macone A.E. When to Use Opioids: What I Didn't Learn in Medical School. Practical Pain Management. 2016 Sep; 16 (suppl. 7): 13-18.
A Kohli, E Chao, D Spielman, D Sugano, A Srivastava, A Dayama et al. Factors Associated with Return to Work Postinjury: Can the Modified Rankin Scale Be Used to Predict Return to Work? The American Surgeon 2016 82 (2), 95-101.
Zhu S, Nahas S. Imaging Characteristics and Clinical Correlation. Current Pain and Headache Reports 2016;20:57.
Zhu S, Marmura MJ. Non-Invasive Neuromodulation for Headache Disorders. Curr Neurol Neurosci Rep. 2016 Feb;16(2):11. doi: 10.1007/s11910-015-0620-7. Review.