Ambulatory Training Experience
The Continuity Clinic                         Ambulatory Care Electives
The Center for Infectious Diseases (CID) ambulatory care practice at Boston Medical Center offers comprehensive diagnostic and therapeutic services in all areas of infectious diseases, with particular expertise in HIV/AIDS, sexually transmitted diseases (STDs), and diseases incurred through international travel. We have the largest HIV/AIDS program in the New England area and one of the largest STD practices in Massachusetts. CID is located in the Carl J. and Ruth Shapiro Ambulatory Care Center, a 245,000-square foot, nine-story building providing state-of-the-art outpatient care.
The Carl J. and Ruth Shapiro Ambulatory Care Center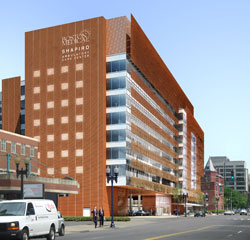 The Continuity Clinic
The longitudinal half-day ambulatory experience starts in the first month of training and continues throughout fellowship. All fellows will see patients in CID at Boston Medical Center but also have the option to work alternate weeks at the CID and the HIV Clinic at the VABHS. In addition, fellows will have 5-6 clinic sessions in the International Health Clinic.
Continuity clinic provides fellows with the opportunity to evaluate and manage their own panel of patients with infectious diseases in an outpatient setting.  The fellow is supervised by an infectious disease attending physician, who will serve as the fellow's preceptor throughout the fellowship.  The components of this training experience are:
HIV Primary Care and Consultation: Fellows will provide continuing care to a panel of individuals with different stages of HIV infection.  The fellow will function as the primary care provider for those patients. Fellows will participate in pre-clinic meetings to address relevant issues with the input of the clinic multidisciplinary team, including staff physicians, fellows, nurses, and social service personnel.  In addition, fellows will participate in weekly clinic conferences that include:

Invited speakers presenting state of the art clinical and basic research related to the management and pathogenesis of HIV infection.
Case-focused conferences providing a forum for discussion of cases of medical or psychosocial interest, presented by fellows, attending and clinic staff.
Monthly HIV Journal Club reviewing recent literature relevant to HIV management
HIV Practice Forums for the development of clinic-specific practice protocols based on accepted guidelines.

Infectious Diseases Consultation: Fellows will evaluate patients referred for follow-up from the ID inpatient consultation service to develop an ongoing treatment plan. These are primarily patients seen by the fellow during hospitalization who have long-term need for infectious diseases follow-up, often because of prolonged antimicrobial therapy. They will also see patients referred directly to CID from other outpatient providers.

BMC Travel Clinic: Fellows will have one introductory clinic session at the start of their first year, and at least four sessions in their second year in the International Health Clinic.  This clinic provides fellows with the opportunity to learn the principles of travel medicine and to diagnose and treat geographical diseases. Fellows will also provide health assessments for refugees.
STD/HIV Prevention Training Center of New England course
All second year fellows participate in the Sylvie Ratelle STD/HIV Prevention Training Center of New England course, a project of the Division of STD Prevention, Massachusetts Department of Public Health funded by the CDC as part of their core ambulatory curriculum.  The intensive STD course is a 4-day clinical training which includes: diagnosis, treatment, and management of STDs clinic protocols and medical record format performance standards for clinician-patient interactions; sexual history-taking and physical examinations; STAT testing procedures for point-of-service laboratories; clinical quality assurance; and an overview of disease intervention techniques.  Fellows can elect to get additional training in the CID STD clinic.
Ambulatory Care Electives
In addition to their longitudinal outpatient experience, interested fellows can elect to do additional ambulatory sessions in their second year of fellowship in other clinics – the HIV-OB (Positive HOPE) Clinic, the Tuberculosis (TB) Clinic, and the HIV/Hepatitis C Co-infection Clinic.
HIV-OB (Positive HOPE) Clinic
This clinic provides fellows with the opportunity to participate in the management of HIV-infected female patients and to acquaint fellows with the basic knowledge of management of HIV-infected pregnant patients and the prevention of perinatal transmission of HIV infection. The fellow is part of a multidisciplinary team comprising an ID attending, a maternal-fetal medicine specialist from the Department of OB/Gyn, a clinic nurse, a research nurse, a mental health specialist, and a social worker from Center for HIV/AIDS Care and Research. Participating fellows may attend this clinic either on an ad hoc or ongoing basis, with approval of the ID attending in the Positive HOPE clinic.
Tuberculosis (TB) Clinic
This clinic provides an introduction to the activities and function of a large urban tuberculosis (TB) clinic.  Fellows will gain familiarity with TB screening, diagnosis, and management.  Both adult and pediatric patients are seen.  The patient care team includes TB Clinic attendings, BPHC nurses and outreach workers, and translators.  Dr. Karen Jacobson directs TB clinic.
The HIV/Hepatitis C Clinic
This clinic provides fellows with an intensive experience in the evaluation and treatment of patients co-infected with HIV and Hepatitis C.  Fellows are encouraged to attend 1-2 sessions in their first year of training and may elect to participate at any time in their second year. Under the supervision of the Infectious Diseases and Hepatology attendings, the fellow provides an assessment of Hepatitis C /HIV infected patients. All new patients and those on treatment regimens for their hepatitis are discussed in weekly post-clinic conferences.