Studies
Our Sub-Studies

This initiative aims to integrate multi-omics data from centenarians and centenarian offspring (and controls) to identify protective profiles associated with exceptional longevity associated phenotypes and possible protection against Alzheimer's disease. This project will also perform expanded tissue-specific, multi-omics analyses on at least 60 different mammalian species of varied life spans to identify potential factors contributing to long life span. iPSCs are developed from participants age 103+ years and lines are differentiated into hepatocyte and central nervous system cell lines that are then used for functional studies of resistance/resilience.
Centenarian Daphne Brann, 110, exercising her right to vote!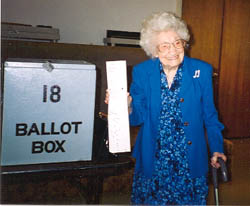 The Genetics of Longevity Study
The Genetics of Longevity Study is an international survey of centenarians and their siblings. We examine potential genes they may have in common and other lifestyle factors that could influence the ability to achieve extreme old age. Participation involves health and family history questionnaires, as well as a small blood donation for the genetic aspect of the study. To enter the study we ask that the subject be 105+ years old. If the potential subject has living siblings, then a younger centenarian may be eligible.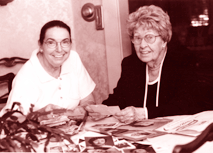 Betty Colleran, 70, and mother Elizabeth Stanton, 100, together looking at family photographs.
The Genetics of Longevity Study: Offspring Study
The Genetics of Longevity Study: Offspring Study looks at children of centenarians and their spouses. We believe they may be a valuable group to study for genetic and environmental factors contributing to the ability to live to very old age in good health. We also enroll children's spouses as a control group.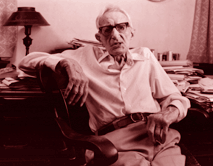 Dirk Struik, a leader in ethnomathematics, at his home at age 104.
The Genetics of Longevity Study: Neuropsychological Study
The Genetics of Longevity Study: Neuropsychological Study assesses cognitive function because we believe Alzheimer's Disease is either markedly delayed, or even absent in some subjects. Approximately 30% of our subjects consent to donate their brains for detailed study after they have passed away.
If you or a family member(s) could be eligible to participate in one of our studies, please contact us.