AY 2024 State of the School
September 5, 2023
Dear Faculty, Staff and Students,
As we begin the 2023-24 academic year, we continue to celebrate the school's 175th anniversary with a variety of activities this calendar year. The following are notable highlights of the 2022-23 school year:
Faculty Honors
Many of our faculty have again received well deserved recognition. For a list of those who received national and international honors this year, click here.
When you receive an honor or award, please notify Maria Ober, associate dean for communications, so that we can announce and track our faculty, students and staff's accomplishments. If you received an honor or award that is not listed, please contact her now to update our list.
Research Publications
Our faculty continue to receive significant mainstream media coverage for their exceptional published research.
Dr. John Connor's study in JAMA Network Open found full-occupancy, in-person teaching did not lead to SARS-CoV-2 in-class transmission at Boston University.
Dr. Ann McKee's release of updated brain bank numbers showed CTE has been found in 345 of 376 former NFL brains studied.
Dr. Shanshan Sheehy's research on higher levels of perceived racism linked to increased risk of heart disease in Black women was presented at the 2023 AHA Epidemiology, Prevention, Lifestyle & Cardiometabolic Health Scientific Session.
Drs. Michael Alosco and Thor Stein's study in Brain Communication found age of first exposure to tackle football and years played was associated with less white matter in brain.
Dr. Nicholas Bosch's study in JAMA Internal Medicine found patients with septic shock benefit from a combination of hydrocortisone-fludrocortisone therapy.
Dr. Stefano Monti's study in eBiomedicine found centenarians possess unique immunity that helps them achieve exceptional longevity.
New Research Grants:  Here are our Academic Year 2023's largest new grants: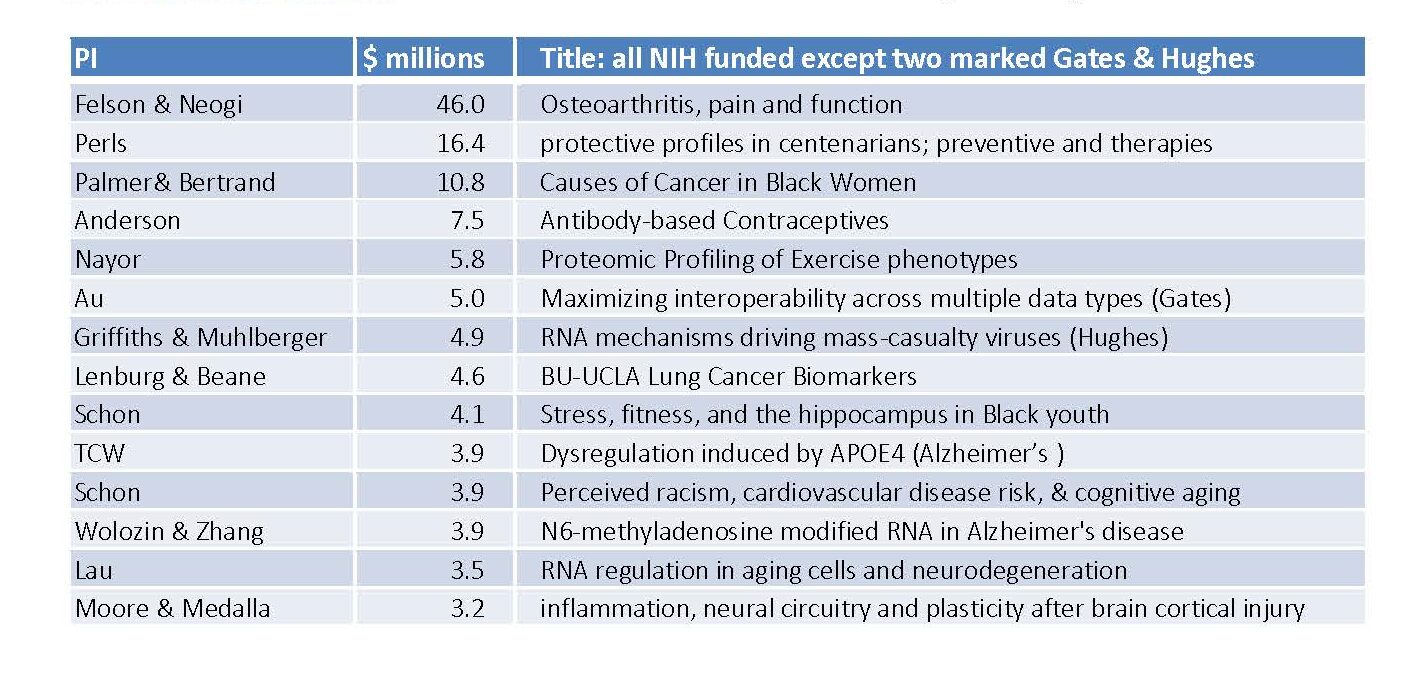 Foundation awards of note:
The Howard Hughes Medical Institute awarded $13,649,882 for research to advance RNA-based antiviral therapies to Drs. Elke

Mühlberger

, Daniel Cifuentes, Anthony Griffiths, and Gustavo Mostoslavsky.
The Bill & Melinda Gates Foundation awarded $3,004,907 for infectious diseases research to Elke

Mühlberger

, PhD, and $2,261,487 to Rachel Fearns, PhD, to study bat-borne viruses. Both are NEIDL investigators and Professor of Virology, Immunology & Microbiology.
The American Cancer Society renewed its institutional research grant of $480,000 for pilot grants for 12 early-career cancer researchers to Julie Palmer, ScD, Co-director of the BU-BMC Cancer Center.
The Rheumatology Research Foundation awarded Assistant Professor of Medicine Reza Jafarzadeh, DVM, MPVM, PhD, $400,000, for research to advance the identification of people with osteoarthritis.
The American Federation of Aging Research awarded its AFAR/Hevolution New Investigator Award of $375,000, to Samuel Beck, PhD, Assistant Professor of Dermatology, for identification and evaluation of new anti-aging pharmaceutics through big data analytics.
The American Heart Association awarded $344,000 to Katya Ravid, DSc, Barbara E. Corkey Professor of Cardiovascular Medicine and Professor of Biochemistry & Cell Biology, to study chronic stress and heart disease in a diverse group of breast and prostate cancer survivors.
The Vertex Foundation provided $309,000 to support the Early Medical School Selection Program (EMSSP) and Boston Education, Advising & Mentoring in STEM (BEAMS) programs for underrepresented medical and high school students in STEM fields.
Click here to read the latest news from our associate deans, chairs, center and institute directors.
Best wishes for a productive academic year.
Karen H. Antman, MD
Provost, BU Medical Campus
Dean, Chobanian & Avedisian School of Medicine