David M. Greer Appointed Chair and Chief of Neurology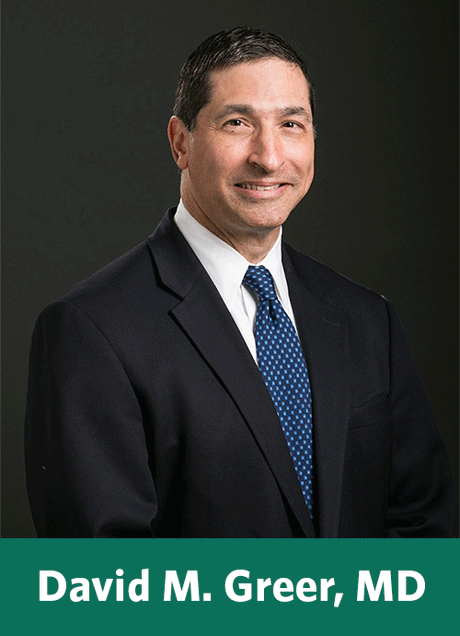 David M. Greer, MD, MA, FCCM, FAHA, FNCS, FAAN, FANA, has been appointed Chair of the Department of Neurology at BU School of Medicine and Chief of Neurology at Boston Medical Center. He will join BUSM/BMC on June 30, 2017.
Dr. Greer currently serves as Professor of Neurology and Neurosurgery, Vice Chair of Neurology and the Dr. Harry M. Zimmerman and Dr. Nicholas and Viola Spinelli Endowed Chair at Yale University School of Medicine. In addition, he is the Neurology Department's Director of Medical Studies and Director of the Stroke Service as well as Co-Director of the Neurovascular Center at Yale New Haven Hospital.
His research interests include predicting recovery from coma after cardiac arrest, brain death, and multiple stroke-related topics, including acute stroke treatment and stroke prevention. He is a leader in the Neurocritical Care Society, the Society of Critical Care Medicine, and the American Stroke Association. Additionally, he is a well-regarded and dedicated medical educator and clinician.
Dr. Greer received his BA in English Literature from Williams College, an MA in English Literature and MD from University of Florida, and an MA, privatim, from Yale. He completed an internship in internal medicine and a residency in neurology at Massachusetts General Hospital (MGH), followed by fellowship training in vascular neurology and neurocritical care, also at MGH. Previously, he was as Associate Professor of Neurology at Harvard Medical School and Associate Neuroscientist at MGH before joining the faculty at Yale.
Among his many honors and awards, Dr. Greer has been named one of the Best Doctors in America since 2007; he has received the Yale Neurology Residency Program's Teacher of the Year Award, two Presidential Citations each from the Society of Critical Care Medicine and the Neurocritical Care Society, the Partners Neurology "Superman" Resident Teaching Award from the MGH Department of Neurology and the Stanley M. Wyman Teaching Award from the MGH Department of Medicine.
Dr. Greer is the editor-in-chief of both Neurocritical Care Live and Seminars in Neurology. He serves as a reviewer for several journals, including the New England Journal of Medicine, Annals of Internal Medicine, Brain, Neurology, and Stroke. He is a fellow of the Society of Critical Care Medicine, American Academy of Neurology, American Heart Association, American Neurological Association and Neurocritical Care Society. He has authored more than 150 peer-reviewed manuscripts, reviews, chapters, guidelines and books.